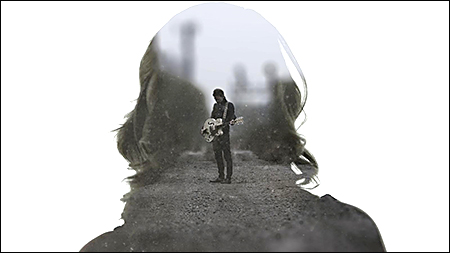 Where there's smoke, there's fire. "Leave No Bridge Unburned" sees Whitehorse shaping a bigger, bolder rock sound. Any lingering assumptions that the two are working within the boundaries of a folk duo should be put to rest. "Leave No Bridge Unburned" is a fiery, forceful and finely tuned album. While there's more in the mix now, more people at the board, more sonic swagger in the ears, Whitehorse will continue to be a story told of intimacy and passion. Two musicians, one band, no looking back.
Opening track, "Baby What's Wrong", is the story of a creepy lover told with an evil twang, an even darker version of Calexico's "desert noir". The mariachi trumpet of "You Get Older", about a human smuggler with an existential side, also conjures the burnt-out border towns, stray dogs and rooster crows that populate spaghetti westerns, southern gothic novels and dusty post- apocalyptic landscapes.
Whitehorse formed in 2010 by husband and wife solo musicians Luke Doucet and Melissa McClelland. The two toured in each other's bands for years, but they put aside their award winning individual careers to build a new band out of their exceptional guitar playing, his and her harmonies and a flair for dramatic, narrative songwriting. Whitehorse has since been nominated for the Polaris Short List (2013) for "The Fate Of The World Depends On This Kiss", played sold out shows across Canada and established itself in the USA as a band to watch with stellar reviews and coverage running in The Huffington Post, Relix, American Songwriter, CMT Edge, Garden & Gun, Blurt and much more.