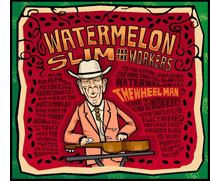 "Watermelon Slim incarnates the deepest and truest roots of American music. Combine Jimmy Rodgers, the Carter family & Bob Wills with Blind Lemon, Sonny Boy Williamson and Wilson Picket - and you have Slim - a one-of-a-kind pickin'n'singin Okie dynamo."
- Jerry Wexler, legendary producer -
Bill Homans, a.k.a 'Watermelon Slim' has a storied past from which he draws experience and fodder for the fourteen tracks on his latest release The Wheel Man on NorthernBlues Music.
Watermelon Slim first appeared on the music scene in the early 1970s as the only Vietnam veteran to record a full length LP album during the Vietnam war, a 1973 protest-tinged "underground" release entitled Merry Airbrakes.
In the subsequent years his original material has been reissued and performed by anti-establishment icons such as Country Joe McDonald. He developed friendships and musical bonds with Barbara Dane, roommate Henry 'Sunflower' Vestine of Canned Heat, and his dear fishing buddy, seminal Chicago blues harp plyer 'Earring George' Mayweather.
In his 30 years of music he has played with Vestine, Bonnie Raitt, Robert Cray, the late John Lee Hooker, in Paris with expatriate New Orleans barrel-house piano player Champion Jack Dupree, Boston's leading blues guitarist and producer Chris Stovall Brown, and most recently with Muddy Waters' guitarist 'Steady Rollin' Bob Margolin.
But not until recently did he fully chase the dream.
Less than six months after leaving his most latest truckdriviing job, hauling industrial waste, Slim is now making a living as a full time touring bluesman. The decision was predominantly the result of a recent and nearly fatal heart attack, and the renewed perspective on mortality that followed.
Logically, why drive industrial waste around Oklahoma to dispose of when one can drive bandmates around the United States to play music and entertain? Pleasingly, the blues community has officially recognized him as one of the best contemporary blues artists with a nomination for a 2005 W.C. Handy Award for Best New Artist Debut.
Watermelon Slim & The Workers received 6 Blues Music Award nominations in 2006 and Slim was inducted into the Oklahoma Blues Hall of Fame on May 26th, 2007.