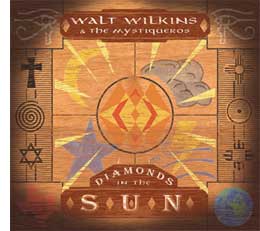 San Antonio-born Walt Wilkins has been called a genius, more than once, and a writer the caliber of John Steinbeck and his voice as comfortable as a pair of old blue jeans, and he is, and has, all of that. His crafting of story-songs, hard-edged vocals to sing them and a plaintive guitar have made him a fixture of the Texas music scene (and Nashville before that). He's put his magical touch on recordings by new and veteran artists, too many to count.
With The Mystiqueros, Wilkins has created something of a "Texas Hill Country super-group" that features five great singers and four great songwriters from the heart of the Lone Star State, all of whom have made their own records and are flush with recording credits.
Onstage and in the studio, Wilkins is joined by Bill Small (bass, percussion, acoustic guitar), John M. Greenberg (electric guitars), Ramon Rodriguez (drums, percussion) and Marcus Eldridge (electric guitars). Live performances around Texas are being likened to both outlaw country and classic rock bands, and they're captured on DIAMONDS IN THE SUN, released July 24 by Palo Duro Records.
Wilkins says this is the most fun he's ever had playing music in a band in 30 years. He describes the music of The Mystiqueros (nicknamed mq5) as highly reminiscent of '70s country rock from Texas and the West Coast and blues and soul that members grew up listening to and features high-quality songwriting and musicianship, rhythm, and vocal arrangements.
Small, who wrote and sings the new album's title track, "Diamonds in the Sun," was born and raised in New Jersey, and lived and worked in New York City, Boston and Nashville before Austin. He had played with both Eldridge and Greenberg and had done a gig with Wilkins. "So we all knew each other," he says, "and once we all got on stage together, it became obvious that it was the thing to do."
Greenberg, a busy first-call guitarist, singer and producer around the Hill Country with four solo records, was born and raised in Oklahoma. He contributed the song "Red River Blues" to the album and describes The Mystiqueros as "the band every kid wanted to be in" back in the '70s music world of rock 'n' roll, country & R&B: "You were generally partial to one, and I was a rocker. But that's the coolest part of being a Mystiquero! There are all three elements on this record, and that's why it was plausible to put a rockin' song like 'Red River Blues' on the same album next to a great country song about Hank Williams."
Eldridge, a well-respected guitarist in Texas born in Tomball who's made two soulful solo records, put his clear tenor voice to Wilkins' "All These Memories" for DIAMONDS. He believes playing in The Mystiqueros is a rare opportunity. "There are no more bands like this left on the planet. … We all do what we do, bring it and blend it with the other talents in the band," he says. "This kind of a thing is not planned, it just happens."
Rodriguez, who grew up in Brownfield and has worked with several young Texas bands and artists, sang back-up on "Big Shiny Cars" and a small part on "Honky Tonk Road" on the album. He calls the band "a powerhouse" and the record a timeless thing, modern but with a vintage feeling. As the youngest member of the band, he jokes that he can still cut his own meat and that he pushes the others with his grooves and his beat to stay up late. "We have fun on the road," he says. "It shows in our shows."
For Wilkins — from his first musical influences as an Air Force brat, to his first band at age 15 to writing his first song (homesick while studying in the seminary) to playing own songs and writing in Nashville to his first album and producing others' — The Mystiqueros might just be about coming home, at last.