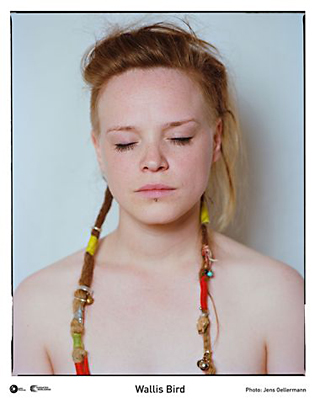 "The sheer visceral energy of Wallis Bird could kick-start an entire economy" ~ The Irish Times
Wallis Bird is wild. Wallis Bird is unpredictable. And she is contradictory. The best way to sum-up an artist who combines so many different styles is with the person themselves - hence the reason for self-titling her new upcoming album.
A musical magpie whose mature, self-affirming songs display an unusual emotional breadth, Wallis defies categorization. The Irish artist has paid her dues, shredding her fingers and breaking string after string from the sheer force of playing on stages small and large across Europe, and throwing her entire soul into each performance with a level of energy that makes her an unassailable force of nature.
Wallis Bird cannot - and should not - be pigeonholed easily. Capable of the delicate, gossamer-thin ballads that her tiny 5ft2 frame would suggest, she can also summon up a whirlwind of passion and rage in the blink of an eye. Her performances can transition seamlessly from the defiant anthems that can motivate thousands of festival-goers into a rousing sing-a-long, to the most hushed and fragile ballads that can captivate an audience into a spellbound silence. Wherever you may find Wallis, she stands out as a contradictory, powerful presence, one that can unite audiences anywhere she plays.
"Wallis Bird" was written and recorded in three places that, while geographically separate, were all deliberately chosen to impose their unique atmospheres onto the songs. From the communist broadcasting station in Berlin of the former GDR where the government broadcast its propaganda until the Berlin wall came down; to an isolated ghost ridden cottage on a godforsaken cliff edge in Ireland during the worst snowstorms in thirty years; to her own flat in Brixton, South London against a backdrop of screaming sirens and looting as the London riots threatened to overrun the city. The result is a record that strives to makes sense of the chaos around us all.
A double Meteor Award winner in her native Ireland, Wallis Bird's new album is her third and follows her debut 'Spoons' and 2009's 'New Boots', both of which saw her garner critical acclaim and tour with the likes of Billy Bragg, Gabrielle, The Feeling & Rodrigo y Gabriela. Bird has also played some of Europe's biggest festivals, with her recent appearance at Paris' Rock En Seine Festival prompting one of France's biggest daily papers, 'Le Monde', to hail her performance as one of the highlights of the festival alongside Arcade Fire. An exceptional guitarist, her unique playing style only adds to the intrigue of her performances. Following a childhood accident which permanently damaged her left hand, Bird learned to play her instrument flipped back to front, thus having to create her own bafflingly complex chord fingerings, much to the bewilderment of any musicians in the audience.
The new album 'Wallis Bird' marks another progression, a record deliberately self-titled to mark it out as the defining statement of her career so far. So the confident strut that opens the first single 'Encore' nestles alongside the astonishing vitriol of 'Who's Listening Now', the folky pledge of 'In Dictum' and the almost carefree 'Heartbeating City' – all disparate musical elements that go towards creating the whole that is Wallis Bird as a songwriter. The intimacy of the recordings captures the sound and smell of an acoustic guitar being pushed to its physical limits, the sense of a packed-out local bar being conducted in time and in thrall to the energetic, captivating presence who marshals every element.
This is Wallis Bird, an unpredictable artist who chooses her own path and beckons us to follow.