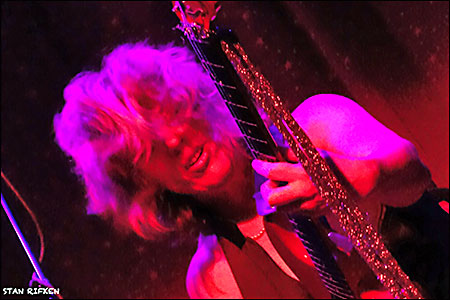 Guitarist, composer and singer Viva DeConcini is pure rock'n'roll. She plays guitar like a flaming sword, a screaming train, a ringing bell, and a scratching chicken. She sings like if Freddy Mercury had been a woman. Her original songs are an eclectic mix of storytelling, celebration, sorrow and humor. She has performed everywhere from Bonnaroo to Monterey Jazz Fest and has produced sell out music, burlesque and variety shows all over New York and is one of the few females to have been featured in Guitar Player Magazine.
Viva began her career playing with avant-garde Brazilian percussionist Cyro Baptista and performed with his signature band Beat The Donkey for 10 years. They toured Europe and America several times playing many of the major festivals. In 2006 she began writing her own music and started her own band, which has by now performed over 200 shows, premiered at The Americana Pie Festival, the New York Burlesque Festival, The Brooklyn Academy of Music, Daytona Beach's Bike Week, Joe's Pub, South By Southwest, many of N.Y.C.'s finest underground parties and more.
Viva's latest 2 LP's releases both charted on CMJ. "Rock'N'Roll Lover" was hailed by WECB FM as 1 of the top 10 records of 2010 and 2012's "Rhinestones & Rust" garnered rave reviews from The Baltimore City Paper, Get It On Vinyl and Vintage Guitar magazine. In 2010, she began performing with New York theater performance artist Taylor Mac and performed for 12 hours in his landmark 24 Decade Concert. She is touring America and Australia with this concert for the fall of 2017 and spring of 2018. Her latest original music studio album "Living Well Is The Best Revenge" comes out this year asking the question, 'what's worse, romantic disillusion or political?' The answer, 'neither, we must not allow ourselves to become disillusioned' because rock'n'roll…..