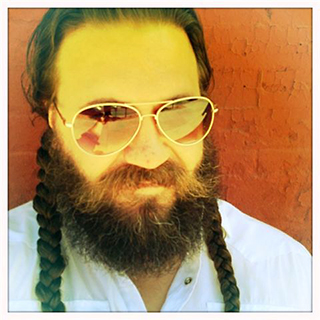 "It's been said popularity is the hallmark of mediocrity. If that's true, I must be freakin' amazing, cause I ain't remotely popular", and with that, Victor Camozzi let's fly with a weathered cackle that seems almost Nietzchen. With two critically hailed albums already under his belt, Camozzi has emerged from the outskirts of Austin once again to release his latest album, "Cactus & Roses". Where his previous outings proudly displayed musical influences across the full breadth of Americana, "Cactus & Roses" finds Camozzi locking in on a tighter sound.
"I got a big ol' stack of vinyl albums - and one cheap little record player - and the records I go back to again and again are the ones where the mojo of the entire song-cycle has been tuned to a specific frequency. So for this album, I invested in a mojo tuning fork". The "mojo tuning fork" he winkingly refers to may well have been legendary drummer Gary Mallaber. Mallaber has backed iconic American artists from Bruce Springsteen to Bob Seger to the Beach Boys, and "Cactus & Roses" finds him in classic form. Providing an inventive yet never intrusive backbone for Camozzi's unique lyrical touch.
Just as on his first 2 albums, Camozzi serves up a well-honed sense of human frailty and the inescapable failings that unite us all. It's tight hooks blended with reckless hopes and a healthy dash of regret, shaken and poured over a glassful of 1970's Texas songcraft. Raised by a father who was a prison psychologist and a mother who taught severely retarded children, it's not difficult to see where Camozzi's formative years found a foothold in the future songwriters mind. In the landscape of his songs, no one is perfect, and no one is bragging. We're all just struggling to survive. It's finding the beauty in that struggle that's the challenge. And it's a challenge Camozzi takes up with gusto.
Considered reclusive even by his most fervent fans, Camozzi betrays no regrets when asked about any future plans to perform more often. "Hell, I dunno", he shrugs as he knocks back another beer. "First and foremost, I'm a songwriter. I'm a lyric geek. I spent my youth reading the liner notes of every album I ever loved again and again and again. Now that I'm an artist, should I put more time into stepping onstage and shaking my ass? Maybe. But I'll have to consult with my ass first". And with that, the same cosmic laughter spills forth from behind his grizzled beard. For a moment, it feels like the jokes on you. But knowing Camozzi's song catalogue, it's clear, he knows the jokes on all of us.