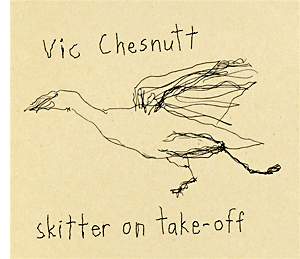 - The Vic Chesnutt album, and why me and Tommy wanted to do it - By Jonathan Richman -
"My drummer Tommy Larkins and I were driving in the van across the United States as we do two or three times a year on our tours of clubs and I said, 'Y'know, we should produce Vic's next record!'. And he said he thought so too. We both were thinking that the way to get the feeling for Vic as a listener was to hear just Vic - no arrangements, no guest guitar solo guys, no 'ironic' touches or anything else to cloud his voice or his poetry. His guitar playing is also the guitar playing on this recording because we think no help is needed. Tommy and I have toured with Vic several times and he's long been one of our favourites. So we're both proud of this record & glad for the chance to make it our way. A lot of it was brand new stuff, a few hours old or becoming a song right there as he sang".
Vic Chesnutt has recorded with many different people for all kinds of labels, but he's never made an album like his debut on Vapor Records.
Chesnutt's first two releases were produced by REM's Michael Stipe, and from there he was featured in the PBS documentary 'Speed Racer' and his songs were recorded for "Sweet Relief II: Gravity of the Situation". A wide range of artists including Garbage, Madonna, Smashing Pumpkins, REM and Live, all covered Chesnutt originals. He has recorded with groups like Widespread Panic and Lambchop, and musicians as varied as Bill Frisell and Fugazi's Guy Picciotto. Chesnutt recently performed on Cowboy Junkie's "Trinity Revisited", with others and over a dozen different releases of his own.
"Skitter On Take-Off" allows Vic Chesnutt to create his most dramatic album yet; recording devastating songs like 'Rips In The Fabric' and 'Dick Cheney' live with no overdubs. This album becomes a unique addition to his history, and allows the singer-songwriter the chance to collaborate with an important influence. "I'm honoured to work with Jonathan Richman. Over the years he's taken me under his wing and mentored me in a very meaningful way, truly shaping me into the songwriter and performer I am today. And it is an ongoing process". Chesnutt and Richman's work together is one for the ages. "Skitter On Take-Off" features Vic Chesnutt, Jonathan Richman & Tommy Larkins. Produced by Jonathan Richman & Tommy Larkins.