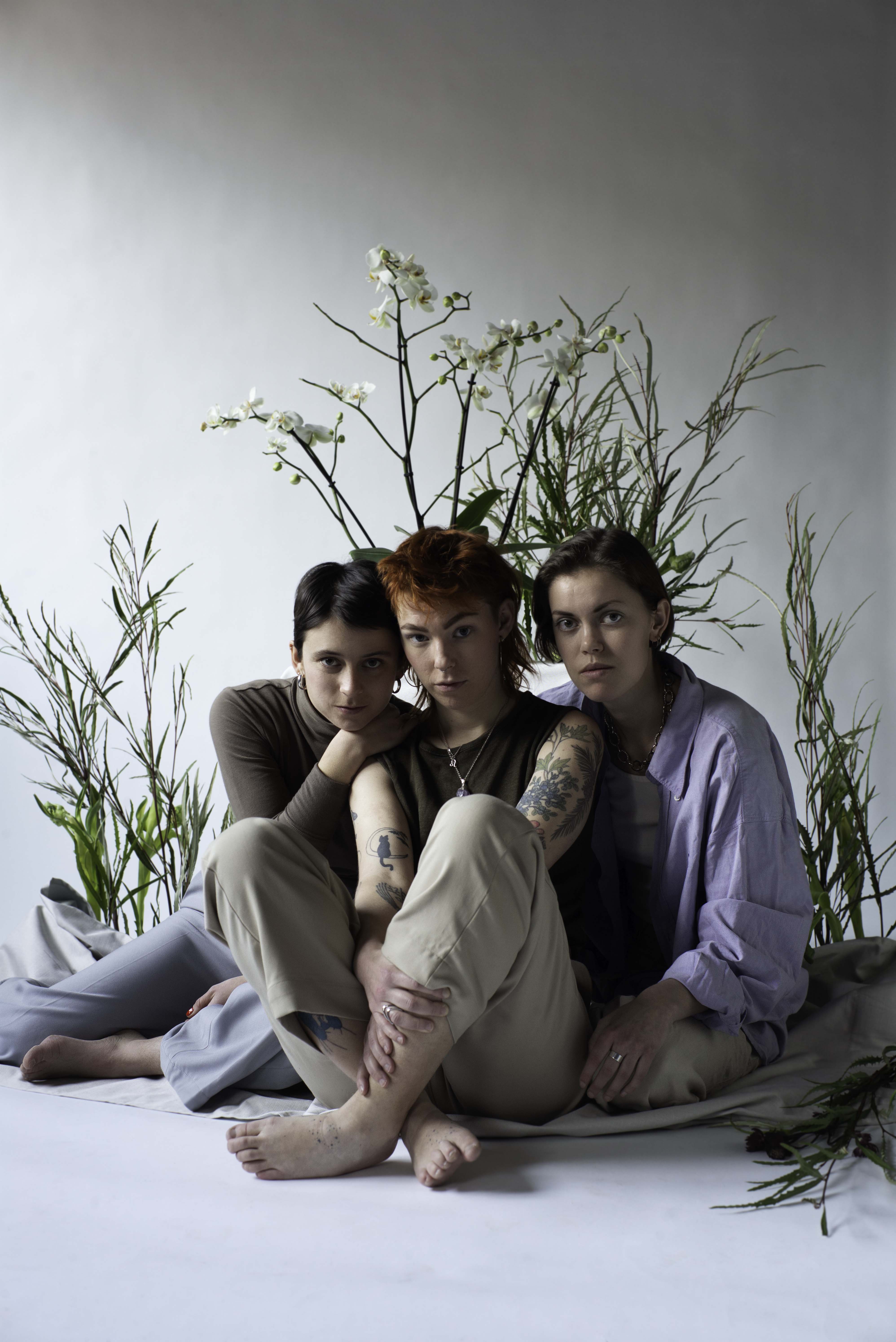 ENGLISH :
With power and tenderness, playfulness and gravity, Trio Rop creates a unique vocal soundscape where the story is in focus. Their debut album, "Mellan oss" ("Between Us"), tells a tale of heartbreak, profound grief, recovery and the life that happens in between, between us.
Through a burning desire to tell stories from everyday life and all things that feel incomprehensibly big, Trio Rop grounds itself in traditional storytelling and Swedish folk song. This tradition was historically used as a way of sharing and remembering stories and events. In this spirit, Trio Rop seeks to make visible the stories they themselves miss in the Swedish folk tradition. The tales of the outsiders, of queer love and the power of friendship.
With their innovative compositions, vocalists Elin Buxfeldt, Petrix Hessel and Sofia Källman take us to a tranquil place full of shimmering light and beautiful shadows. On the album, the trio is joined by 6 other voices.
"Between us, everything and nothing exists. Between us, the future is built. Between us is siblinghood, is grief, is love, cries, whispers. It all lives between us."
SWEDISH :
Med debutalbumet "Mellan Oss" skapar Trio Rop med kraft och skörhet, lekfullhet och allvar, ett unikt vokalt ljudlandskap i vilket berättelsen tar plats. Berättelsen om ett uppbrott, en stor sorg, en återhämtning och livet som händer däremellan, "Mellan Oss".
Genom en brinnande vilja att berätta om den lilla människan och allt det där som känns så stort, tar Trio Rop avstamp i folkligt berättande och folklig vokal tradition. En tradition där man förr förde vidare berättelser med sång för att komma ihåg och dela händelseförlopp med andra. I den andan söker Trio Rop i sitt skrivande efter de allmänmänskliga formuleringarna för att synliggöra berättelser de saknar i folktraditionen. Berättelser om de avvikande, om samkönad kärlek och starka vänskapliga band. Med sina nytänkande kompositioner tar sångarna Elin Buxfeldt, Petrix Hessel och Sofia Källman oss med till en helt stilla plats med motljus och vackra skuggningar.
Trio Rop bildades på Skurups folkhögskola 2016 och har släppt flera singlar samt en EP, "Hon Kisar Mot Mig". Debutalbumet "Mellan Oss" är inspelat av Klara Goliger på Music-a-matic hösten 2021 och släpps den 20:e maj. Medverkar gör också ytterligare sex röster.
"Mellan oss finns allt och ingenting. Mellan oss bygger vi framtiden. Mellan oss finns syskonskapet, finns sorgen, finns kärleken, finns rop och viskningar. Det lever mellan oss."