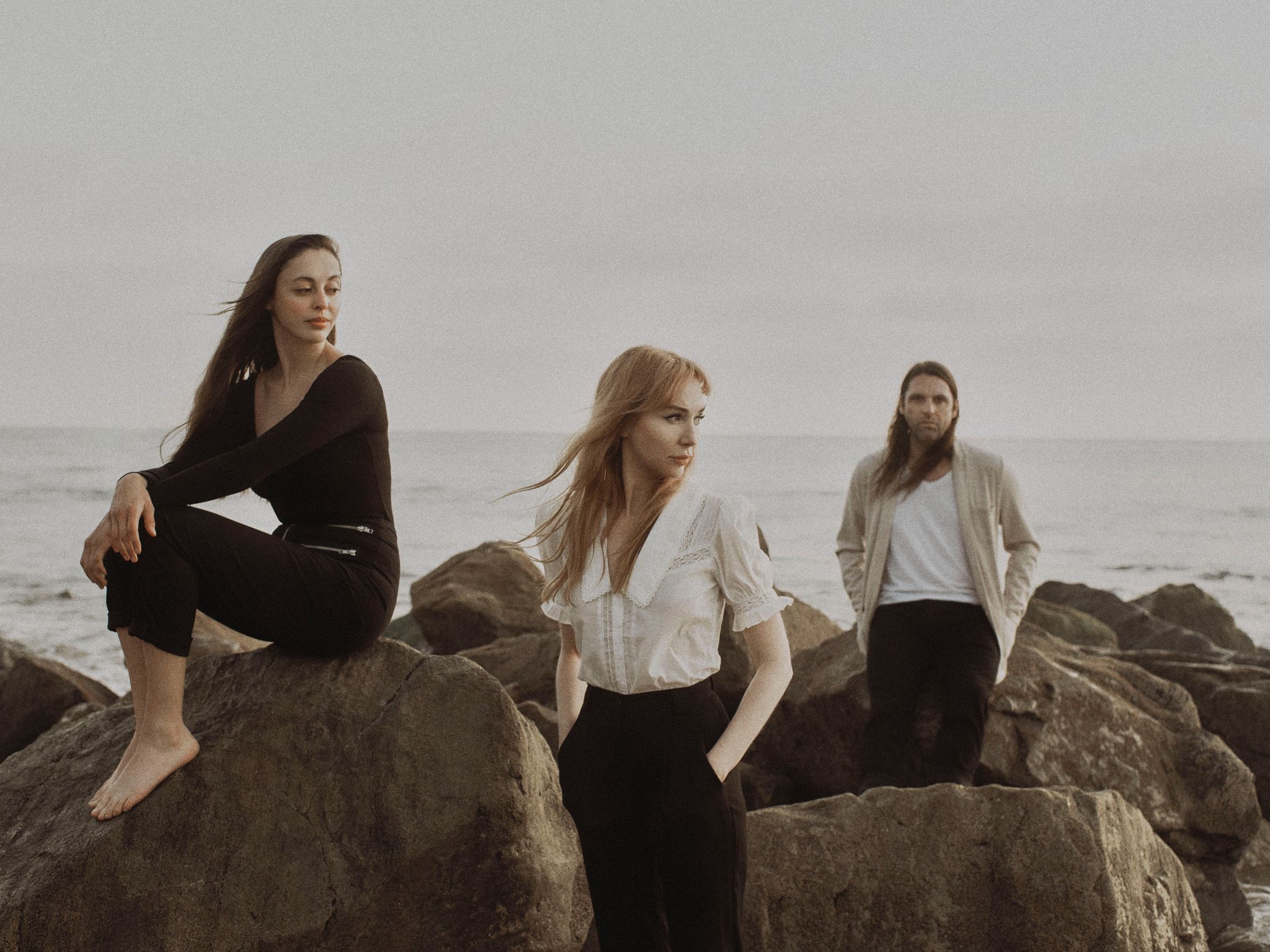 Tashaki Miyaki are explorers of dreamy, hazy, melodic guitar pop. Though its 3 members are self described California kids, their sound is influenced by much more than a westcoast attitude. They all have broad musical tastes spanning across the American Songbook, Sun Records, doo wop and vocal groups from the 40's and 50's, the 60's and 70's things everyone loves, their hero Uncle Neil, punk, everything in the 90's and past and current hip hop.
Their sophomore album, "Castaway", will be released by Metropolis Records this summer, expanding their musical palette and broadening the emotional territory with songs circling themes of love, memory and time which are haunting, catchy, soothing and arresting all at once.
Tashaki Miyaki was formed when guitarist Luke Paquin and singer and drummer Paige Stark cut the 1st ever Tashaki song in the middle of a jam at friend and collaborator Joel Jerome's East LA recording space. "On a lark, I put it on Bandcamp. It went viral in the underground sense", Stark says.
Suddenly they were garnering buzz as a 2 piece. NME noticed and they were flown to the UK for shows and festivals. They bonded over their record collections and their love of movies. The band name is a nod to beloved prolific Japanese director Takashi Miike.
After briefly teaming up with bassist Dora Hiller, they met Sandi Denton through mutual friends, and she became their permanent bassist and backup vocalist. Paquin explains, "It started to really sound and feel like a band".
During this time, Stark also discovered that being behind the kit changed everything. "I grew up loving hip hop, especially Snoop Dogg, and rhythmic music like bossa nova and jazz. I love stuff where there's rhythm in the vocal. When I'm playing drums, my vocal phrasing is different. I sing things in a more rhythmic way. On the early records I would track the vocal live with the drums and then double it after, because that's how different I felt the performance was. It opened up a new way of singing for me and helped create Tashaki's sound". It was liberating for Stark on a few levels and she found it much easier to play live shows, magically curing her stage fright. "I didn't feel nervous at all. I don't know if it's because I'm sitting and the bass drum creates a sort of barrier, or the multitasking simply doesn't allow time for fretting, but I felt so relaxed". That laid back feeling is a prominent force in Tashaki Miyaki's music.
The band's self titled EP was named one of the top EP's of 2013 by the Huffington Post UK. Their debut album, "The Dream", produced by Stark, was released in 2017 by Metropolis Records. They had developed their signature sound and the record was well received. MOJO Magazine coined their sound quietly devastating noir pop. FADER wrote, "so pretty I'm afraid saying anything else might diminish it".
In their typical unhurried fashion, Tashaki Miyaki spent the past couple years writing and recording their sophomore album, "Castaway", also produced by Stark. Musically, the band pushed themselves into new spaces. They did a deep dive into classic film scores and the music that originally inspired them to create as kids, ranging from Portishead to the Byrds, Snoop Dogg to Brian Eno, Prince to Bryan Ferry. They tried to deconstruct their own bands' sound and reboot from that place, while letting some beloved influences echo throughout. "We decided no wah wah pedal for most of the record", Stark explains. "We tried to incorporate new soundscapes. Like, what if there isn't as much reverb on everything? What would be the less obvious sonic choice here? What if everything isn't as fuzzy and smeary? What sounds have we not tried? What if we let stuff be a little naked? What does that sound like?".
Stark also pushed her boundaries lyrically, going deeper and more personal. "The title of the record comes from this thing a friend would say. He said called himself a castaway from decent society. I feel like a castaway from everything a lot of the time. When I wrote the title track, I was thinking about love and how it changes over time if you stay in something long enough. It gets hard. And sometimes you feel stuck, and that's kind of the mood of the record. Being stuck with yourself or with your partner or with your habits or thoughts. Being stuck in your reality, in your life. It's a pretty melancholy record, I guess. I always try to be direct, but I didn't have as much life lived on the 1st record. I saw things very black and white, and perhaps simpler. Now I see a lot more grey and a lot more complexity. And I think this record goes into that grey area".