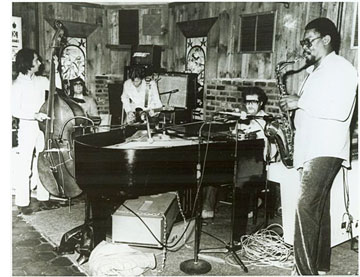 Norman Seldin is known throughout the music world, espec-ially at the Asbury Park New Jersey shore, as one of the originators of that special sound started way back in the 60's, when he was a tee-nager. Norman started formal piano lessons at three, and attended the Manhattan School of Music at age 14. At the age of 13, he became the youngest member in history of the American Federation of Musicians.
Norman began his own band, "The Naturals," and started recruiting mostly black artists in the 60's when it was not so popular. He managed, promoted and recorded them on his own labels – Selsom and Jade Records – based in Red Bank, NJ. Not old enough to drive and sign checks, his mother drove him to different concerts and shows that he was promoting for both adults and teenagers weekly.
His records were played on the R&B circuit stations from New Jersey, into Maryland, Virginia and North Carolina. Norman's early records were dominating the R&B black stations with such huge DJ names as Douglas "Jocko" Henderson, Fat Daddy, Larry Dean, Bill Johnson and Chatty Hatty. He broke in to the Virginia Beach radio market on "Top 20" stations with Gene Loving and Tom Scott.
He was a regular at the famous Broadway Recording Studio in New York when he was 15, and worked with now world famous drummer, Bernard "Pretty" Purdy. He was tutored by famed organist and pianist Richard T, and Tito Puente whenever time allowed in his busy schedule.
Norman's band changed names to "The Soul Set" which also featured future platinum recording star, the late Harry Ray, whom Norman discovered. He recorded with The Valtairs, along with Nicky Addeo, The Uniques, Tony Maples, The Shondells, Barbaroso & The Historians, and battled Bruce Springsteen's first band, "The Castiles," with Norm's own discovery, "The Motifs" whom he managed and recorded as well.
Always being a fierce competitor, both on and off stage, Norman added national attractions to perform on his shows to gain extra exposure for his own groups. He brought in "The Young Rascals" right after they opened for "The Beatles" at Shea Stadium, as well as dozens of other name attractions. Norman was the "ghost" on dozens of hit records that "went bad" and they called him in to fix the troubled spots on piano, organ and/or vocals when he was in his teens.
An unknown sax man, Clarence "Big Man" Clemons, was an addition to "The Joyful Noyze" during a racially tense time. Subsequently, Norman brought the "Big Man" into the recording studio for the first time. It was during his multi-year stint with Norman, that Bruce Springsteen came in to jam with their band. As a result, Clarence left to become an E Street Band member. Stormin' Norman continued his pace of an average of 275 nights a year for over 15 years.
Norman was on stage at The Parker House when he went down with what kills most people – an Aortic Dissection. Norman was given no chance to survive the operation, which has a 1/10 of one per cent survival rate. He was the medical miracle of 2002! Although the doctors said he would not be able to perform for at least eight months, he was back on stage in eight weeks. Prior to his heart incident, Norman spent two years in the Mississippi Delta and Louisiana. Stormin' Norman was recruited to become the head entertainer at the largest night club in the world – La Vela Beach Club in Panama City Beach, Florida. Here he played to an average of 2,000 people a night, and was known throughout the entire South for his 3-5 hour, non-stop musical performances. When he returned home to New Jersey in 1979, he had a reunion with Clarence Clemons at The Lock Stock & Barrel in Fair Haven, NJ. On dozens of evenings, Garry Tallent, Max Weinberg, Billy Ryan and others would come and sit in.
In 1980, 8 tracks with Clemons, Tallent, Weinberg, Roy Bittan, Danny Federici and Southside Johnny were recorded, but never officially released until now, on the new double-CD set 'Asbury Park - Then & Now', on Ivory International Records. There are over 40 years of old and new recordings that were painstakingly digitally re-mastered to form this unique collection of the Asbury Park sound … Doo Wop, R&B, Rock 'n Roll, New Orleans piano, etc., on a total of 46 tracks.
The newest book from Rutgers Press, 'Local Heroes – The Asbury Park Music Scene' features seven pages on Stormin' Norman Seldin. A book of his life story is currently being written for a late 2009 release. The soon to be released double-CD, 'Asbury Park - Then & Now' by Stormin' Norman & Friends, is available at www.backstreets.com as well as at www.theorchard.com which has a link to the e-music website www.emusic.com. This is truly a history lesson when it comes to the sound of Asbury Park and the Jersey Shore.