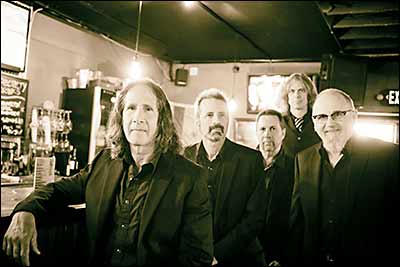 With Steven Casper at the helm on lead guitar and vocals, he and his band, Cowboy Angst, get tighter every year. In 2013 they were recognized by Country Music Television, CMT, who called their song, "Trouble" a 'recommended americana track'. In 2015 they were declared, 'one of the hottest unsigned bands' by Music Connection Magazine. Now Steven Casper and the boys are back with "Sometimes Jesse James", his 8th recording and his 7th production with Ira Ingber (Bob Dylan, Van Dyke Parks).
The members of Cowboy Angst are well known studio musicians and longtime members of this band. John McDuffie on electric and classical guitar, pedal steel and lap steel, as well as co-writing a song on the album, Carl Byron on electric and acoustic piano, accordion, and B3 organ, Herb Deitlebaum on bass, Jay Nowac on drums. Ingber not only co-produces with Casper, but also lends additional guitar, keyboard, percussion, bass, dulcimer, cittern, and backing vocals.
Casper has once again, made a deliberate choice in putting out an EP in accordance with our on-demand society and listening practices. "Most people listen to streaming services these days, so I like to get my music out there, fast". "Sometimes Jesse James" consists of 6 honest and skillfully crafted songs that do a great job showcasing Casper's own brand of americana. Casper's sound incorporates influences from country to rock, blues to r'n', and always with a bit of cajun and tex mex thrown in.
The 1st song, "Down", alternates between a Bo Diddly rhythm and country folk chords. It deals with recognizing our mind being our greatest strength, or our biggest weakness, when it puts negative thoughts and excuses in our heads, 'why crawl if you have a chance to fly'. "The Best Day Of Our Lives" is a ballad that has McDuffie's pedal steel adding to the melancholy mood of the song, 'and the sun made diamonds that shone through the trees, as it danced across the sky, we knew it was late but we didn't care, on the best day of our lives".
"Wrecking Ball" is the only cover on the record, a daring and unique version of the Ryan Adam's song. Ingber incorporates two instruments never used on a Steven Casper record before, a dulcimer and a cittern. He explains, 'with those 2 instruments, sonic textures that seemed initially somewhat at odds with the song as I first heard it, proved to be completely compatible, if not completely captivating. With the dulcimer playing the melodic lines, and the cittern playing the chordal rhythm, the track was filling out nicely".
"They Call It Love" is a departure from a typical Casper song, as it's a blues groove number along the lines of Little Feat. Casper tells us about the inception of the next song on the record, "Born To Lose Blues", 'this song pattern and 1st verse came to me 4 or 5 years ago. There was not even a main theme and I couldn't seem to finish it. About 6 months ago I started playing around with it again and the final 3 verses came right out. The original 1st verse was, 'I was naked in the storm, battered and abused, feeling kind of fragile, feeling kind of used, then I found you'.'
The record ends with "Mi Sueno, Mi Dolor"). This song was co-written by Casper and John McDuffie, who plays nylon string guitar on the song. 'For the last 4 records I've written an instrumental piece', says Casper. 'I wanted a slow minor key mexican blues song for "Sometimes Jesse James".'
This 7th production between Casper and Ingber shows what a steady working partnership can produce. 'I can't over emphasize the importance of the discovery aspect of the creative process, be it music, painting, writing, etc', says Ingber. 'I have been fortunate to have worked with Van Dyke Parks for many years. From my perspective, the discovery of the arc of a song is the vital component in making a song compelling and demanding our attention. Van Dyke is master of this, and his mastery didn't go unnoticed by me. Every song on "Sometimes Jesse James" is the product of this discovery' aspect'.
He continues, 'somewhere during the creation of the recording something happens that informs the path forward. It could be the way the organ intertwines with the vocal on the opening verse. It could be the way the chorus enters with complete inevitability. Once we make those discoveries, we're off to the races'.