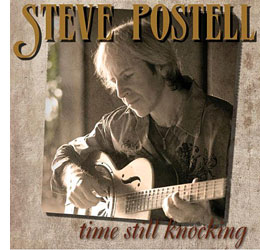 That golden California Sound comes alive again on 'Time Still Knocking', Steve Postell's Immergent Records debut. This rich, organic work draws on rock, folk, blues, country and R&B, all distilled through well-honed craftsmanship coupled with genuine heart and the musical camaraderie of a staggeringly talented group of musicians.
A singer-songwriter, guitarist, producer, Steve's remarkable career begins a new chapter on 'Time Still Knocking' which features a wide array of legendary musicians. Contributors and collaborators include David Crosby, Jennifer Warnes, John Oates, Robben Ford, Eric Johnson, Paul Barrere, Dave Koz and many others.
"I was with the band, Little Blue, for nine years and I wrote a lot of the material, so when I was signed, the original thought was to create a new band around me," Steve says. "But after I started working on the album, it became clear that this was an artist-driven project. We felt it was time for me to make a solo record."
The album's opener, the inviting, bluesy '3:45 Coming Through', is one of the few tracks that Steve wrote on his own as most of the songs are collaborations. His songwriting partners ranged from rockl veteran John Oates (Hall & Oates) on the baroque folk-rock of 'Straight For the Moon', to hard rocker Kip Winger on the churning 'Change in the Circle'. "Even though Kip, John and the others are all different, there's a kind of common thread, true of every person who worked with me on this record," Steve says. "They all understand and strive for a very high level of artistry. That's what connects everything, not their styles."
The music on 'Time Still Knocking' crackles with a sense of discovery, yet is also instantly familiar. The rising harmonies in 'Background Noise' and 'Catch The Wind' tap into a legacy that includes CSN&Y and the Eagles, among others. Steve also pays tribute to his influences with Buzz Feiten's 'Long Way Home' (featuring Buzzy and jazz legend Dave Koz) and Little Feat's 'Missing You', sharing vocals with the song's writer, guitarist Paul Barrere.
For Steve Postell, 'Time Still Knocking' is the culmination of dedicated work, lasting friendships and creative partnerships for a complete musician who knows where he's been and looks to the future with anticipation.
"My primary inspiration was always to be a singer-songwriter, but I wanted to understand as much about the process as possible," he says. "It's always been about songwriting first, though the studio – engineering, how you record, arrange and so on – is a big part of it too. Assembling all the talent for this record, from the incredible musicians to mix engineer Nathaniel Kunkel and up to the final days with legendary mastering engineer Bernie Grundman, gave me the chance to watch these songs come into existence from their birth as mere ideas."