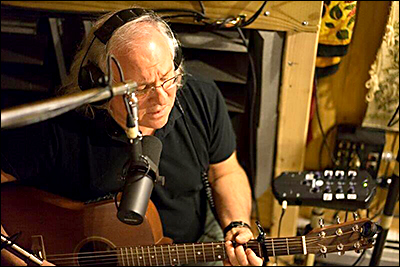 "Welcome to 'Root Of The Sun', my 12th CD. Work on this began in 2013 and was completed in 2015. It was placed on the backburner when the circumstances of life brought me 'Never Mind The Rain'. I wish I could remember when and where I stumbled across the term 'Root Of The Sun', however, I do know that Pat Manfredo's remarkable photo on the cover captured its essence. She has a great eye, don't you think?
As always I am and will remain eternally grateful to my collaborators in the studio including most eminently my good friend and producer Eddie Seville, who heroically breathes life into these songs. I have learned that the presentation of music requires a great ear, vivid imagination, technical prowess, shared vision and lucky accidents. After 9 years of collaboration it is evident that Eddie brings that, and so much more to this process. Eddie and our other multi-instrumental musical genius, Karl Allweier, are all over this work and I am ever indebted to them.
These songs had time to marinate since they sat in the studio for a long time. They came to me in their own time and waited patiently for me to bring them to you. I hope you will agree that it was worth the wait. There are a lot of songs and I'll just say a few words. In the end, you'll be the judge." ~ Steve Mednick
"The Ceremony Of Innocence" is the 1st CD since my 12th and the 1 before my 14th, which will be called 'Following The Thunder'. Can you tell by the sentence structure that I am trying to avoid something? I guess I don't want to call it my 13th, although, I just did. The truth is that I am not superstitious, but my mother was, and I suppose this reticence to state the obvious is homage to her fixation with that number. On the other hand, this 4th volume of my 'Problems In Democracy' series of CD's is about an election with a result that was not predicted, predictable, anticipated or, in the end, welcome by the voters of my country. So, if my mother were here, she would probably say, 'you see that number is a bad omen'. Is there such a thing as a good omen? Whatever the case, the CD was held up until after the election because something inside of me said, 'who knows what will happen?'. And it did.
The title of the CD comes from a poignant poem called 'Second Coming', written by William Butler Yeats, in the aftermath of World War I, a time of isolation, anti-immigrant fervor, xenophobia and nativism. At that time the purity of our pilgrim past was being diluted by new immigrants from the Mediterranean, the Balkans and the Polish ghettoes. Oh, how history repeats itself. The US now has a president who has signed executive orders to build a wall on the Mexican border, ban Muslims from coming to the US and reinstate the gag rule on international health programs. He vows to 'make America great again' while placing a shroud on Lady Liberty. As the journalist Charlie Pierce has said, 'This isn't funny anymore'. In spite of all our flaws and the embrace, far too often, of ugly prejudice and an irrational obsession with guns, we have long remained a beacon for the rest of the world. We are a great and mighty nation nourished by our remarkable living Constitution. Let us continue the struggle during our next 4 years and beyond. We are better than this! 'Meanwhile back on the planet earth, they said it couldn't happen here. You'd like to think for what it's worth, that the truth will trump your fears. I hear white noise on the radio, I hear him lying to the masses. Hiding what was deep in his soul, you can only hope that this nightmare passes'.
This CD is dedicated to the memory of my aunt, Roz Larman, who cared about music, musicians and the future of her country. It is also dedicated to the hope that we will rise again from wherever we are headed." ~ Steve Mednick