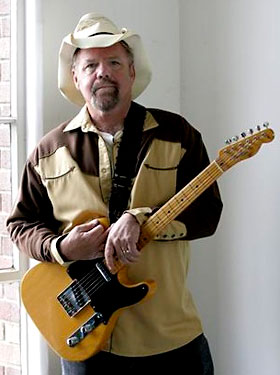 The honest and unadorned images in his lyrics open a window into the life and times of Americana singer-songwriter Stephen David Austin.
Neon motels, brown Bakersfield skies, tobacco-stained fingers and a woman's whiskey eyes reveal the veteran musician's vision of a town, a world, or simply a state of mind where the ground is shifting beneath our feet faster than we can regain our balance. With a keen eye for detail and a strong sense of place, Austin paints his images in sepia tones darkened by the fine brown dust of the San Joaquin Valley.
It's all here – ready to be experienced – on Austin's first solo CD release, "A Bakersfield Dozen".
Even as the raw, Telecaster-laden rhythms and crying pedal-steel guitar cling to a musical tradition born of the Bakersfield Sound, Austin's lyrics make it clear the world he inherited from Buck Owens, Tommy Collins, and Merle Haggard is being transformed before our very eyes.
"I've always been drawn to stripped-down, raw roots music and great storytelling", Austin said of his influences, who, in addition to the aforementioned icons, include Dave Alvin, Steve Earle, Guy Clark, Rodney Crowell, Townes Van Zandt and Gram Parsons. "If you can't tap your feet to it, or tap your beer bottle against the tabletop, you've missed the target".
While these musical traditions are hugely important to Austin, songs like "Kansas Ain't In Kansas Anymore" and "The Cage" immediately signal to listeners that even our dearest traditions may not survive the forces of change surging toward us like a record Sierra snowmelt on a summer afternoon.
Inspired by a popular quote from "The Wizard Of Oz", Austin's "Kansas" takes Dorothy's iconic line a step further, suggesting that even the Kansas that exists in the American Heartland of our imagination can't claim to be in Kansas anymore.
Drawing his lens inward to reflect a more personal perspective, Austin's "The Cage" is penned in the storyteller tradition. It's about a man hitch-hiking toward his hometown after spending decades in prison. But like Kansas, the man's home is sure to bear little resemblance to the place he once knew.
In his song "The Day Buck Owens Died," Austin mourns the loss of the Bakersfield Sound pioneer, and at the same time, dedicates an unabashed homage to the music of Owens and the Buckaroos. Austin said he still remembers being stunned by the news of Buck's passing in March 2006 – and when Buddy Blue, a founding member of The Beat Farmers, died a few days later, Austin dealt with the loss the best way he knew how, by writing about it.
Austin is the first to recognize that his view of the world is anything but rose-colored. His lyrics have focused on broken dreams, endless nights and the inevitable fall from grace so many of us face at some point in our lives. Fortunately, his sense of humor remains hilariously intact in songs like "Best Ex I Ever Had" and "Dance With No Pants".
Americana music is a lyricist's domain, the perfect vehicle for a storyteller-songwriter like Austin. And the southern San Joaquin Valley, the setting of John Steinbeck's "The Grapes of Wrath," is a central character in much of Austin's writing.
"If Steinbeck had been a musician," Austin said, "I think he'd still be in Americana".