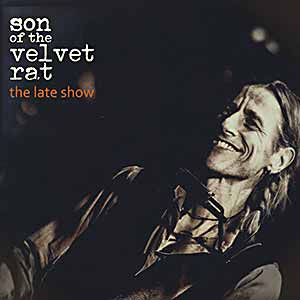 Son Of The Velvet Rat celebrate the glorious elusiveness and the sweet heartbreak of song by releasing a new live record, "The Late Show", for their US label Fluff & Gravy/Mint400.
A few years ago, Austrian natives Georg Altziebler and Heike Binder set down roots in the Desert community of Joshua Tree,CA. In the last 50 years the desolate town has quietly become an enclave for artists and musicians much like Paris in the 1920's or Laurel Canyon in the 1960's.
Their 2017 release, "Dorado", produced by Joe Henry, featured a mix of high desert musicians and LA stalwarts, as well as guest vocals from brilliant singer songwriter Victoria Williams. The record received rapturous reviews and topped myriad year end critics' polls.
"The Late Show" is a souvenir from their extensive 2017 tour. The album was recorded at three venues, the Rhiz in Vienna, Austria, Scheune in Wredenhagen, Germany and The Studio Venue in beautiful downtown Burbank,CA.
The 11 song set features several songs from "Dorado", but also reaches back to older albums like "Animals", "Firedancer" and "Red Chamber Music". "Another Glass Of Champagne" is a newish number that revisits an older riff and adds new lyrics. The ambiance is passionate, sweat soaked and electric.
Georg and Heike's cinematic sound is augmented by Dominik Krejan on Fender Rhodes piano and backing vocals. Drum duties are split between Muck Willmann and Felix Krüger. Highlights include an epic "Sweet Angela", a brooding version of "Copper Hill", the pulsing psychedelia of "Surfer Joe" and the world weary ache of "Franklin Avenue".
Son Of The Velvet Rat weaves a sonic tapestry of disparate influences that is best described as folk noir, while being thoroughly unique in every aspect. No wonder everyone from Americana UK to Lucinda Williams to Palm Springs Life & Magnet Magazine is singing their praises. "The Late Show" offers a perfect introduction to their sui generis sound.