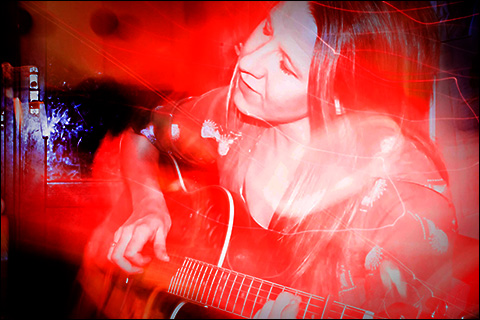 Sofia Ekberg is a Swedish, Gothenburg based singer-songwriter who plays music in the field of folk-country-pop. Sofia sings stories about daily life, its big questions and small details, with a voice and lyrics that get under your skin. All accompanied by her rhythmical guitar playing.
Sofia's musical journey has taken many turns. She was born in the small village Bottnaryd in the deep forests of Småland, and very early on had a longing for music. At the age of five she got her first guitar and soon found a way to express herself musically.
Growing up she changed direction: trained and worked as a musical theatre performer, both in Sweden and England, and took part in productions on stages like Oscarsteatern in Stockholm, Östgötateatern in Norrköping and The Mercury Theatre in Colchester, England. When living in England she discovered her songwriting and began to play her songs at open stages in and around London, where she also worked as a session singer and was a member of Jest, a soul-rock band that played in the streets. Somewhere along the way, Sofia wrecked her voice, and wasn't able to sing for a number of years. During this silent time her songwriting kept evolving, and she worked hard to find a way back to her authentic voice and unique expression.
Now she's here with the debut EP "All The Small Details", produced together with Patrick Rydman and Henrik Cederblom. Recorded mostly live at the studio Epidemin in Gothenburg, with three guitars, harmony singing, mandolin, dobro and stompbox, the trio creates a strong presence and a feeling of acoustic directness where the songs and the stories really come into focus and grab your attention.
Sofia plays solo, duo, as well as with the trio My Quiet Companion (with Rydman and Cederblom). She has played venues such as Visby Songwriters Festival, Copenhagen Songwriters Festival, Sunne Folk Festival, Pustervik (Gothenburg) and Jarmusch Club, Caserta, (Naples, Italy).
Sofia also works with various co-writing projects in both Sweden and Denmark. Currently she's involved in a project together with Danish singer-songwriter Cecilie Sadolin, who released her debut EP "Nordic Craft" in September 2013. Sofia is also the guitarist of the band Mint.
Furthermore, she has developed and runs the one-year course for singer-songwriters at Löftadalens folkhögskola in Åsa, Sweden.