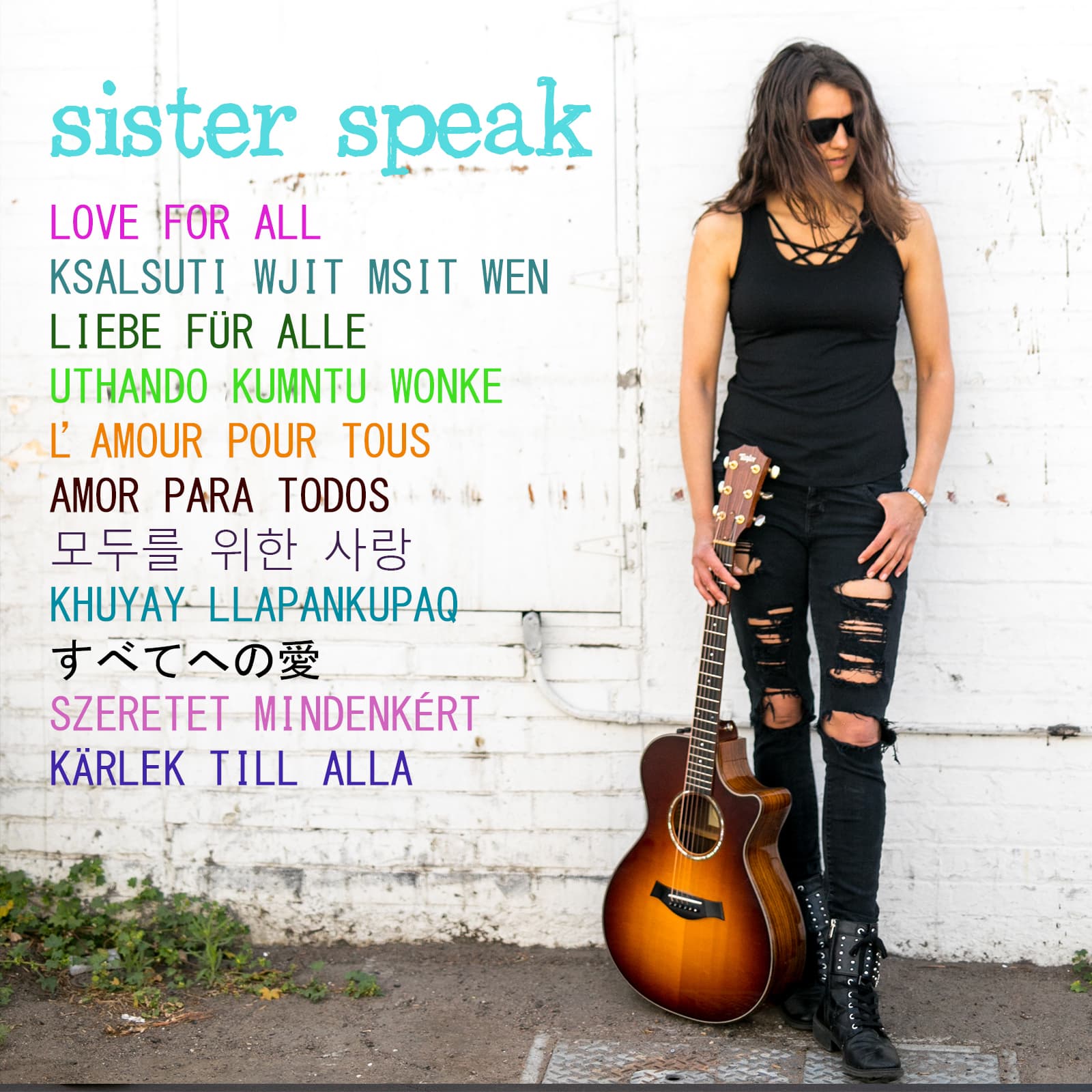 Canadian artist Sister Speak returns to the stage this spring and summer with new album, "Love For All", out April 29th, 2022. Sister Speak has connected with a loyal fanbase throughout the globe through several years of national and international touring. Born and raised in British Columbia Canada, Taylor guitars sponsored Sherri Anne is at the core of Sister Speak. The music combines passionate alt, indie, blues with a world influence.
Sister Speak spent most of the past 2 years creating and performing virtually or at outdoor venues in Canada, with a handful of concerts in Costa Rica, eastern USA and in California, including opening for pop legends Air Supply in San Diego. Most of the time was spent crafting the new record which hosts an extraordinary team of talent from Vancouver, BC, to Austin, TX, and Los Angeles, CA. The multi city crafted new album is as high energy as it is raw and vulnerable. Themes from the past 2 years can be heard through the lyrics and it's not short of a miracle the album has come to be at all.
Front woman Sherri Anne endured every tour in support of her last record being cancelled, months at a time apart from her spouse, and a close call with her spouse's family having covid. Just as the album was set to be released, an apartment fire in her building in Canada forced her and the tenants of several other units to move out. Despite all of this, the album is here and ready to be born.
"Working on the songs on this album helped me get through some of the most difficult times these past couple of years. I hope others can relate and will enjoy the album in its entirety", says Sherri Anne.
The album features many genres, from americana rock lead track "Estuary", the world, reggae influenced "Run Away" and "Red Eye," and blues song "Crush", to hip hop collaboration "Lose Control", pop number "Will It Ever", powerful alt rock number "One Good Friend", and indie folk compositions "Stronger" and the title track, "Love For All", a sentiment to peace and taking care of the earth.
"Love For All", the album, features Anne's engaging vocals and lyrics, rich acoustic guitar stylings and the talents of her bandmates drummer Stephen Haaker, guitarist and vocalist Sarven Manguiat, and bassist Jacob Miranda Jr. Guest musicians Bonnie Brooksbank, Aaron Durr, Jon Deas and The Brother Burns add their magical touch as well. The album art features a painting by Steve Chmilar of Sidney, BC, Canada from his piece called "The Mood Collector".
This record certainly has a journey, and you can hear all about it on April 29th, 2022, and welcome its arrival to the world. Catch Sister Speak solo in concert this spring and summer in Canada, USA and Europe. The album will be available at each show and include a Jaga Silk 'Singer's Delight' tea with every purchase. Whether performing solo or as a band, Sister Speak aims to share message driven music and support the authentic expression of the woman's voice.