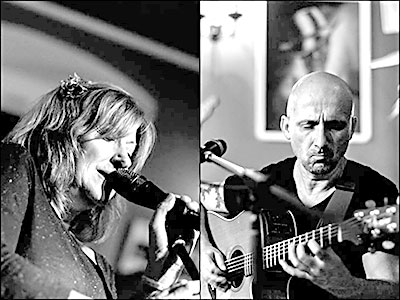 Voices, guitars, loop station and percussion come together to create Shift It Baby's full sound with rhythmic and melodic subtleties.
Thilo grew up in a small village in East Germany. Once moving to the West, his self taught guitar style led very quickly to busking, then performing in local pubs and clubs. With a constant need for inspiration he travelled far and wide, playing with musicians from different backgrounds, developing his percussive and unique style.
He lives and breathes music, be it classical, jazz, experimental, indie or traditional folk, as long as there is heart, and it shows.Many comment that he plays like he and the guitar are one, moving an audience, heart and soul.
Robyn was born in Sydney, Australia, and worked as an actor in the 90s, appearing in sitcoms, commercials and stage productions.
A singer from an early age, she joined numerous jazz and rock bands, writing her own songs, which were well received in the bubbly Melbournian music scene.
A true performer at heart, Robyn finds inspiration from the senstive and emotive classic jazz singers to the passionate right-in-your-face authenicity of a Janis Joplin and Rickie Lee Jones.
Inspired, aware and confident of her own voice, Robyn reflects a deeply moving and authentic performance. The feelings and emotions expressed through Thilo's guitar playing find it's equally expressive counterpart in Robyn's voice.
Shift it Baby, have been performing together for the last 10 years, touring Germany and Australia, as well as stints in India, Spain, Portugal, France, Belgium and Sweden to name a few. They also love to just rock up to a bar and play a spontaneous gig, something that is always well received and a lot of fun.
Their approach, musical ability and lively, groovy, yet intimate performance makes them attractive to almost any venue.
Shift it Baby are regularly accompanied by excellent, seasoned musicians, their latest album is a collabaration with some of Dresden's finest, and their latest endeavour as a full band is exciting. Songs from the album have been played regurlarly on independent and commercial radio stations.
They are currently based in Dresden, but spend most of the year travelling, combining gigging with a life style of independence as they forge new pathways.