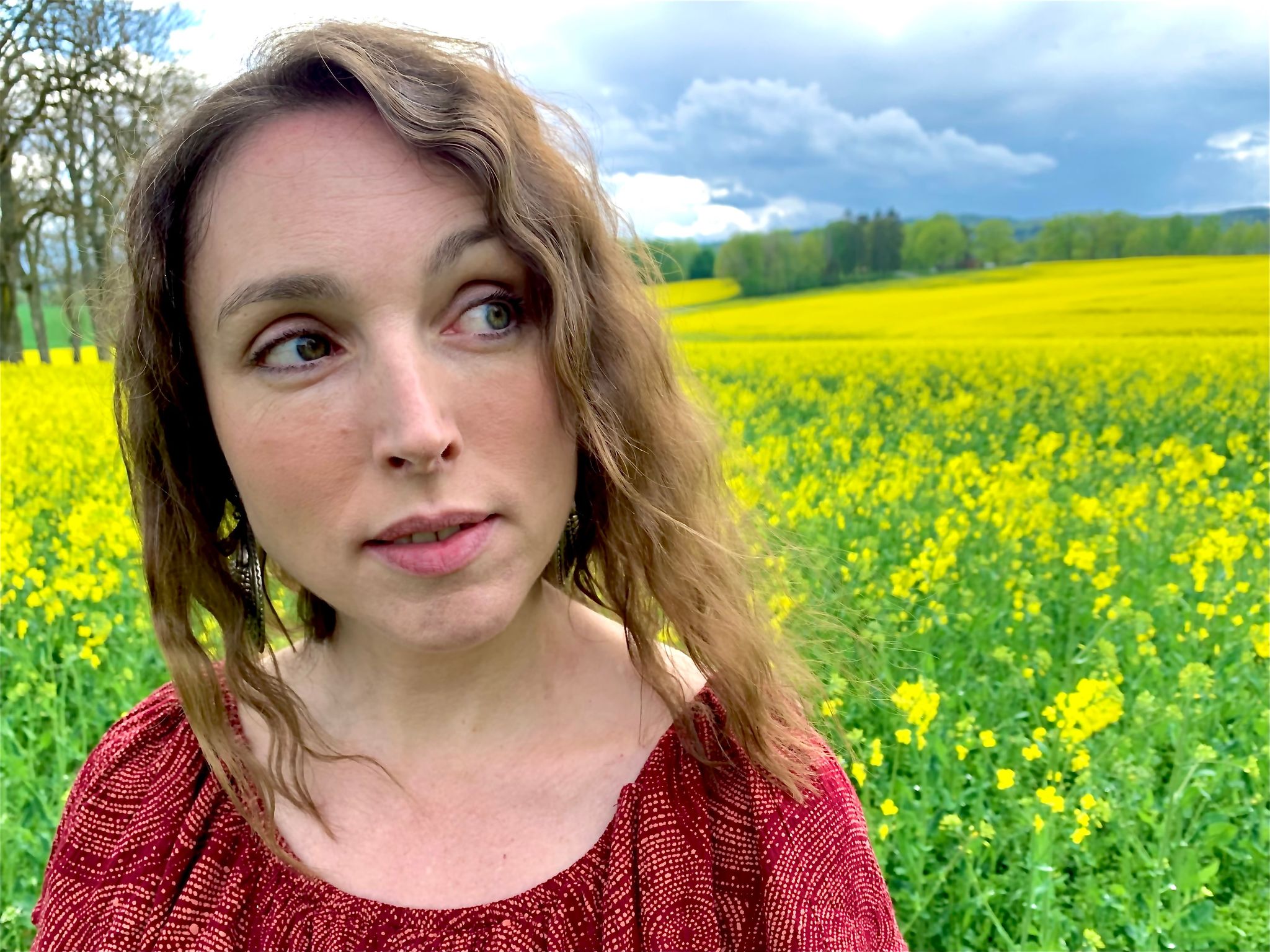 ENGLISH :
How should we really relate to time, which inexorably rushes forward and leaves deep traces in all of us? From the youth's longing expectation, through disappointment and sadness, to, at best, reorientation and hope for the future.
With the album "Tid" ("Time"), Swedish singer, pianist and composer Nina Åkerblom Nielsen wants to touch the listener with songs from all walks of life. At the same time, the album forms an annual cycle where all seasons are represented and starts on a sunny windy September day when everything feels possible. We get to partake of thoughtfully heartfelt lyrics and timeless melodic music.
Nina describes herself as cross genre, but with a great fondness for folk music and early music. After a master's degree in singing at the Royal Academy Of Music and tours around the world with various baroque ensembles, she decided to invest wholeheartedly in her own composing. In 2018 came the album "Some Solitary Wonder", which was praised by, among others, the well reputed magazine Lira. Some of the songs were even played on Celtic Music Radio in Scotland. Nina now lives in her hometown of Jönköping, where she is inspired by the beautiful, rolling fields around her house.
Gradually, the work with the new album also became a mourning process. In the middle of the recording period, Nina's life partner, singer and saxophonist Peter Hjalmarsson, died after several years of fighting cancer. The song "Skrivet På Mitt Hjärta" ("Written On My Heart") is dedicated to him, but also their 1st son who died in the womb in late stages of pregnancy.
In the album's last song, "Sången" ("The Song"), Nina sees in front of her how she and the 2 children find a new way forward. Without husband and father, but with music as a healing force and a hope that everything will be ok. In the aftermath, Peter's saxophone is allowed to accompany them into their new reality, as a greeting from the place where time has ceased to exist.
SWEDISH :
Hur ska vi egentligen förhålla oss till tiden, som obönhörligt rusar fram och lämnar djupa spår i oss alla? Från ungdomens längtansfulla förväntan, genom besvikelse och sorg, till, i bästa fall, nyorientering och framtidshopp.

Med albumet "Tid" vill sångerskan, pianisten och kompositören Nina Åkerblom Nielsen beröra lyssnaren med sånger från livets alla skiftningar. Albumet formar samtidigt en årscykel där alla årstider finns representerade, och gör avstamp en soligt blåsig septemberdag då allt känns möjligt. Vi får ta del av eftertänksamt innerliga texter och tidlöst melodisk musik.

Nina beskriver sig själv som genreöverskridande, men med en stor förkärlek för folkmusik och tidig musik. Efter masterexamen i sång vid Kungliga Musikhögskolan och turnéer runtom i världen med olika barockensembler, beslöt hon sig för att satsa helhjärtat på det egna komponerandet. 2018 kom albumet "Some Solitary Wonder", som hyllades av bland andra tidskriften Lira och letade sig hela vägen in i skotska Celtic Music Radio. Nina är numera bosatt i sin födelseort Jönköping, där hon låter sig inspireras av de vackra, böljande fälten runt sitt hus.
Efterhand kom arbetet med "Tid" också att bli en sorgebearbetning. Mitt under inspelningsperioden avled Ninas livspartner, sångaren och saxofonisten Peter Hjalmarsson, efter flera års kamp mot cancer. Sången "Skrivet På Mitt Hjärta" är tillägnad honom, men även deras första son som dog i magen i månad nio.
I albumets sista melodi "Sången" ser Nina framför sig hur hon och de två barnen hittar en ny väg framåt. Utan make och far, men med musiken som en helande kraft och en förhoppning om att allt kommer att bli bra till slut. I efterspelet får Peters saxofon ledsaga dem ut i deras nya verklighet, som en hälsning från den plats där tiden har upphört att existera.