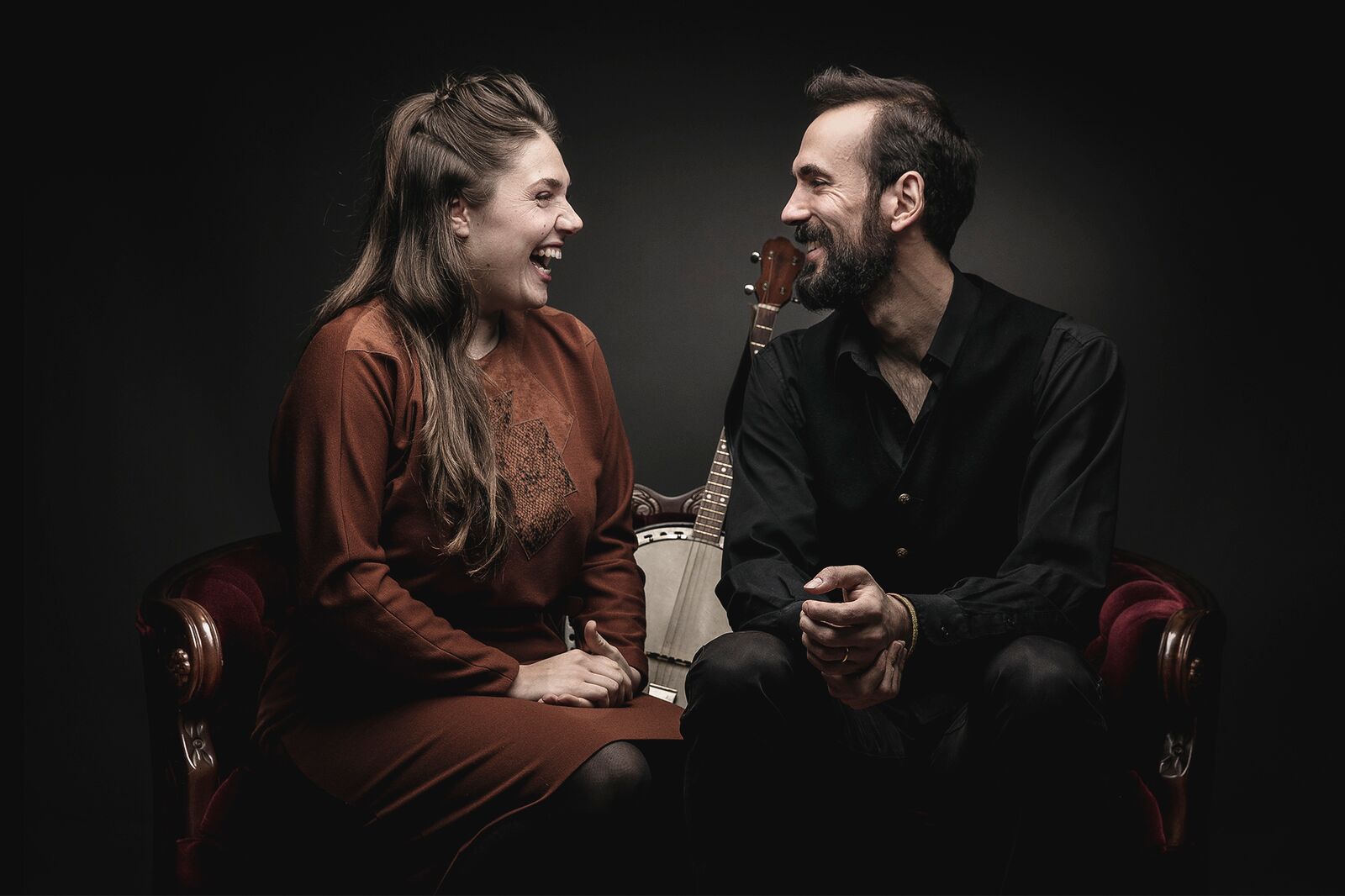 Moonfruits' imaginary village Ste Quequepart comes to life in an animated music video for their song "Les Marins", an international collaboration 18 months in the making. This is a significant moment for Ottawa's bilingual art folk duo, Alex Millaire and Kaitlin Milroy, marking the 3rd year anniversary of their concept album "Ste Quequepart" (Saint Somewhere).
The animated short is a veritable celebration of community power that knits together the meticulous artwork of Elodie Evanno (O'lee Graphiste), in Le Faou, France, and the 2D-meets-modern-cinema animation style of Ottawa's Andrew Robillard. From Moonfruits' storyboard, Evanno hand drew hundreds of buildings, nature scenes, and the birds that inhabit this imaginary land that Robillard whimsically brought to life.
Having never had the opportunity to meet in person, Evanno and Robillard were able to join forces online to create this mini masterpiece despite the ocean that separates them. With the support of the Ontario Arts Council, the team members were able to venture far out of their respective comfort zones to put together this 1st major animation project for the small screen. Pending the reaction of animation and short film festivals worldwide, they hope it may one day grace the silver screen as well.
The song "Les Marins", off Moonfruits' 1st album "Ste Quequepart" is by far one of their most popular and emotional offerings. "The characters in our village are imaginary, but they're very much inspired by reality. 'Les Marins', though, has to be the song that embodies us best", shares Kaitlin Milroy, member of the duo. "The idea of sharing our music through animation has been a longtime dream of ours. We thought that 'Les Marins' message of hope, sharing, and political engagement, was a perfect fit for animation", says Alex Millaire. Their hope is that the video will transcend language boundaries, rouse people's imaginations and reach folk music and animation fans alike.
Marrying French and English, songs and storytelling, Moonfruits have toured Canada coast to coast and are making their 1st forays into the US and EU. Recipients of the SOCAN Song Award and the Stingray Rising Star Award for "Les Marins", they were nominated 3 times for the Trille Or Awards in 2019 and took home the Best Graphic Design Prize for their album "Ste Quequepart", designed by Elodie Evanno and Montreal's Gabrielle Dubois.
Moonfruits are currently collaborating with father son production team Charles and Oliver Fairfield on their next full length album, an English-language offering titled "Salt". Due out in 2021, "Salt" pulls from the band's roots and more recent past, swimming between folk, soul and protest song. Arrangements were crafted with long time collaborators, alt-folk band Tragedy Ann from Guelph, Ontario. "Salt" explores the themes of transformation, reincarnation, and, as is their wont, politics. In the meantime, Moonfruits are keeping their imaginations sharp, performing online, and planning their eventual return to stages around the world.
"Les Marins" video is available for viewing on the duo's website and also directly on YouTube.