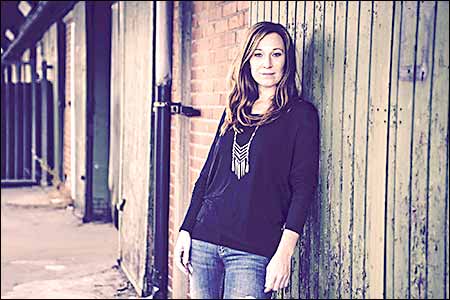 Mona Wallin is a Swedish singer, songwriter and guitar player from Ljusdal, Hälsingland. She made her first public appearance at the age of 8. During her younger years, she played flute in a brass band and acted in the nationally organized Riksteatern's performance of "A Fiddler On The Roof". She started to play the guitar at the age of 12.
Her path to a musician's life has been winding, and may at first appear to have almost led her astray. 4 years of university studies in forestry seemed to lead to a life of profit margins, production and pay checks, but in the end, the forest beckoned for other reasons, with its serenity, its beauty, and its quiet songs. She traded the industry for jazz studies at Birka Folkhögskola. At the end of her stay, she was offered a place in the highly selective program for individual artistic expression, and after that, she completed a 3 year degree programme in world music at the Academy Of Music And Drama at the University Of Gothenburg.
Mona Wallin has been a member of various bands, from the early days garage band Rainy Day Woman and bluegrass band Bluegrass And Green Skies, to her current acoustic trio Ain't No Brothers. In recent years, however, her focus has been mainly on her solo career, and she performs regularly as a duo act together with guitarist Erik Ivarsson, featuring her own material. Her songwriting has always been grounded in her love of the forest and the wilderness, from Americana to traditional northern Swedish music, from one outback to the next.
In her debut album, "To Build A Fire", she gathered a band and recorded most of it live in the studio. Records like Neil Young's "Harvest" and Gillian Welch's "Soul Journey" inspired the album. "I really wanted the process and the sound to connect to an era in music that was more about the whole record than just one song". she says. " And I didn't want it to sound complicated with big arrangements and too many things going on. I wanted it to sound authentic and grounded. The songs are so connected to where I come from and they speak much about my longing for home and my journey towards this record".
"I also wanted the record to connect to that time in my life when I discovered music and it was about the whole album, from the songs to the order of the songs to the cover of the album. Everything about the record mattered back then, not just weather the song would be played on the radio or not. This record has through the whole process always been about more than writing songs. It has also been about me and my journey to reconnect to myself. I always have been able to do that by spending time in the wilderness. Nature humbles me".
The title " To Build A Fire" comes from a short story by Jack London, about a man that on an extremely cold winter day, go on the Yukon Trail to meet his friends at a gold digger camp after being warned by an old man of the dangers of traveling alone in this area and in the extreme weather conditions. The man doesn't take the warning seriously and thinks, a bit arrogantly, that he can master the cold and the nature. But he doesn't.
"That is an reflecting image of society today, I think. It feels like we're just carrying on living our lives in the city. We've lost contact with nature and the respect for it and that is so sad. I think that in a way it means that we lost contact with ourselves. We don't know how to connect anymore, to nature, to ourselves or to each other. Way back, people used to gather around an open fire at night for the light, warmth and to feel that they belong and to connect to each other. I think we need to learn how to build a fire again. I hope this record can contribute to that".