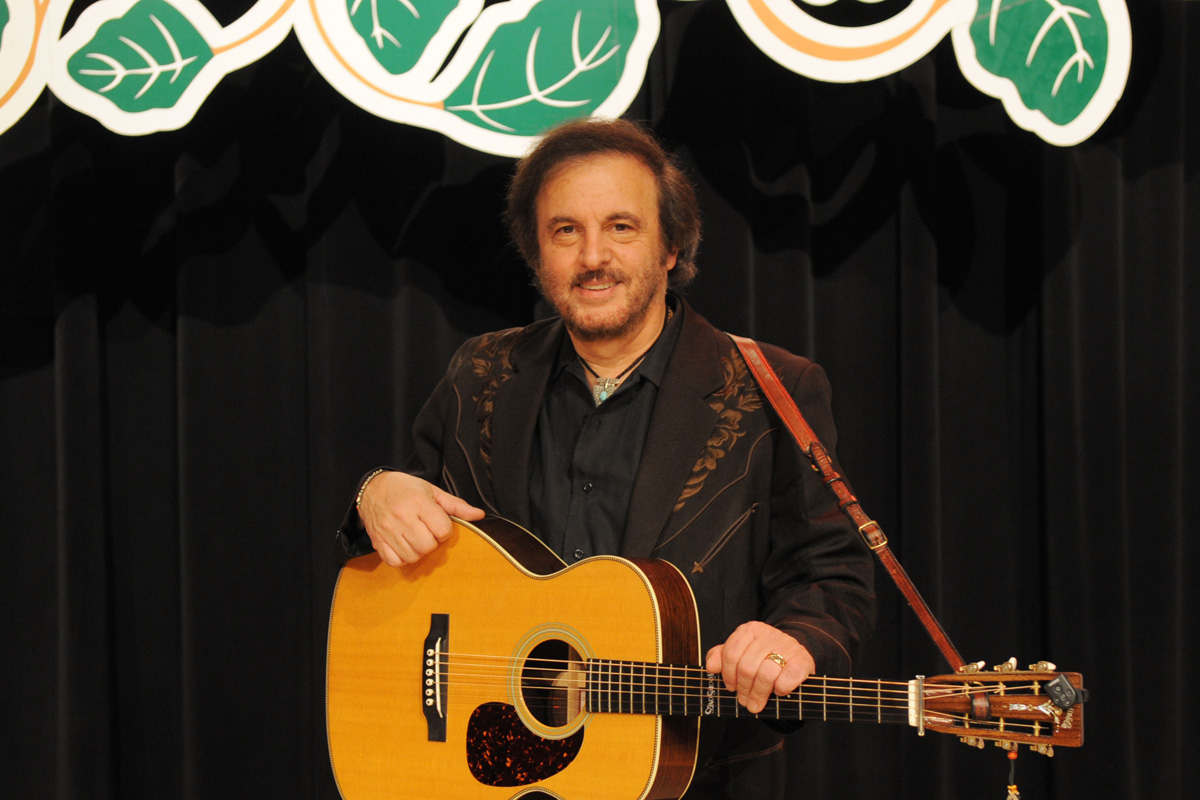 It's a 9 minute folk rock monster, a journey of the modern age of songwriters in a collapsing record industry. It's being played on rock stations and bluegrass programs, public radio and commercial radio. It's being used in college classes and has even become a parlor game as people study and comment on the lyrics. And it hasn't even been officially released.
Among the throngs of musicians in the folk world, few have elevated 'dreaming' to such a high artform as Michael Johnathon. He is a touring songwriter, author of 5 published books, playwright of the 'Walden Play', performed in 42 countries, composer of the opera, "Woody: For The People", organizer of the national association of front porch musicians called 'Song Farmers', the full symphony performances of 'Songs Of Rural America' and as the creator and host of the live audience broadcast of the 'Wood Songs Old Time Radio Hour' with a radio audience with over 2 million listeners each week on 500 public radio stations, public television coast to coast, across Europe on the American Forces Radio Network in 173 nations and now on the RFD TV Network nationwide.
Michael Johnathon, indeed, is no ordinary folksinger. And yes, aside from the tsunami of his accomplishments, he is an excellent musician and a brilliant songwriter. Now comes his 15th studio album, "Legacy" with it's massive 9 minute epic about the history of songwriters from Pete Seeger to Bob Dylan, James Taylor to Harry Chapin, the Kingston Trio to hip hop and the ultimate collapse of the record industry as we knew it.
"'Legacy', the song and album, is a concept of what I call derivatives", says Johnathon from his log cabin home in Kentucky. "These are songs that are completely original from lyrics, to chord patterns and melody. But I recorded them specifically to sound like a familiar tune".
Indeed, "Legacy", the title cut, is reminiscent to Don McLean's "American Pie" but absolutely original in it's own right. Not hiding that, Johnathon used the famous 'thumbs up' from McLean's classic original album cover to acknowledge that great work. The song "Rain" with its string quartet and descending bass lines reminds us of David Gates classic ballad "Aubrey".
"As far as the song goes, 'Legacy' is a tribute to the artists that made the biggest impact on me", says Johnathon. "But even more than that, it is a tribute to the struggle of all artists trying to be heard, trying to get attention, trying to find their audience. The world of music has changed so drastically. No matter how successful we might think we are, we all have a long, long way to go".