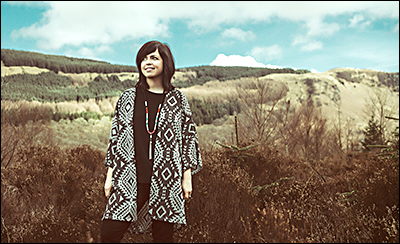 "Like a classic Nanci Griffith album with songs by Gretchen Peters" ~ Duncan Warwick, Country Music People
Martha L Healy was raised on a diet of Eagles, Traveling Wilburys, Bruce Springsteen and folk heroes, The Dubliners. These were, and still are, staples of the Healy family vinyl collection. At the same time, in her native Scotland, she was listening to female artists like Sheryl Crow, Carole King, Dolly Parton and Patsy Cline, and picked up the guitar to start writing her own songs.

Her new album, "Keep The Flame Alight" was written mostly in Nashville in the autumn and winter of 2016 and she returned there to record in October 2017, with David Spicher in the producer's chair. The album was released late 2018 at the Glasgow Americana Festival and followed up with a tour of Scotland and England. It entered the iTunes Country charts at # 11 and has received praise for its lyrical and melodic content.

It features a host of Music City's best players, including Todd Lombardo on guitars and mandolin (Kacey Musgraves, Golden Hour, Lady Antebellum, Taylor Swift), Eamon McLoughlin on fiddle and strings (Rodney Crowell, Emmylou Harris) and Bill Cooley on guitar (Nanci Griffith) to name a few.

Live festival performances to date include C2C in Glasgow & London, Glasgow Americana Festival, Eden Festival at the Scottish Borders, Southern Fried Festival in Perth and HebCelt at Isle of Lewis.

Martha has recently played at Celtic Connections in her hometown of Glasgow and showcased officially at A.M.A. UK's AmericanaFest in Hackney.