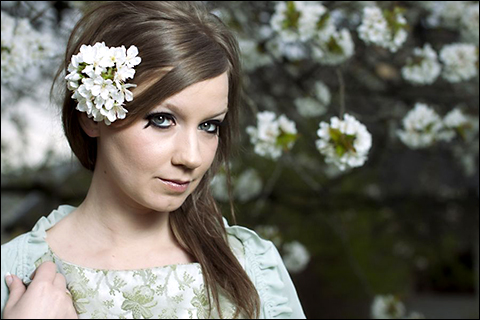 What do you have when you combine songs that speak to the soul, talent that shines the spotlight on the darkest corners of your hopes and fears, music that inspires, comforts and makes you want to alternately laugh, cry or reflect – with a heart that touches all that hear her and an honesty that makes you want to be a better person? Maria Solheim.
Maria originally aspired to be a reporter, having started working as a freelance journalist in her native northern Norway at the tender age of 14. Luckily for us, she turned her abilities for stating the truth to songwriting – in English (the better to disguise her lyrics from her parents). Love isn't an easy topic when you're a teenager. By the time she was 18 she had caught the eye – and more importantly the ear – of the music industry, resulting in her debut album "Barefoot" being released when she was just 19. Featuring some of Norway's best studio musicians, the album started to generate opportunities for Maria, leading to a support spot with Susanne Vega and the start of what would become a tradition of successful tours in Germany.
Maria's 2nd album "Behind Closed Doors" ironically opened more of them, including a release and tour in Japan. The critics loved her, and why not? The album showed Maria's continuing development as a songwriter and as the head of her own band. With the release of her 3rd album "Frail" (one that Maria has said is very close to her heart) in Scandinavia, Germany and Japan, she continued to build her considerable and ever-increasing fan base. She even garnered a royal 'command performance' at the baptism of Norway's Princess Ingrid Alexandra, second in line to the Norwegian throne.
In spite of a grueling tour schedule that included Germany, UK, China, Thailand, Japan, the US, Austria, Luxembourg, Switzerland and Scandinavia, Maria found the time and energy to record "There Will Be Spring", replete with beautiful yet catchy songs that proved to be eminently synch-able. Maria has seen her music in demand for a wide variety of projects - Films, audio books, advertisements (including a worldwide deal for Ecco Shoes) – not to mention other displays of Maria's talents as a published book author and exhibitions of her artwork. The album opened up a new audience for Maria when it was released in France.
Following this whirlwind of activity, Maria took some time to gather her thoughts, experiences and energy – and to have a family. But even then she continued creating; the single "Rom For Alle" – her first in Norwegian – was a duet with Hans Erik Husby Dyvik (AKA Hank von Helvete, former lead singer of the hugely successful Norwegian band Turbonegro) and went double platinum.
Maria has now marshaled her considerable abilities in the recording of her new album, "In The Deep", to be released by Membran in February.
Produced by Nick Terry (Turbonegro, Libertines, Klaxons, Roger Sanchez, former singer with The Stone Roses Ian Brown), Maria was also joined in the studio by Henry Olsen (former Primal Scream member who has also worked with Nico, Velvet Underground, John Cale and more), Emil Nikolaisen (formerly with Serena Maneesh) and other stellar musicians. The result is a wild record with songs that range from quiet, simple guitar-based tunes, through rock, all the way to pop. 'This album has been developing a long time', says Maria. 'There have been a lot of tears and laughter along the way, and I'm incredibly proud of the result. Now I've made an album I can dance to!'.
When it comes to Maria Solheim, the possibilities are truly limitless.