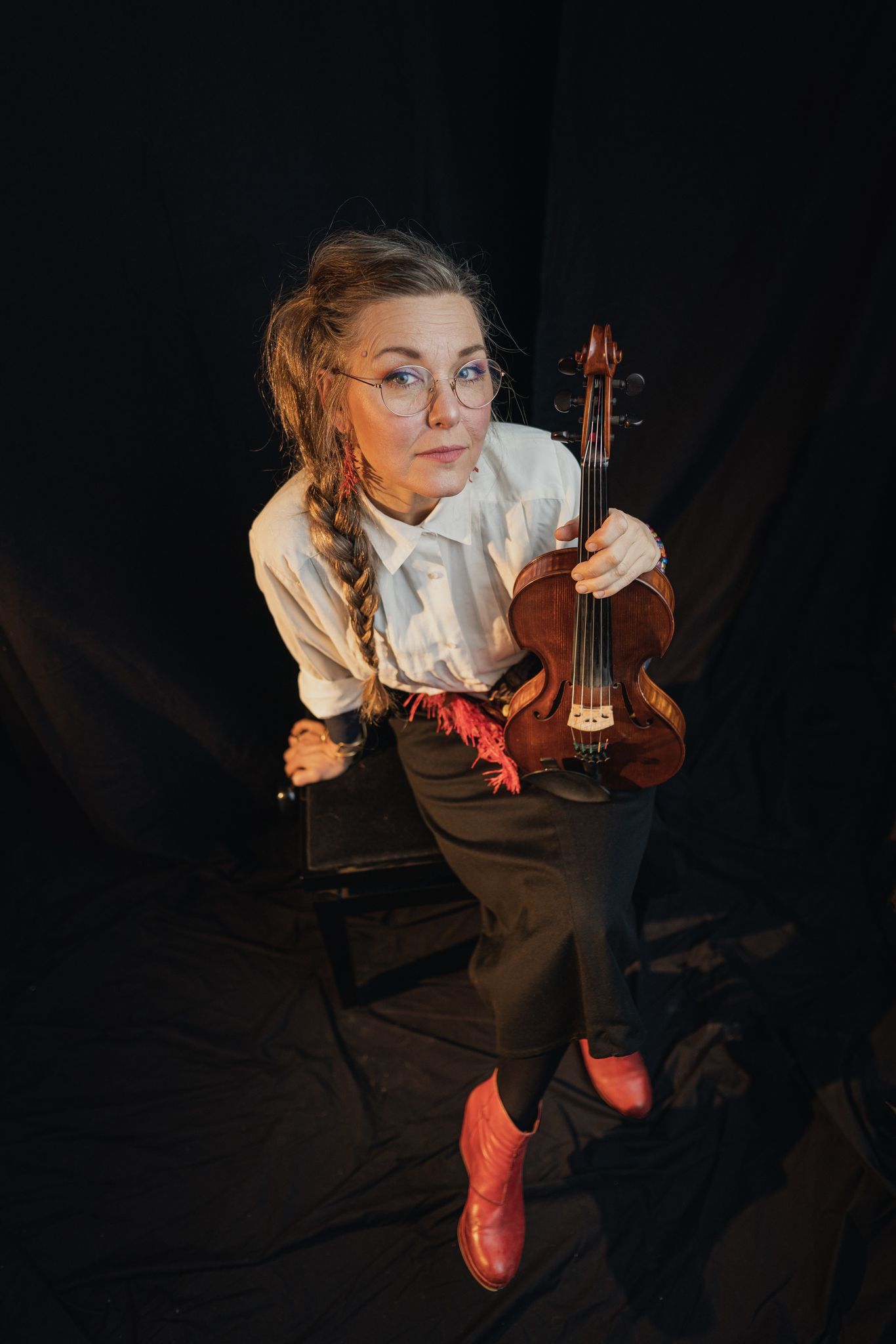 ENGLISH :
She's toured the world with a wide range of ensembles, appeared in a sizable number of dance and theater productions, in addition to being featured on at least 60 albums. In 2015, she had the distinction of being 'Artist Of The Year' at Sweden's Folk And World Music Gala. And now Livet Nord is dropping her 1st solo album, "Paperbird", brimming with musical influences from all over the globe and backed up by prominent musicians.
It all started with the poetic circus performance "Ska Det Vara Så Här??!" about a little girl grieving her dead pet bird. Livet Nord composed music and took part in the performance alongside Signe Veinholt, the creator of the performance, and the clown Karin Svensson. In one of the scenes, Livet makes a paper bird to comfort the grieving girl. Through the album propcess the paper bird has joined Livet but transformed into a blackbird. Like the blackbird that is said to come with a message of renewal, both the play and this album is about finding meaning in life in even the face of grief and anger. To embrace your feelings, but also to let go and move on.
The compositions certainly reflect aspects from Livet's eclectic musical background, her inquiring mind and penchant for accommodating various styles and expressions. The melancholy polska "Solace" is shoulder to shoulder with energetic minimalism, a lush landscape of strings, buoyant party music, and a sparkling circus waltz with all the trimmings.
The final track is Livet's own setting of the Stig Dagerman poem "Nu Slår En Blomma Ut" (A Flower Is Blooming) that was recorded in 2015.
In addition to Livet Nord, 19 of Sweden's most prominent musicians, all with distinctive modes of expression, bring their expertise and flavor to this production.
Kakafon Records, May 19th, 2023.
SVENSKA :
Violinisten Livet Nord har turnerat jorden runt med New Tide Orquesta och Kaja, varit verksam i en mängd grupper, samt dans- och teaterföreställningar. Hon medverkar på minst 60 album och har utsetts till "Årets Artist" på Folk- Och Världsmusikgalan. Nu släpper Livet sitt första soloalbum, "Paperbird", laddat med ett brett spektrum av känslouttryck, en kreativ mix av olika influenser och 19 prominenta gästmusiker.
Det började med en poetisk lekfull cirkusföreställning om en liten flicka som sörjer en död fågel. Violinisten Livet Nord skrev musiken och medverkade tillsammans med parakrobaten Signe Veinholt, som också skapat föreställningen, samt clownen Karin Svensson. Under föreställningsprojektets gång har Livet, Signe och Karin djupdykt i ämnet död och sorg. Delat tankar, berättelser och erfarenheter, och laborerat med olika sceniska uttryck. I en av scenerna viker Livet en pappersduva som tröst åt den sörjande flickan. I processen med albumet har fågeln sedan fått följa med, men ersatts av en koltrast. Efter att ha läst om symbolik hos olika fåglar, fastnade Livet för just koltrasten som sägs komma med dödsbud, men som också står för tröst, mod, optimism och glädje. Den är en försvarare av det som är värdefullt i livet.

"Paperbird" omfamnar olika känslolägen som kan komma med sorgbearbetning. Mäktig tröstpolska, ilsken minimalism, andäktig begravninsmarsch, balkansväng och sprudlande cirkusvals utgör en bred musikalisk palett på albumet, och speglar samtidigt Livets vurm för möten mellan olika genrer. "Paperbird" är musik för alla åldrar, skapad under repetitionerna och hemma i Livets hus i Dalarna.
Albumet avslutas med Livets tonsättning av Stig Dagermans dikt "Nu Slår En Blomma Ut", inspelad 2015 med Nord, Långbacka och Dahl. Den kändes självklar att ha med efter att hon läst historien om Sadako Sasaki som låg sjuk av strålning efter Hiroshima-bombens fall. Om hon lyckades vika ettusen origami-tranor skulle önskan om att bli frisk och att kriget skulle ta slut gå i uppfyllelse. Tyvärr dog hon, men hennes minne hyllas årligen då barn från hela världen skickar papperstranor för hälsa och fred till en staty av Sadako. Dikten skrevs efter Hiroshima.
Medverkar gör, förutom Livet själv, 19 handplockade musiker, vilka alla med sin högst personliga röst har bidragit med färg och ton.
Kakafon Records, 19:e maj 2023.