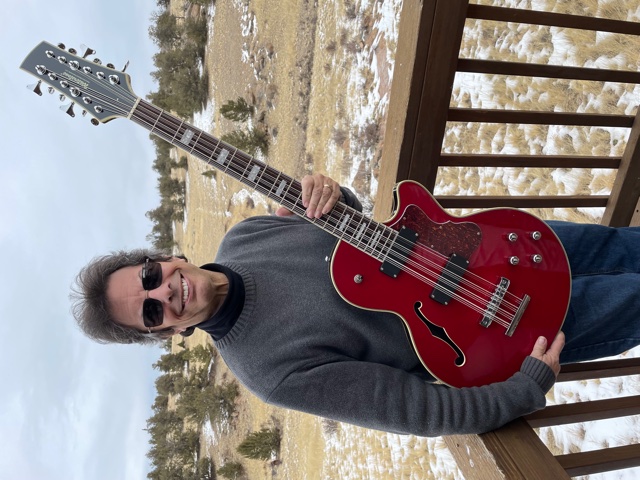 Les Fradkin is a producer and composer, virtuoso bassplayer, midi guitarist and multi instrumentalist. Les employs futuristic playing techniques realizing modern rock from the pioneer of midi guitar.
Les captured headlines as the original cast George Harrison in the mega hit Broadway show
Beatlemania in the 1970's and has played with The Ventures, enjoyed 16 #1 hits, composed #1 hits for French songstress Mireille Mathieu and latin pop icon Roberto Jordan, and won several awards from Akademia, as well as several other Indie Music Channel Awards, including 2016 Best Instrumental Recording. He is also a member of the Television Producers Music Production Hall Of Fame as a composer, and has also been named one of the Top 20 guitar synthesizer players of all time by Wikipedia.
He has played Mellotron, 12 and 6-string guitar, bass and piano on dozens of Top 40 hit records throughout the 1970's and 1980's, scoring many US and UK chart placings throughout his career. In 1976, Les was selected over thousands of other auditioning guitarists to appear in the original cast of the smash hit Broadway musical Beatlemania playing lead guitar and the part of George Harrison in New York City, Los Angeles and Chicago. Running for 2½ years from May 1977 through October 1979, every show, including over 1 000 in New York alone, was sold out and the Beatlemania musicians quickly became celebrities with magazine cover stories (Newsweek, Time, People, Rolling Stone) and many major television show appearances.
With his guitar playing in the international spotlight from the show, including appearances in the US, in Canada, in the Caribbean and in Europe, Fradkin developed a cult following that has avidly followed his career and made him a celebrity among guitar fans. Les Pioneered the midi guitar throughout the 1980's and as a result, was elected to the Television Producer's Music Museum Hall Of Fame and was also elected to the 12 String Bass Hall Of Fame in 2004.
His latest single, "Under The Covers", from his new album, "The Cross In The Sky", reached the #1 spot on independent radio in the UK in January 2022.