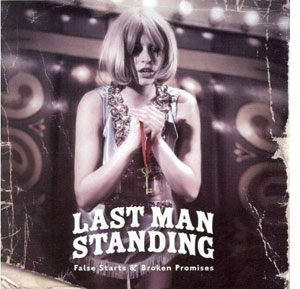 Where did it all go so wrong for Max Vanderwolf? When did he lose his faith in love and goodwill? Why did he give it away so callously or cas-ually? And what did he trade it in for? Some songs? Some words? Some memories of a vaguely good time that will haunt him for his remaining years?
Considering the 10 stunning tracks on "False Starts & Broken Promises" by his band Last Man Standing it may have been a fair trade. The songs are memorable, the lyrics powerful, and it sounds like he's stumbled down a colorful if crooked path.
Vanderwolf felt this darkness grow inside of him. And after several attempts at recording a new album, the New York-based songwriter gave up and slipped in and out of various forms of self-abuse. Various demo tapes circulated through the music community and they became well-known amongst the community of underground song-writers.
Thrusting himself back into a world of despair and obsessed with artistic endeavour Vanderwolf finds himself in rehab. In an attempt to maintain normalcy, he joins a rehab book club where he is immediately discovered by guitarist and former-pill popper, Chris Cordoba who has himself experienced the verisimilitudes of the music business:
"His demo tapes were widely known to the few in the know that knew. They were the stuff of legend – well, sub-legend--or probably sub-sub legend. After a discussion on that weeks reading, Evelyn Waugh, I think it was, I asked him point blank: Can I produce your next recording? He agreed immediately without knowing a thing about me. We dropped out of rehab that week and started on the record."
Soon the band was playing gigs to enthusiastic audiences. A regular fixture at The Lost Vagueness burlesque parties in London, the band was invited to perform at the Paradiso in Holland for the ''London Calling Festival'', support slots with the Polyphonic Spree, Mercury Rev and Circulus, a weekly residency at Madame Jojo's and festivals including V Festival, Lovebox Festival, Secret Garden Festival and Electric Picnic Festival in Dublin.
"Now I'm in deep again," says Vanderwolf. "And I'm losing my mind - everything must go. Sacrifice it all. Damn the torpedoes. March, soldier. I can almost taste victory. Or is that nerve gas?"
Recorded against great odds, under great constraints and with great ambition, "False Starts & Broken Promises", is the soundtrack to someone's downfall - hopefully not Vanderwolf's.