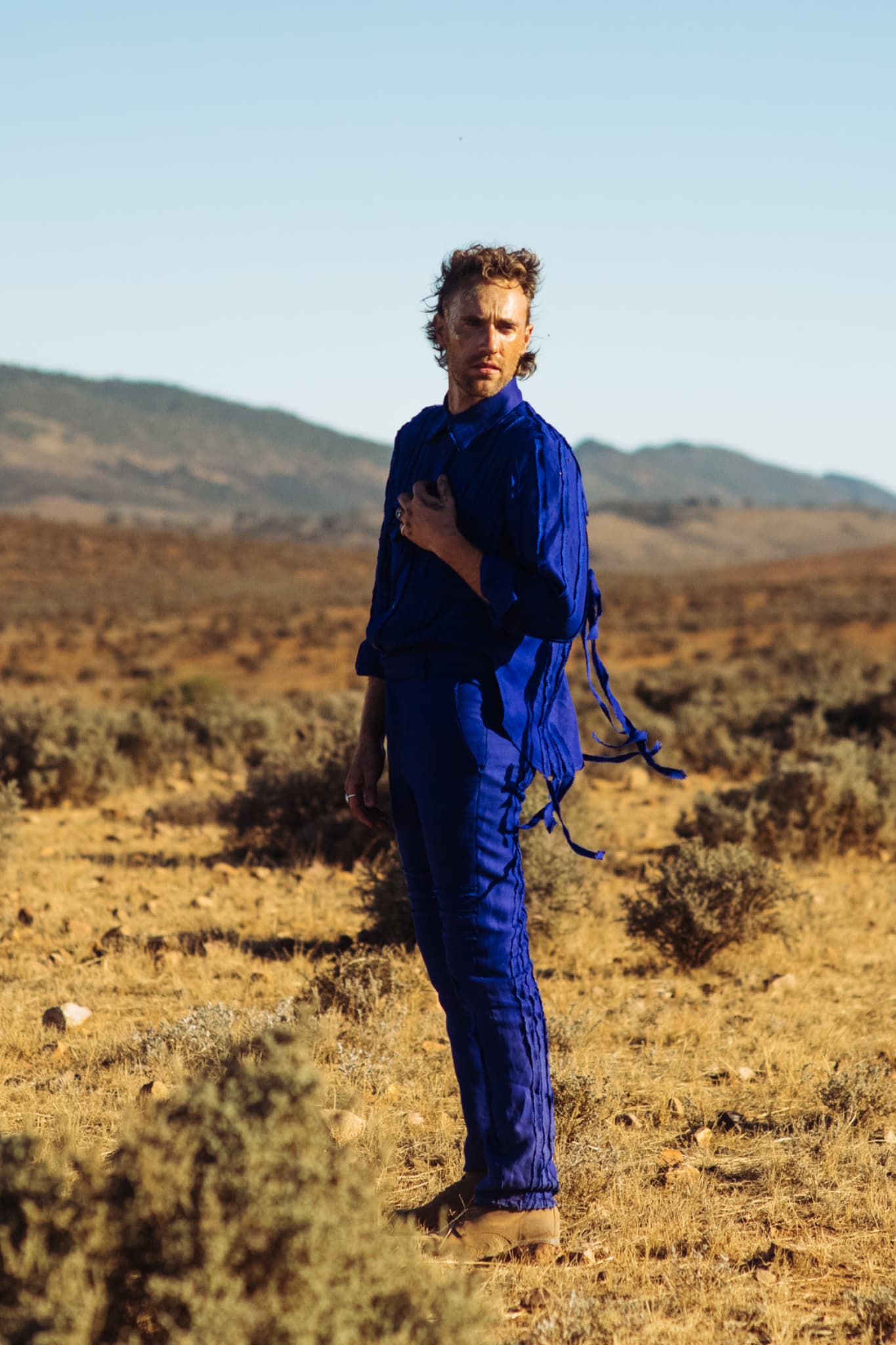 Multi award winning folk rock artist Kaurna Cronin has announced his moody new single and video "Never Said", a song which reflects on artistic struggles and the challenges creatives face in a capital system which benefits capitalism and corporatism, rather than culture. Cronin continues to evolve his artistry in songwriting and production, alongside 10 years of touring street corners to festivals, with over 600 shows across the UK, Germany, France, Belgium, Italy, Netherlands, Austria, Denmark and Sweden before being grounded in his homeland Australia. Kaurna will be returning to Europe throughout summer 2022 to perform a run of exclusive shows celebrating his anticipated album "Harsh Beauty". His tour will see him and his band perform concerts throughout Germany, Sweden, Estonia, Poland, Latvia, Denmark and Finland.
Recently nominated for 'Best Solo Artist' at The Australian Folk Music Awards, Kaurna's rich imagery and charisma in his songwriting craft lands hard on his new single "Never Said". With Cronin's signature folk rock blend as a foundation, Cronin and his musicians bring a little more grit with this track, combining a simultaneous percussive angular aesthetic and a floating atmosphere, as if to sonically articulate the constant battle between love and frustration, commonly entrenched in a creative mind. Evocative of folk greats Neil Young and Paul Simon, with a contemporary edge, "Never Said" is a beautiful blend of the raw and edgy with lush undertones perfectly cradling Kaurna's unique vocals.
Speaking on the inspiration behind the song, Kaurna reflects, "'Never Said' is an observation on the struggle artists face living in a capital society where corporations benefit greatly from creatives and the arts, but where artistic freedom is often sidelined for profit, it generally speaks of the intersection where capitalism meets art and how artists are heavily affected by this crossroad".
The enthralling music video for "Never Said" set in outback Australia speaking to the treacherous terrain and struggle artists face navigating a life in the arts, however, constantly surrounded by beauty. Cronin roams in a rich blue artistically styled garment possessing a freedom, but not without struggle, as he battles the harsh environment becoming affected by his surrounds. On his journey, he revels in moments of artistic joy and inspiration but growingly becomes exhausted, and by the battle within the world in which he roams.
"I am curious about how music and arts are understood and celebrated in different cultures. We can often take for granted the perspectives and intrigue towards life that great art can afford us. We have seen how integral arts is to evolving societies, in reflecting upon and understanding ourselves and also in uniting people. The last years have shown us life would be utterly boring without arts, so it's important to nurture those who create it".
After spending 2 years grounded, where he would usually be traversing the globe performing, Cronin returns with a new single as the captivating and ever evolving artist he's celebrated as.
"Never Said" is out today, Friday, May 6th, 2022.