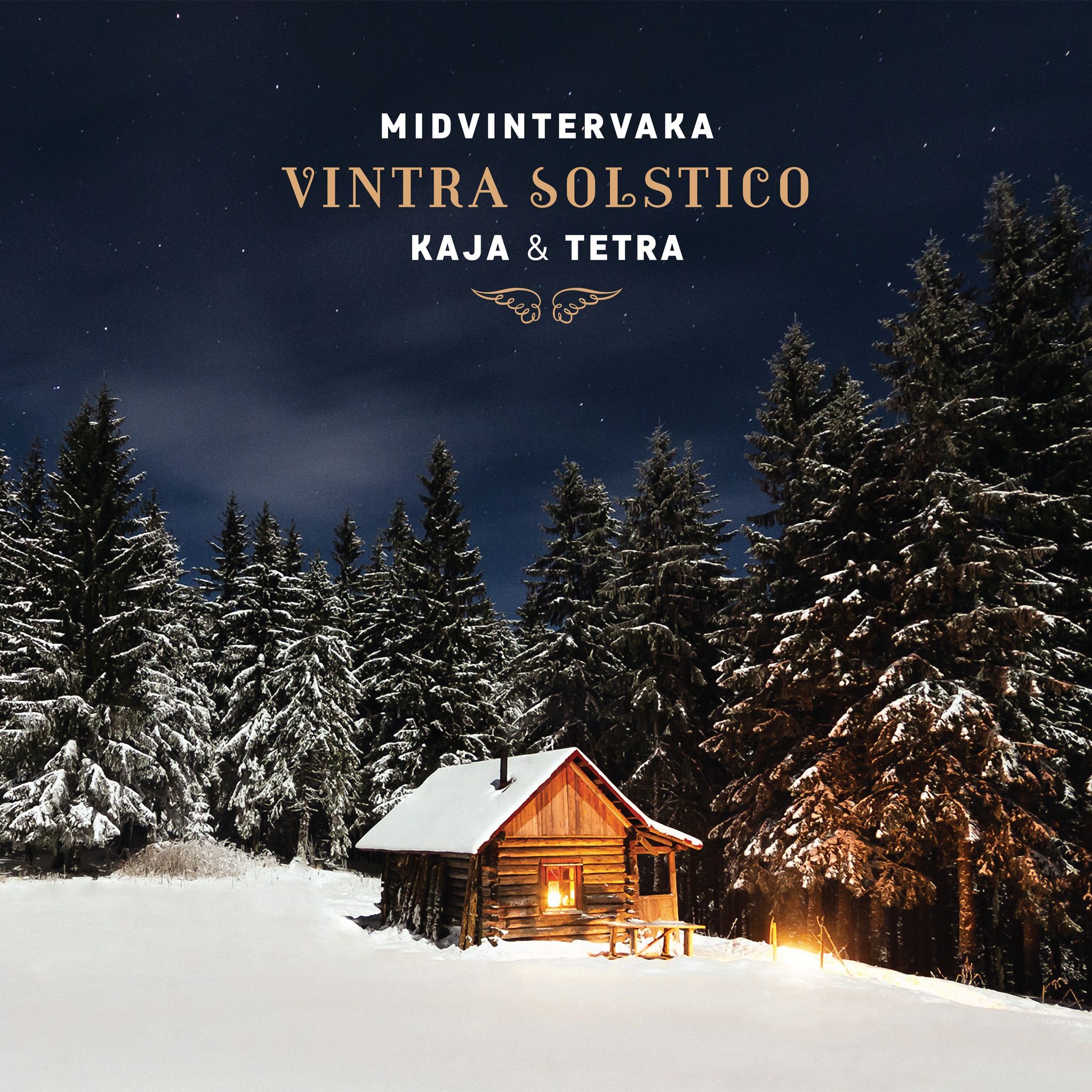 ENGLISH :
For a decade, the show "Midvintervaka" has warmed light thirsty, frozen winter souls, from the north to the south. The ensembles Kaja and Tetra now celebrate its 10 year anniversary with the jubilee album "Vintra Solstico". Welcome into the warmth, to a bountiful Christmas table laden with scents, tastes and sounds from the North, the Middle East, the Caribbean and the Mediterranean.
11 years ago, the music ensembles Kaja and Tetra found each other in a mutual passion for new musical encounters. There, the idea of a performance on the theme of Christmas, fellowship and midwinter vigil was born. A colorful Christmas show, where the audience is welcomed into the warmth with dance and music from various ethnic music traditions. Nordic, Greek, Arabic, Romany, Macedonian, Galician, Caribbean and Argentinian Tango, alternating with original compositions and poetry.
In 2011, the show "Midvintervaka" had its world premiere in Gothenburg, resulting in superb reviews. Since then, the highly praised show has toured from Piteå to Malmö, and in 2012 the debut album with the same name was also released.
"Midvintervaka" now celebrates its 10 year anniversary. The performance has been dressed in new garments with deeper hues and new features since the world premiere. The follow up album "Vintra Solstico", i.e. midwinter solstice in Esperanto, presents a wide musical scope, Maria hymns from Europe and Lebanon, a sufi song from Morocco, 'Silent Night' in greek and spanish, as well as new compositions, poems and improvisation. The music was recorded at Studio Epidemin, with Gothenburg's foremost folk music producer Henrik Cederblom at the mixing desk.
"Vintra Solstico" can now be enjoyed in our homes as the winter solstice and Christmas celebrations are approaching.
Kakafon Records will be releasing the album on November 26th, 2021, but tomorrow, November 12th, the 1st single will be released digitally on all streaming sites.
SWEDISH :
Sedan ett decennium har "Midvintervaka" värmt ljustörstande frusna vintersjälar, från norr till söder, och nu firar Kaja & Tetra 10 år med jubileumsalbumet "Vintra Solstico". Välkommen in i värmen till ett dignande julbord med dofter, smaker och toner från Norden, Mellanöstern, Karibien och Medelhavet.
För elva år sedan fann grupperna Kaja och Tetra varandra i en gemensam passion för nya musikaliska möten. Där föddes idén till en föreställning med temat jul och gemenskap och en modern "Midvintervaka". En färgstark julshow, där publiken bjuds in i värmen till dans och musik hämtade ur olika folkmusiktraditioner, nordisk, grekisk, arabisk, romsk, makedonsk, galicisk och karibisk folkmusik och tango varvat med nyskriven musik och poesi.
2011 hade "Midvintervaka" världspremiär på Teater Aftonstjärnan och möttes av lysande recensioner. Sedan dess har den bejublade föreställningen turnerat från Piteå till Malmö och 2012 släpptes också debutalbumet med samma namn.
Nu firar "Midvintervaka" 10 år. Föreställningen har fått nya kläder med djupare nyanser och nya inslag. På uppföljaren, "Vintra Solstico" (midvintersolstånd på esperanto), ljuder allt från mariavisor på svenska och grekiska, festmusik från Marocko och "Stilla Natt" på spanska, till tonsatt poesi av Olivia Bergdahl, julvisa av Alf Hambe och haitisk sång om änglar. Musiken förevigades under några soliga dagar i maj på Studio Epidemin med Göteborgs främste folkmusikproducent Henrik Cederblom vid mixerbordet. Nu släpps "Vintra Soltico" in i våra hem inför stundande vintersolstånd och julfirande.
Albumet släpps den 26:e november, 2021, men redan den 12:e november släpps det första musikaliska smakprovet i form av en aptitretande single.