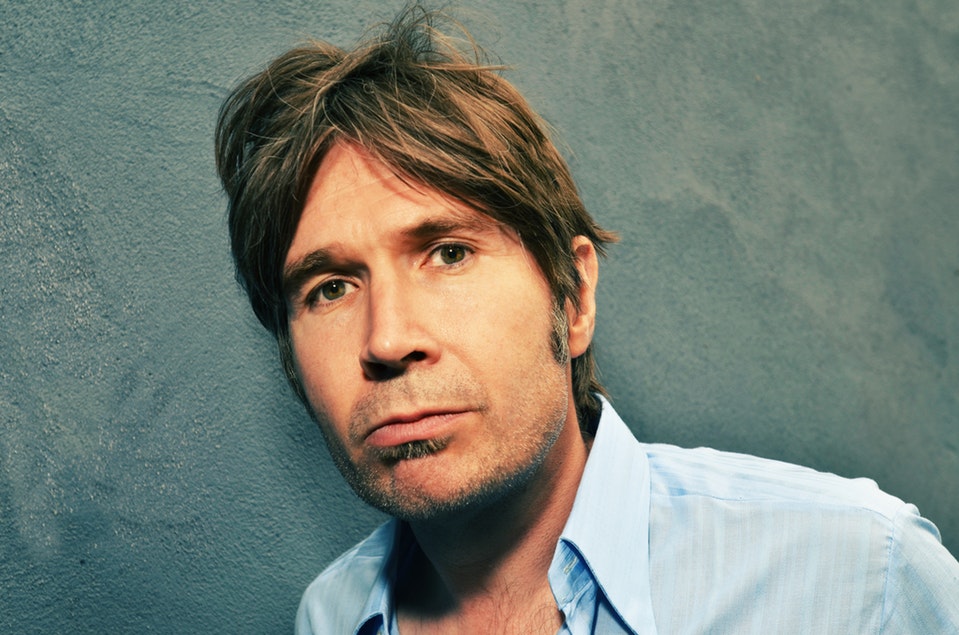 When Del Amitri's singer-songwriter Justin Currie released his first solo album, "What Is Love For" in 2007 he described it as 'eleven thunderously dreary dirges'! Fortunately, not everyone agreed with him, and the album won accolades from critics, fans and fellow artists, as a thing of dark and starkly honest beauty.
Now Currie returns with a second album, "The Great War", which delivers a bracing set of original compositions that break yet more creative ground – And should further cement Currie's place as an ambitious and versatile solo artist.
"The Great War" finds Justin delivering some of his most compelling work to date, with such memorable numbers as "The Way That It Falls", "At Home Inside of Me" and the epic "The Fight To Be Human" overflowing with catchy melodicism and vivid wordplay, while "A Man With Nothing To Do", "Can't Let Go Of Her Now" and "You'll Always Walk Alone" offer a trenchant mix of romantic idealism and hard-won experience.
"I didn't want to repeat what I'd done on 'What Is Love For'," Currie states. "'What Is Love For' was intended as a very introspective record, and it was so sad and dark that I didn't really expect it to get any airplay. But 'The Great War' is much brighter and more accessible; there are actually three or four positive love songs on there, which is unusual for me. This time, I wanted more major keys, and more variety in the tempos. I don't write a lot of up-tempo songs these days, so it took me a while to write enough to be able to get the kind of balance I wanted.
"I also used the device of making little jokes out of the songs", he continues, "so quite a few of the songs on 'The Great War' have punchlines that completely reverse the assumed meaning of the song. I find that enormously satisfying when it works. A famous poet, whose name I forget, said that a poem must always have a little revelation at the close — a quiet epiphany — and I see no reason why songs can't sometimes do the same. Why repeat to fade? Why not end on a handbrake turn, a slap in the face or a 'reveal'? I tried to make the entire album do this, so that the last line of the last song is an unmasking".
Justin Currie has plenty of experience in defying musical expectations. He was still in his teens when he co-founded Del Amitri in his hometown of Glasgow. Between 1982 and 2002, the band evolved from resourceful D.I.Y. indie combo to international hitmakers, releasing six much-loved studio albums before amicably parting ways.
"It's a big difference being a solo operator", Currie observes. "What you lose in companionship, support and input, you gain in creative control. But most of the elements of what I do haven't changed all that much. I'm still looking for melody and lyrics that I can feel something from, and trying to put them into the standard structures of the rock or pop song. I love those structures; to me, the verse/chorus/middle-eight thing still seems filled with endless unexplored possibilities".
"The Great War", which was recorded and mixed by frequent Del Amitri associate Mark Freegard, features Currie on lead vocals and various instruments, along with a talented group of players that includes ex-Del Amitri guitarist Mick Slaven. Currie considers the album's title to be "a nice broad and flexible metaphor", adding, "Album titles are hard; you have to find something non-specific that still somehow suits a collection of songs. I noticed a few common references to struggle and conflict in the lyrics. I don't think there's a single song on the album that the title doesn't resonate with in some way".
The combination of uplifting tunes and darker lyrical themes has long been a recurring motif in Currie's songwriting. "Del Amitri were often described as 'bittersweet' for that very reason", he notes, adding, "Do I do this deliberately? I don't know. I am an enormous devotee of pop melodies, from Cole Porter to Amy Winehouse, Smokey Robinson to Buzzcocks. Lyrically, more often than not, I seem to gravitate towards the ambiguity of feelings, the struggle with motivations and doubt in relationships, self-loathing and disappointment — somber things sometimes, but with a scintilla of hope, or at least catharsis. As a songwriter, I use melody to make all of this less maudlin, hopefully, and to create tension".
"I love to undermine a lyrical conceit with a contrasting tune", Currie asserts. "I like to sew doubt in the listener's mind. Does he mean these things? Is this song actually as melancholy, defeatist or cynical as it seems? Or is this guy a romantic who's optimistic about the consoling power of love?"
"If I have a mission as an artist", he concludes, "it would be to get a little more poetry into the great warehouse of rock music. All I can do is get it out there and fight to be heard; that's the great war."