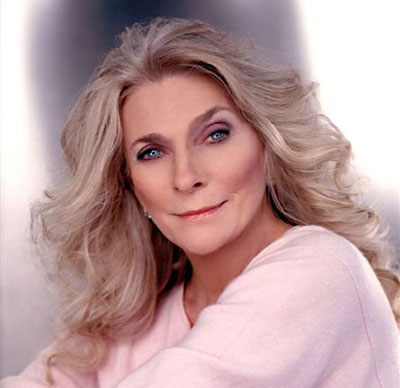 HEMIFRÅN UNFORTUNATELY DOESN'T WORK JUDY COLLINS' NEW ALBUM "SPELLBOUND"
Folk icon Judy Collins will release her new album 'Paradise', on June 28th, 2010, on Wildflower Records. The collection of songs selected for Collins' latest project reinforces her lifelong commitment to quality songwriting and worldwide reputation as one of the finest interpretative singers in any genre. 'Paradise' is a collection of songs with universal themes, desires, and cries of a human being searching for paradise here on earth. There are 10 heartfelt songs with tales to tell about finding love, losing love, personal freedom and redemption. Collins teams up with the legendary Joan Baez and Stephen Stills on two tracks.
'Paradise' provides a modern take on the times, with brand new renditions of archetypal songs made fresh with Collins' striking arrangements and intimate, breathtaking vocals. The material here is drawn from great sources such as Jimmy Webb, Tom Paxton, Joan Baez, Tim Buckley, and Stan Jones, to name a few. The duet of Collins and Baez singing "Diamonds and Rust", Baez's 1975 hit single, is stunning as you listen to their angelic harmonies revealing sincere feelings on the complexity of love in haunting words and melody. And, with the often-recorded Tom Paxton song "Last Thing On My Mind", Judy Collins pairs up with Stephen Stills to create a fresh and sweetly melodic track, beautifully weaving their complementary voices together with soft and jangly guitars of a song reminiscing a couple's breakup. The poignant duet from these two former lovers, singing "I could've loved you better, didn't mean to be unkind, don't you know that was the last thing on my mind" make for a wonderfully lilting and bittersweet tune.
Renowned for her activism and performing socially relevant material Collins' 'Paradise' includes the recording "The Weight Of The World," by emerging artist Amy Speace, an anti-war song with powerful and personal lyrics. Singing about a brother unthinkably heading off to fight, Collins' voice is a plaintive, universal cry of the unspeakable senselessness of losing a loved one to war. We can feel the weight of her world in the intimacy of the song's lyrics, resonating with "The weight of the world, too heavy to lift/So much was lost, so much was missed/It doesn't seem fair that any boy or any girl/Should have to carry the weight of the world".
'Paradise' concludes with a song of hope and wonderment as you listen to Collins' enchanting recording of the#1 movie song of all-time, "Over The Rainbow", Her recording of this song is also included on a CD insert to her new children's picture book project, also titled "Over the Rainbow".