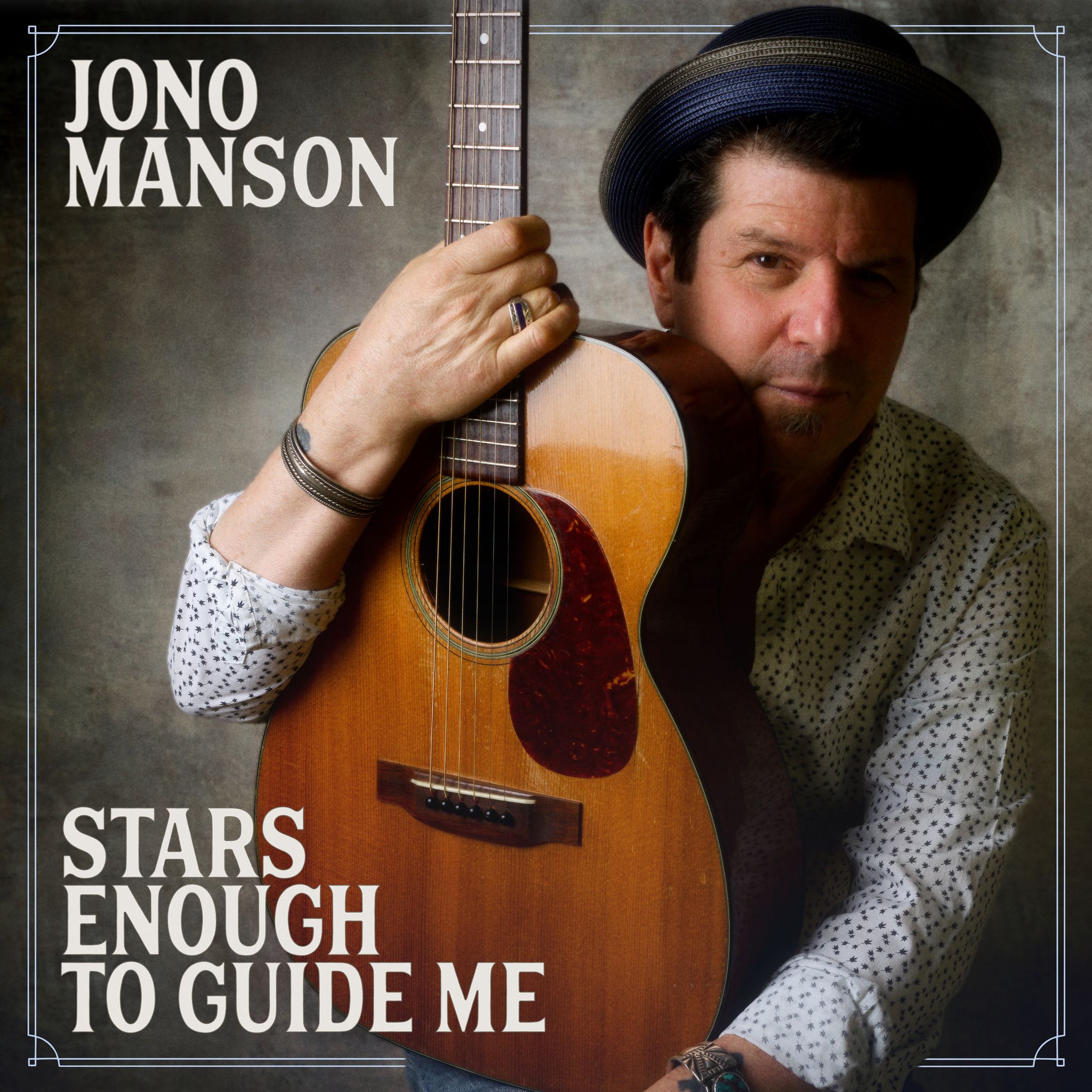 A profoundly gifted writer, producer, and performer, Jono Manson weaves the threads of his remarkable life and career into a captivating, cohesive whole on his dazzling new album, "Stars Enough To Guide Me", out March 31st, 2023, on Blue Rose Music. Recorded at Manson's own The Kitchen Sink studio in Santa Fe, NM, the album brings together a slew of special guests, from GRAMMY-winner John Popper and American Idol Linalist Crystal Bowersox to folk and americana stalwart Eliza Gilkyson, to craft an organic, eclectic sound that manages to look to the future and honor the past all at once.
The songs here are diverse and genre bending, drawing on roots, rock, soul, and country traditions, as they paint vivid portraits of resilient characters standing tall in the face of time's relentless march, and Manson's performances are similarly determined, delivered with a passion and conviction that's as honest as it is empathetic. While it would be easy for Manson to rest on his laurels at this point in his career, "Stars Enough To Guide Me" is anything but a trip down memory lane; rather, it's the start of a brand-new chapter, the work of an artist determined to continue forging his legacy one song at a time.
"I'm singing better than I ever have, I understand myself on a deeper level than ever before, and I'm in the middle of one of the most creative, productive periods I've ever experienced", Manson reflects. "I might be pushing 62, but it feels like I'm just getting started".
Born and raised in New York, Manson began his professional career in the 1970's as a teenager in the city's dirty dive bars, where 6 hour sets were the norm and nights out rarely ended before sunrise. By the early 80's, Manson was a highly respected Ligure on the club circuit, and his band, Joey Miserable & The Worms, were a force to be reckoned with. The New York Times called the group local heroes and credited them with influencing countless other acts, including the likes of Joan Osborne, who hailed them as master entertainers who always had the crowds eating out of their hands.
In the decades to come, Manson would go on to become a cult favorite in Italy, record on Blues Traveler's multi platinum selling "Four", open his own studio in New Mexico, where he'd collaborate with the likes of Amanda Palmer, T Bone Burnett, and Ray Wylie Hubbard, among countless others, contribute songs to major motion pictures, produce as far afield as Pakistan, and even perform at Madison Square Garden alongside Bruce Springsteen, Taj Mahal, Emmylou Harris, and Joan Baez in honor of Pete Seeger's 90th birthday.
Manson recorded the core of the album live at The Kitchen Sink with frequent collaborators Ronnie Johnson (James McMurtry, Ronnie Lane), Paul Pearcy (Willie Nelson, The Chicks, Jimmie Dale Gilmore), and Mark Clark (Cat Stevens, Ottmar Leibert) before bringing in a variety of friends from across the last 40 years, including Jason Crosby, Sally Van Meter, Beppe Gambetta, Jon Graboff, and Kevin Trainor, among others, to help flesh things out.
It's easy to hear Manson's journey in the music here. The soulful opener "Lights Go Out" reflects on resilience and perseverance in the face of hardship and struggle, while the Stonesy, r'n'b inspired "The Further Adventures Of Goat Boy And The Clown" chronicles the joy and absurdity of life on the road, and the aching "Timberline", a duet with Trevor Bahnson, meditates on the healing nature of the Mountain West. While Manson revisits the retro soul of his bar band roots on "As Long As Grass Grows" and lets his hair down on the raucous "Before We Get Stupid", featuring vocals from Bowersox, the album's most arresting moments are often the most personal. The dobro and harmonica driven "No New Kind Of Blue", a duet with Popper, offers a jaunty, playful take on loneliness and isolation, and the melancholy "Late Bloomer" contemplates aging and mortality with poetic grace. "I'm a late bloomer on the far side of the hill", Manson sings over gentle piano and guitar. "I turn my face to the sunshine but I can feel the chill". "Stars Enough To Guide Me" marks Manson's debut release for Blue Rose Music.