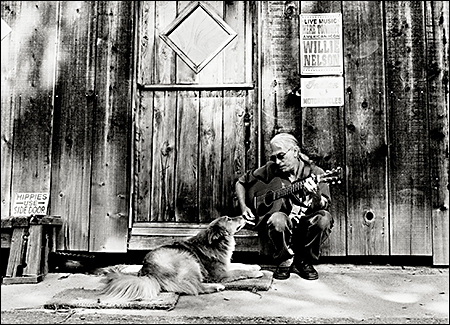 Singer-songwriter and folk musician Joel Rafael has been writing and performing for over 50 years, beginning as a drummer with his first band, a jazz combo, in the 6th grade. After transitioning from jazz to surf music in junior high, Rafael soon found himself swept up by the rise of folk music in the early 60's. He began learning chords on a cheap guitar he picked up in Tijuana, until he was able to afford a more respectable instrument by selling an expensive rifle he'd been given. He soon became the resident folk musician of his high school, performing in hootenannies, benefit shows, and on open stages, polishing his style. He began incorporating his own lyrics and melodies into the folk format, and by his senior year he was gigging in clubs his classmates were too young to enter.
Rafael enrolled in college at Cal State Fullerton, because the Vietnam War was raging, and the draft was very real, but only stuck it out for two semesters, before moving to Los Angeles, where he could perform on stages at the Troubadour and the Ash Grove. Eventually those clubs started catering more to rock groups, and, after losing his student deferment, his draft status was again 1A, so Rafael headed north with a group of outlaws, artists, writers and mystics, eventually landing in Oregon.
Two years later, Rafael was busted for hashish in Portland as part of a citywide sweep of the entire underground. He was released with three five-year probations (fifteen years) to be served concurrently, and was forbidden to reside in the State of Oregon. Still intending to avoid the draft, he relocated back to Los Angeles where he found day work at North Beach Leather to support himself, while honing his songwriting in the musically fertile hills of Laurel Canyon. An opportunity to assist a friend open an "old world" leather shop took him north to Seattle. From there, he eventually retreated to the mountains where he worked on his songwriting, and learned to live simply.
The draft board caught up with him, and demanded he report for a physical. Instead he relocated and settled in North San Diego County where he learned to grow avocadoes on a newly planted ten-acre ranch. Life in rural North County presented new opportunities, and each one seemed to inspire a song. Finally, with the ending of the draft, and his probation behind him, Rafael's songs no longer reflected the idealism of his teen years, he now wrote about his life and his family and what he saw in the world around him. In nearby Encinitas, he began to play his songs in front of a real audience again, at the Blue Ridge Guitar Shop, where he also began a lifetime friendship with Eagles songwriter Jack Tempchin.
During the late 70's, Rafael performed around Southern California in various groups including as a duo with Rosie Flores. In the early 80's, after he and Rosie parted ways, he found a niche in San Diego County as an opener for nationally touring acts at several local venues, which allowed him to grow as a performer of his own original songs. Jesse Colin Young added Rafael as an opener on a short tour of the Southwest in 1981, shortly after he recorded his first album, "Dharma Bums", with San Diego songwriter Richard Bowen. In the early 90's, with the mentoring support of Paul Rothchild, the Joel Rafael Band was born.
After releasing 2 albums with the Joel Rafael Band, "Joel Rafael Band" (1994) and "Old Wood Barn" (1996), he was invited to join Jackson Browne's Inside Recordings for a 3rd album, "Hopper" (2000), which would end up being the band's last. In 2002, with his daughter Jamaica and guitar player Carl Johnson, he performed 5 original songs, 2 co-writes with John Steinbeck, and the background musical score for a new radio play of 'The Grapes Of Wrath'. After performing the play for a week in Los Angeles, the live recording became part of NPR archives where it surfaces annually. After 5 years on the Woody Guthrie Festival, he decided to release an album of all Woody Guthrie tunes, "Woodeye" (2003), which included one song for which he composed the music, and one original talking piece combined with a Woody Guthrie song. Shortly after, he turned his focus to another album of Woody Guthrie songs, "Woodyboye" (2005) –– this one including four more Woody Guthrie co-writes with lyrics given to him by Woody's daughter, Nora Guthrie.
After six years devoted to presenting as much of Woody's songs as he could, Rafael found himself again touring the country, but this time as part of a road show of songwriters dedicated to presenting Woody Guthrie through his songs and prose. And it was time to return to his own songs, so with more than an album's worth of material, he went to Austin and put together 13 songs with a band of musicians who backed Stillwater, Oklahoma native, and Austin icon Jimmy LaFave. The resulting "Thirteen Stories High" (2008), introduced a new musical collaboration embracing his original work and including the songs of Steve Earle and Jack Hardy.
By the time he released his next album of original songs, "America Come Home", it was 2012 and the year of Woody Guthrie's Centennial. 2 of Rafael's co-writes with Guthrie were published in a book of 100 songs, "Every One Hundred Years: The Woody Guthrie Centennial Songbook", and he was asked to perform on several tribute concerts around the country, the most notable, and an admitted high point of his career, was the final 2012 show at the Kennedy Center for Performing Arts in Washington, DC.
As a solo performer and with his band, he has opened shows throughout the southwestern United States for artists including Joan Baez, John Trudell, Crosby, Stills & Nash, Sheryl Crow, Laura Nyro, Taj Mahal, Emmylou Harris and John Lee Hooker.
"Baladista", Joel Rafael's 9th album, delivers 10 essential ballads that embrace and celebrate the human spirit and reflect the half-century journey of an American songwriter.