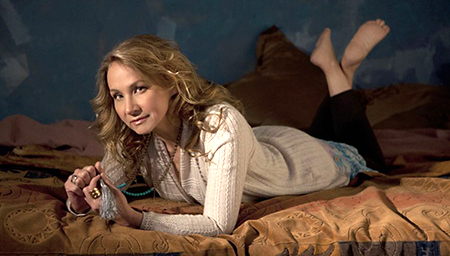 Multi-platinum selling recording artist and seven time Grammy nominee Joan Osborne has just released her 8th studio recording, "Love & Hate". The poignant 12-song collection, which weaves together strands of American roots music, poetic lyrics and impassioned vocals, is released via Membran in Europe.
Osborne wrote or co-wrote every song on "Love & Hate", making it her most intimate album yet. "These songs resonate especially deep for me," she says. "I feel like I've grown so much as a songwriter, using simpler and simpler language, getting to the heart of the matter in a purer way". Osborne co-produced "Love & Hate" with Jack Petruzzelli (Patti Smith, Rufus Wainwright) and recorded the album in her current hometown of New York City. The pair previously collaborated for Osborne's "Bring It On Home", which was Grammy nominated in the Best Blues Album Category last year
Of the concept behind "Love & Hate", Osborne explains, "The image I keep coming back to is that of a beam of white light: we think it's one thing, but when you shine it through a prism, you see that it's made up of many different colors, different frequencies. Love isn't just one thing either; it can be made up of faith and passion, power struggles, humor, anguish, deep spirituality, lust, anger, everything on that spectrum. People we love can bring out the very best and the absolute worst in us, and we can do that to them, too. Love is always a risk".
The soulful vocalist, who counts such legendary artists as Etta James and Ray Charles as influences, has toured extensively with her own band and as a member of The Dead. She was one of the original artists on Lilith Fair and has performed alongside many notable musicians, including Bob Dylan, Luciano Pavarotti, Stevie Wonder, Emmylou Harris and Patti Smith, to name a few. Osborne's debut album "Relish" produced the massive MTV and international radio smash, "One Of Us". Osborne is currently a member of the rock band/creative collective Trigger Hippy formed by Black Crowes drummer Steve Gorman along with Jackie Greene, Tom Bukovac and Nick Govrik.