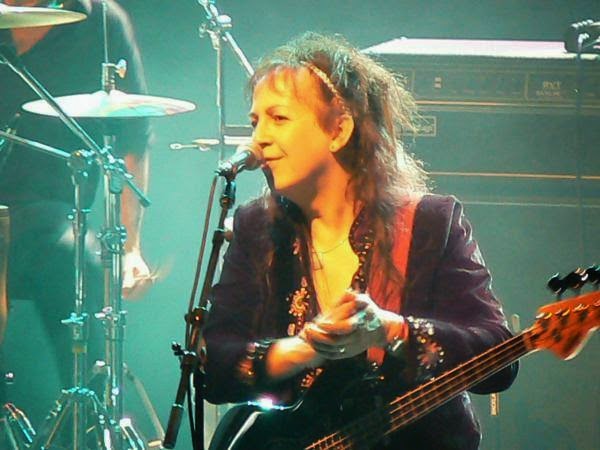 Jennifer Maidman is a complex musical creative with a distinguished career that stretches back to the 1970's. She is well known as a multi instrumentalist, songwriter, arranger and producer. She has worked with many respected artists including Boy George, Joan Armatrading, Gerry Rafferty, David Sylvian, Proclaimers, Shakespears Sister, Robert Wyatt, Bonnie Raitt, Van Morrison, David Soul, Linda McCartney, Salif Keita, Boy George, George Clinton, Sam Brown, Ian Dury, Murray Head, Mark Knopfler,Terry Reid, her partner Annie Whitehead, and many others. Jennifer is also proudly transgender and has been out since the mid 1980's.
Maidman's new solo album, "Dreamland", is the fully realized song cycle her fans have long waited for. Recorded in Woodstock, New York and Kent in England, it's full of original music, spoken word elements, and top tier guests like trombonist Annie Whitehead (Elvis Costello, Joe Jackson), guitarist David Torn (David Bowie, Laurie Anderson), and drummer Jerry Marotta (Peter Gabriel, Paul McCartney). Several members of the original Penguin Café Orchestra also appear, Jennifer having been a longstanding member of that seminal band. The tracks on "Dreamland" range from deep funk to piano ballads and demonstrate the scope of Maidman's creative vision. Writer and filmmaker Dakota Lane produced a documentary film about the making of the record and Maidman's life. The film, shot on a single iPhone, is a brilliant glimpse into her world and was selected for the New York City Independent Film Festival in 2018.
Other recent releases featuring Jennifer's work include Paul Brady's "The Vicar Street Sessions" (on which Jennifer can be heard playing with Bonnie Raitt, Van Morrison, Mark Knopfler, Ronan Keating, and others), "Freedom's Daughter" by Jan Allain, "Flawed Heroine" by Lund, "Confessional" by Lil & Ollie, "A Better World" by Chris De Burgh and "Femina Australis" by Maryen Cairns. Jennifer also appeared on Boy George's 2013 album "This is What I Do". In addition to her solo work, live appearances in 2018 include concerts with Kokomo, Murray Head, Annie Whitehead, Terry Reid, Lil & Ollie and Arnold McCuller.
Jennifer began this incredible musical journey as a child in England studying classical guitar and piano. She left school at age 16 to train as a recording engineer at Decibel Studios in London and Escape Studios in Kent. Some of her early projects included sessions with Steve Marriott, The Only Ones, Junior Marvin of The Wailers and T Rex. Maidman has worked continuously ever since. She has toured the world, been awarded gold and platinum records, appeared frequently on television, produced music for film, and acted in the theatre.
Jennifer also found the time to become a qualified humanistic counsellor and has contributed articles to journals such as 'Therapy Today', 'Asylum' and 'Self & Society', which she has also edited. She co-edited and contributed chapters to 2 books, 'The Future Of Humanistic Psychology and 'Humanistic Psychology: Current Trends and Future Prospects'.
Life has clearly been a continual creative unfolding for Jennifer Maidman. Her ramble through this world is nowhere near completed and those around her know that she's just now getting to the best part.
www.jennifermaidman.com