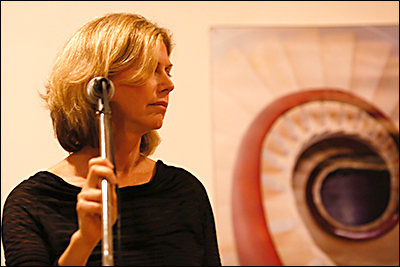 Since the release of her critically acclaimed debut album, "Transitions", almost 4 years ago, Jenai Huff has been writing and recording her own songs. In November 2013 she released her EP, "Grace & Elbow Grease". It was also met with high praise from DJ's, music critics and listeners alike. Her songs are thought provoking, and like her lyrics, her melodies often take a twist adding interest and originality to stories of life and love, and social commentary as well. Her pure and soulful voice touches people and stirs their souls. Her style is a little bit folk, a little bit country, with a touch of jazz and r'n'b.
She has just released her latest album, "Color Wheel". This new release includes 7 originals and 2 covers. The songs were recorded live in one room with 'The Core Four', which include Ben Wisch, Eugene Ruffolo, George Naha and her. 'The Core Four' are now setting up tours in the US and Europe.
As with Jenai's 1st and 2nd CD, her newest project, "Color Wheel", is produced by 2 time Grammy winner, Ben Wisch. His two Grammy awards were for 'Album Of The Year' with Marc Cohn, for the album of the same name, and for Mexican superstar, Ricardo Arjona. He, also, plays piano and keys on the album. In addition to Ben, Jenai plays with well known musical geniuses that she also calls her friends. Acoustic guitar and background vocals are sung by Eugene Ruffolo, internationally recognized as one of the best singer songwriters with a golden voice. George Naha, internationally known guitarist, is co-writing with Jenai and plays electric guitar. He has played with Aretha Franklin, Sam & Dave, Wilson Picket and many more. Zev Katz, whose credits are too numerous to list, but range from Bono, James Taylor and Aretha Franklin plays upright and electric bass. Chris Marshak plays drums and percussion, and is a regular face on many musicians' tracks and at their gigs.
Jenai has, also, completed 3 music videos that were shot and directed by Arthur Jafa. He has won numerous awards for his work in cinematography. Working with musical artists such as Beyonce and Lauren Hill, as well his work on Hollywood movies. Examples of his work in Hollywood include director of cinematography for the movie 'Crooklyn', and as a cameraman on the movie 'Selma'. The new videos featuring songs from her EP, "Grace & Elbow Grease" will be released in July 2016.
Jenai relocated to New York City from California to be closer to the musicians that she works with, and to expand her personal experiences in life, which she brings to her songs. She is now a permanent resident there. New York City warmly embraced her, as has much of the upper east coast. She is part of a group called Artist Without Walls and now is a regular at their monthly showcases in New York City.