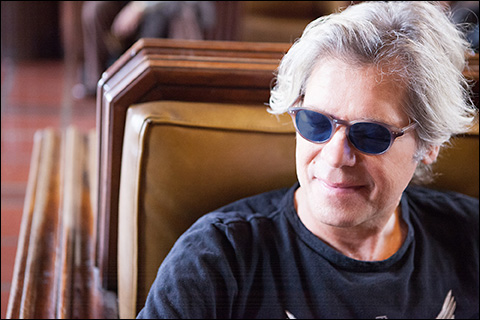 In June of 2011, at the age of 56, the acclaimed guitarist Jeff Golub lost his eyesight overnight. In 2013 he went in the studio to record his 12th solo-album, with a little help from his childhood-hero Brian Auger on Hammond B3 and vocalists like Christopher Cross and Alex Ligertwood.
For Jeff's 3rd album with eOne/Membran/Naxos he has joined together with British jazz-rock legend Brian Auger and the signature sound of Brian's Hammond B3. This amazing duo along with Alex Ligertwood on vocals and Steve Ferrone from Tom Petty & The Heartbreakers on drums, have crafted a timeless journey blending Soul, Jazz and Blues. Train Keeps A Rolling also features two vocal giants, Christopher Cross on the classic Ace song "How Long", and David Pack on The Police's "Walking On The Moon".
"Train Keeps A Rolling" takes you back to a time when Bill Graham's Fillmore East and West ruled the rock world. From the opening notes of "The Cat", through the classic Curtis Mayfield cover "Pusher Man", onto the classic blues of Mose Allison's "Live The Life I Love", Jeff and Brian deliver a powerful musical painting. Close your eyes and join Jeff Golub and Brian Auger as they deliver a classic soul-rock styled album that is both unique and contemporary.