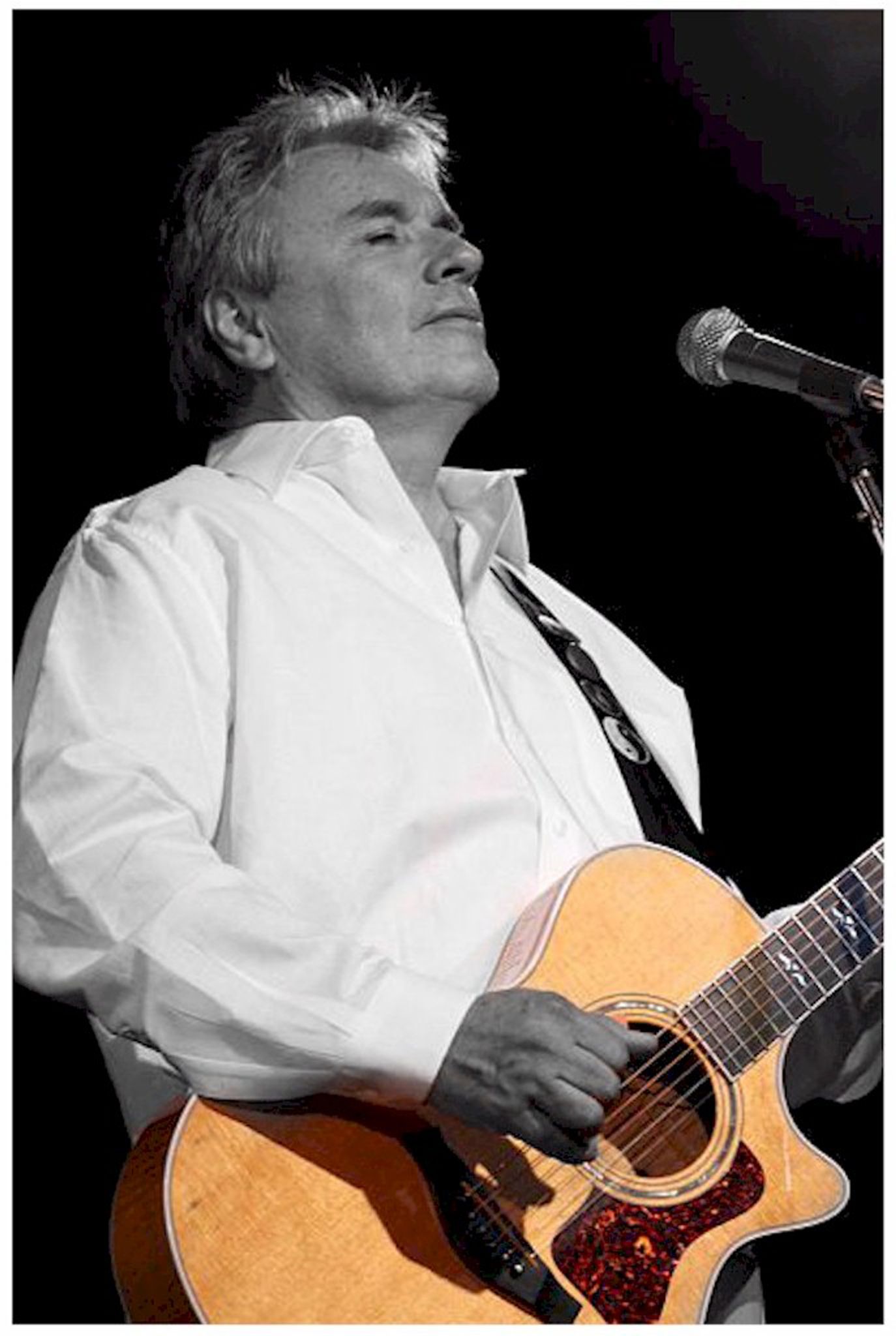 Jaime Michaels is a Santa Fe, New Mexico, based contemporary folk and americana singer songwriter. He has recorded and released 12 solo albums to date, 3 of which have been named 'Album Of The Year' in the New Mexico Music Awards.
Accompanying himself on his wonderfully worn Taylor guitar, Michaels performs his own songs and choice covers around the US and in Europe, playing house concerts, festivals, and venues large and small. His 12th studio album, "How To Shine", is slated for European release on the Italian label Appaloosa Records on May 26th, 2023..
Music has always been a part of his life, whether it was singing church hymns in Latin, his parents playing an old upright piano in the parlor, or his uncle Joe teaching him his 1st chords on an old guitar that he left him when he entered the army. Inspired by his all time musical hero Tom Rush, who Michaels views as a genius at finding songs that speak universally, he embarked on his musical journey with solo gigs in the coffeehouses of Boston and Cambridge, Massachusetts, followed by several years in an acoustic trio, Beckett, that opened shows for Livingston Taylor, Doc Watson, Dave Van Ronk, Earl Scruggs, and Jonathan Edwards, among many others.
The 1980's found Michaels living in the South Carolina low country, spreading his rock and roll wings as lead singer for cult rockers The Truly Dangerous Swamp Band, with whom he spent 8 years criss-crossing the country, playing colleges and bars and opening shows for such notable artists as Little Feat, Delbert McClinton and Bonnie Raitt. Having tired of the rock and roll road life, he returned to his 1st love, acoustic music.
After moving to Santa Fe, New Mexico in 1997, Jaime Michaels began to seriously write songs. Each of his 12 solo recordings to date is filled with finely crafted songs that showcase his expressive voice and the varied musical influences that he's absorbed over the years. Jono Manson has been in the producer's chair for the past 10. 3 of Michaels' albums have been named 'Album Of The Year' in the New Mexico Music Awards. "The Man With The Time Machine" in 2011, "Unknown Blessings" in 2014 and "Once Upon A Different Time" in 2017, while 5 of his compositions have been named 'Best Song'.
Although most of Michaels' recordings feature his own original compositions, "Unknown Blessings" is comprised of primarily cover tunes written by artists with whom he shares a love of the late night song circles at the Kerrville Folk Festival, the renowned songwriters' festival in the Texas Hill Country. He donates all the monies from the sale of that album to the Kerrville Folk Music Foundation, earmarked for its teen music camp. Michaels has also graced the festival's main stage, and most recently was a judge for the prestigious Grassy Hill Kerrville New Folk Competition. Michaels has performed at the Tucson Folk Festival, the Minnesota Folk Festival, and as part of the Falcon Ridge Folk Festival's Emerging Artists Showcase. Committed to using his music to help others, he has appeared in numerous benefit concerts over the years.
In 2020, the global pandemic struck just as Jaime Michaels was heading to Italy for a tour in support of the Appaloosa Records release, "If You Fall". During the intervening years, he performed various concerts online, including his ongoing series called 'Like The Tune? Feed A Kid!', in which he sings songs by some of his favorite songwriters and encourages listeners to donate to Chef Jose Andrus' World Central Kitchen that helps feed people in need around the globe.
Michaels has continued writing new songs; his most recent endeavor is a re-recording of "In My Home", a co-write with Austin songwriter Jeff Talmadge, about the strange times that we find ourselves in. A global undertaking, once again helmed by producer Jono Manson, it features musicians and vocalists from the US, Italy, Ukraine, and Uzbekistan. The recording is part of an Italian project called Yayla. Co-produced by Appaloosa Records and Centro Astali, a Jesuit foundation in Rome, the project aims to raise funds to aid immigrant refugees.
Next up in Jaime Michaels' ongoing musical adventures is a tour of Italy in support of his new album. He likes to think that after all this time; the best is yet to come.