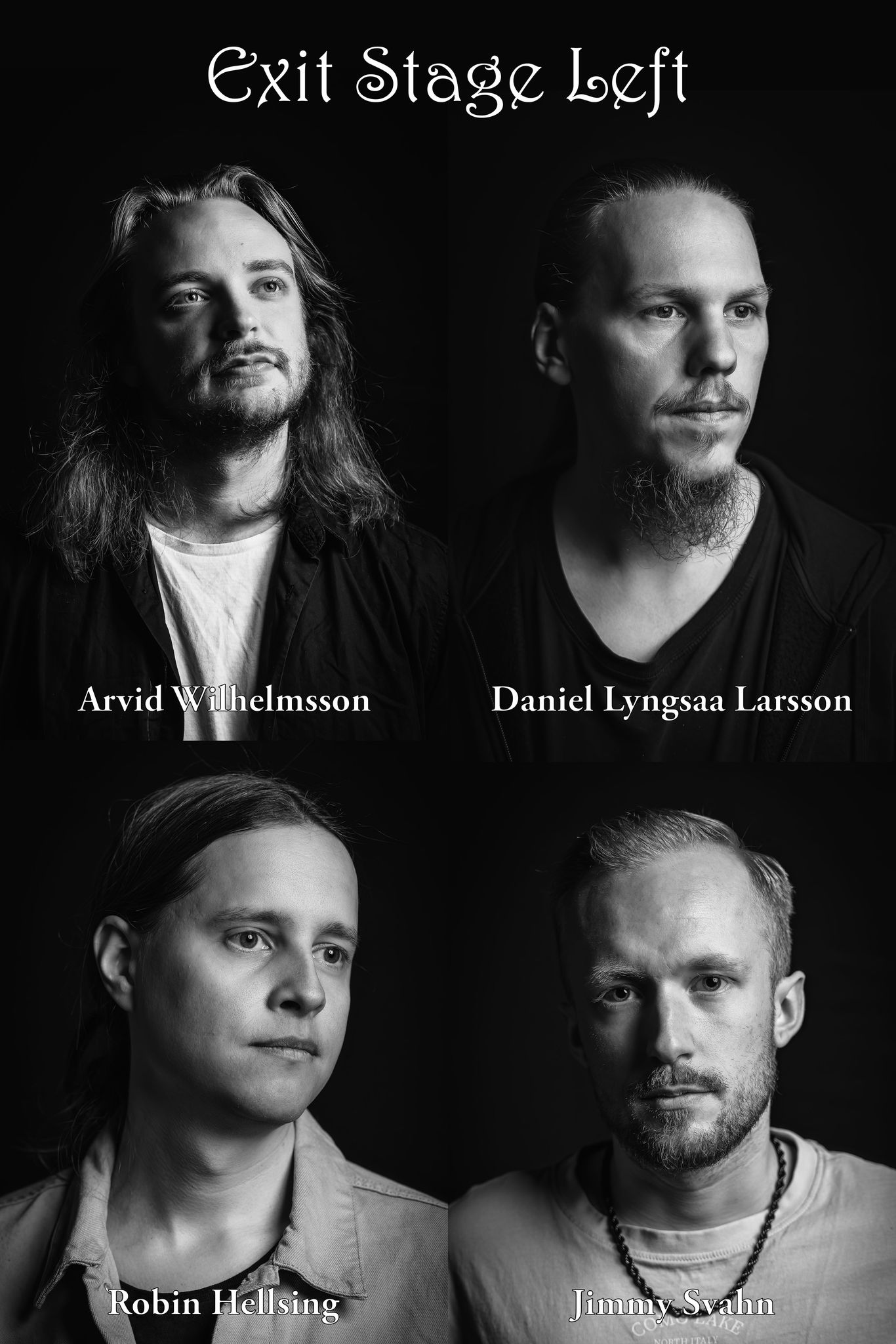 About the album and the band :
Exit Stage Left, who took their band name from the legendary live album by Rush, consists of 4 young guys with influences from bands such as Rush, Yes, Deep Purple, Genesis, Pink Floyd and more. "Appleberry Trees", to be released March 31st, 2023, is their debut album, and what a debut. The band has some strong song material and backs that up being competent musicians. Melodic, playful and interesting are common comments. "Appleberry Trees" is, in true genre spirit, a 10 song concept album where we get to follow a man from his early years and through his ups and downs in life.
Behind the lyrics :
The story of "Appleberry Trees" is the story of a life journey. It's about growing up, spreading your wings, and despite things not working out as you'd hoped, you're still thankful for the journey you took a chance on. From the 1st single (out March 17th, 2023), and opening track, "Piece Of Gold, a naive yet cautious look at life, from the point of youth to the warm and nostalgic remembrance of the album closer "Champs-Élysées", "Appleberry Trees" doesn't shy away from telling colorful stories. Some songs are dealing with the heavy dualities of man, such as "Good People" and "Shine Through", while others, like "Vagabond's Respite" and "The Poet", touch upon the more wondrous parts of life. The storytelling of Arvid Wilhelmsson, together with the album artwork by Mattias Kvick, creates a world of its own, where you can get lost in the orchard or sail off into the sunset, never knowing where the next song will take you.
History :
The year was 2019, late summer in Borås, Sweden. Arvid is on his way to meet up with Robin at a parking lot, going to one of their usual jam sessions. Sharing a love for progressive music and instrumental tomfoolery, they've been playing together for a while trying to create something special. And this time, it was special. Arvid had brought something with him, a new song. A song which would become the 1st song ever written for the band that would become "Exit Stage Left". A few months later, keyboardist Dan and drummer Jimmy joined the band. With a looming pandemic on the horizon, the band started to work on original music and spent long nights developing their voice together and with the songwriting of Arvid as a core, Exit Stage Left started to emerge.
The single :
"Piece Of Gold" will be released on all download and streaming sites March 17th, 2023.
The album :
"Appleberry Trees" will be released on all download and streaming sites 31st, 2023, with a 2 LP release to follow a couple of weeks later.