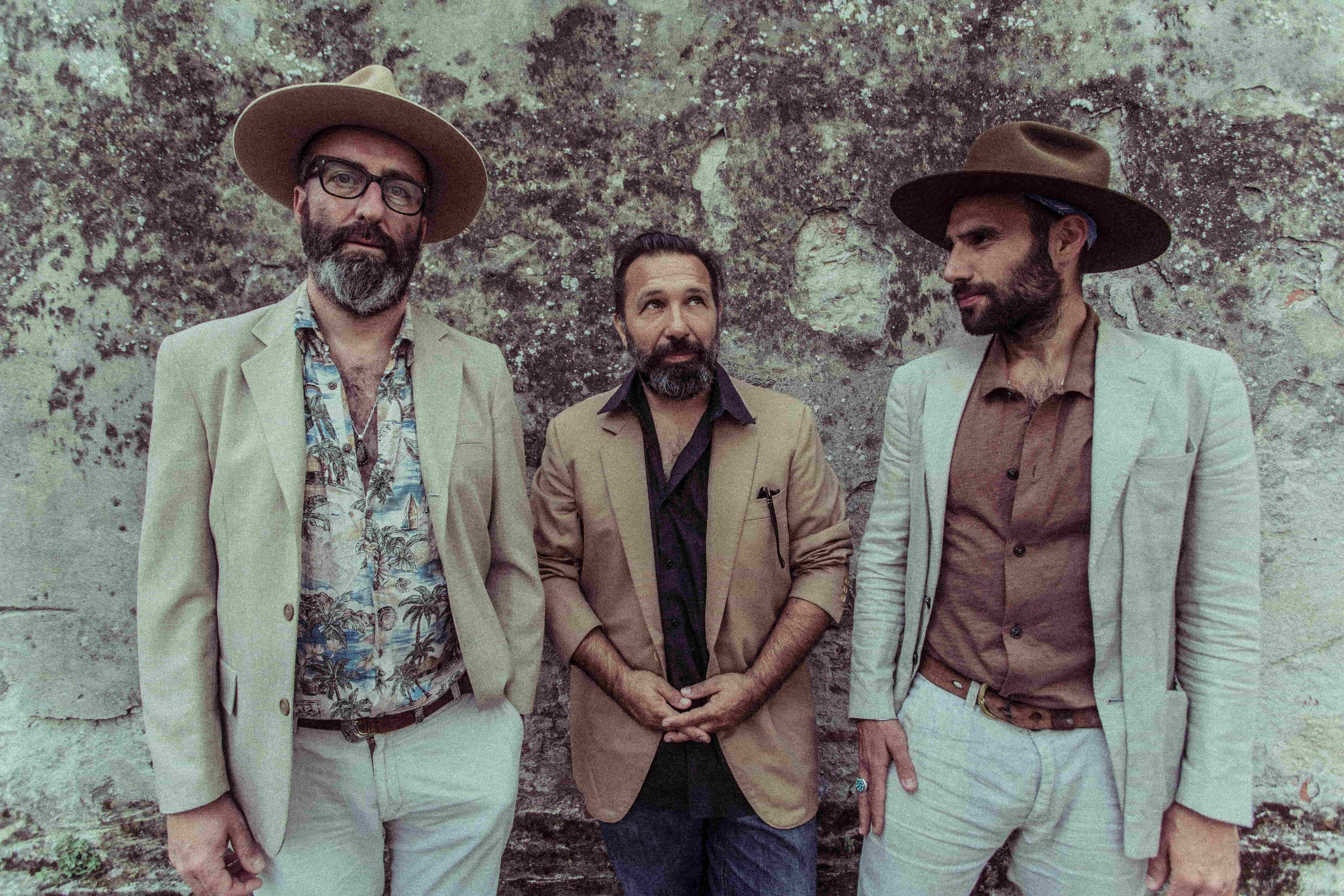 "Colorama" is the 3rd record from the world travelling, Italian guitar maverick, former Sacri Cuori, Don Antonio. "Colorama takes it all back to instrumental music, spacey twang, between italian soundtrack, American and African deserts, borderlines, and Emilia Romagna weird folklore. Even before the release, the music was picked up by Netflix to be the sound of their " Wanna, Fortune Seller : A TV Scam" show.
Recorded and composed with the Tuscan duo The Graces, Piero Perelli on drums and Luca Giovacchini on guitars, at Crinale, a studio lost in the Emilia Romagna hillside, "Colorama" takes a wide palette of world sounds, picked up in years while touring, into a strong stylistic template.
Before the world stopped in 2020, Don Antonio toured the US, the UK and Europe extensively for more than a decade with his own cinematic music, 1st with Sacri Cuori followed by the Don Antonio line up, also backing Alejandro Escovedo (their collaboration on "The Crossing" also led to appearances on CBS This Morning, Tiny Desk, BBC and more), Dan Stuart of Green on Red, Richard Buckner and several others, live and on records. In the meantime, he scored a couple of movies, documentaries and commercials, appearing also in the Italian series "L'Alligatore", playing his own persona on stage.
"My music is always music for imaginary movies", says Don Antonio, "and it was such a happy incident for this record to stumble on the Netflix request while it was still in its mixing process, and then became a part of it". "Fortune Seller" is the true story of a TV seller which became a star and then the centre of a scam which lasted for ages, ending up in jail. "Wanna's story is incredibly dark, deep, happy, sad, tragic, epic, everything, and it goes on for almost 30 years. It was really a challenge to find a sound for it. A fun challenge".
Don Antonio was commissioned to compose all the original music of the series, and in the meantime several songs from "Colorama" also naturally became a part of it. "Cinque Minuti di Te", featuring the Italian singer Daniela Peroni, became the theme song, as its moods seem to fit perfectly to the Wanna drama. Also the closing theme of the serie, "Lyle", inspired by the character of David Lynch's "The Straight Story", belongs to the "Colorama" tracklist in its calm, spacey, almost western setting.
"'Cinque Minuti di Te' steals a mood from the great Italian songs from the 60's, mixes it up with a more ballroom combo mood, and creates mystery with the lyrics and Daniela's voice. It's about love and manipulation, love and loss of self confidence, dreams gone bad. Actually, there is a hidden darkness which is perfect for Wanna".
"Colorama" is italian world music, without any kind of 'happy tourist' feel. More of an explorer touch, which picks up 'pieces' during his trips, pieces which then become part of a personal identity.
"Everything I do is based on music I met during my travelling days, stuff I loved, which was slowly included in my language, even mixed up with my local dialect, like part of an evolving DNA. Highlife from Nigeria, blues, soundtracks, melodies, it all becomes a sound in your mind. What comes out then is a mystery, a mystery I still like to embrace".
On top of it all, "Colorama" is also the return to a 'band' way of approaching music, composition, recording. Piero Perelli and Luca Giovacchini have a deep international experience, from their band with singer Emma Morton to collaboration with Glen Hansard, Dana Fuchs, Maurizio Geri and others.
"I think we are really a pretty unique match. 1st time we were together in a room, nobody had to say anything, everything was already connected and in communication. This is magic, in music". A magic preserved in the recording process.
"It was vital for the record's sound, especially after this uncanny couple of years, to be back in the same room collectively all through the day. Mostly so in a suspended environment like Crinale, where every moment of the day is devoted to music. This is the only way we want our music to be made. We definitely preferred silence to the remote connection. "Colorama" is our way of getting out of silence".