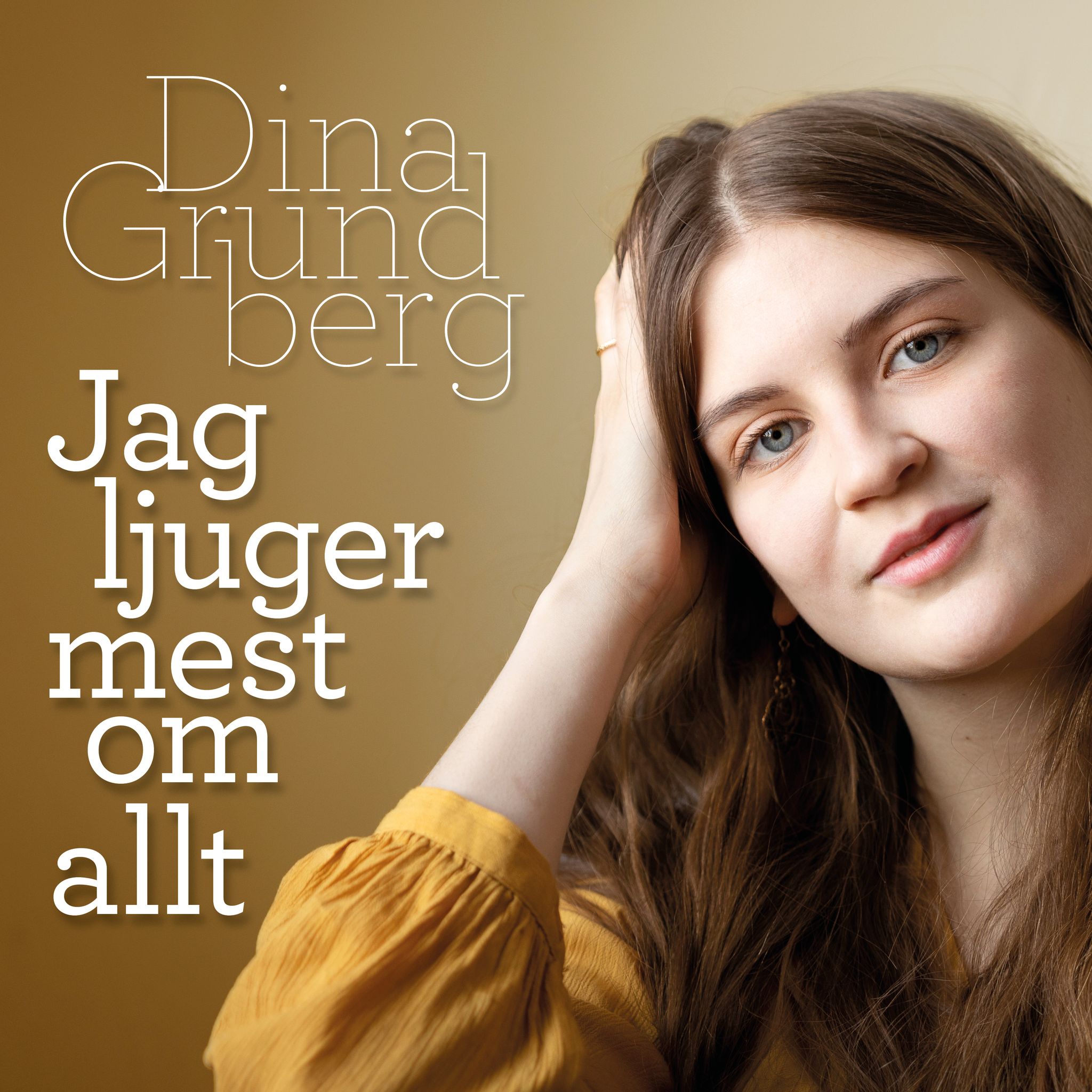 ENGLISH :
"Here's my love ad, I'll tell you everything I'm good at! But I'm not good at anything, so I lie mostly about everything". On September 9th, 2022, Dina Grundberg's debut album will be released, an
album that gives us the perfect mix between traditional jazz and Swedish folk tradition.
Dina Grundberg's debut album, "Jag Ljuger Mest Om Allt", contains Swedish songs that carry both detail and edge, with a strong jazz influence. The personal everyday stories are paired with a playful
wind section and a swinging accompaniment. You will hear songs that tell you how to write a love ad when you are not good at anything at all, how to handle your neighbor that has a tooth ache, or how to get revenge on your ex-boyfriend.
With a strong voice and whimsical lyrics in Swedish, Dina Grundberg and her musicians find a unique expression that takes us back in time, but at the same time is giving us a taste of tomorrow's jazz music.
Dina Grundberg grew up on the westcoast of Sweden and found her passion for jazz early on. She took her first freelance jobs in her teens and has already had time to appear in several major contexts,
including Swedish national radio, Konserthuset in Stockholm,l and Stora Teatern in Gothenburg. The Swedish jazz scene has also paid attention to her music and lyrics.
Dina Grundberg's debut single "Synd Om Mig Själv" is about something that many people recognize, Sunday anxiety. Why am I the only one who feels sorry for myself? The single will be released on August 19th, 2022, and the album, "Jag Ljuger Mest Om Allt", with quirky visual jazz in Swedish, will be released on September 9th.
SWEDISH :
"Här har du min kärleksannons, jag ska berätta allt som jag är bra på, men jag är inte bra på nåt, så jag ljuger mest om allt". Den 9:e september, 2022, släpps Dina Grundbergs debutalbum, en skiva sombjuder på jazzig svensk viskonst med både skruv och finess. De personliga vardagsberättelserna, med finurliga texter står i centrum.
"Det hinner hända väldigt mycket under en vanlig vecka. Allt man måste göra, alla känslolägen som hinner passera innan det är måndag igen. Jag har valt att skriva om det helt vanliga, även det man kanske inte är så stolt över", säger Dina Grundberg.
Sångerna handlar om allt från hur man skriver en kärleksannons när man inte är bra på någonting, till historien om Åke med tandvärk. Hon skriver om söndagsångest och att tycka synd om sig själv, men hon skapar också ljusa och hoppfulla bilder.
Dina Grundberg är uppvuxen i Bohuslän och hittade tidigt sin passion för jazz. Hon tog sina första frilansuppdrag i tonåren och har redan hunnit framträda i ett flertal större sammanhang, bland annat i Sveriges Radio, på Stockholms konserthus och på Stora Teatern i Göteborg. Den svenska jazzscenen har också uppmärksammat hennes musik och texter.
Hon backas upp av en lekfull blåssektion och ett svängigt komp. Tillsammans vandrar de i fotspåren efter profiler som Barbro Hörberg och Hasse & Tage, samtidigt som de skapar morgondagens jazzvisa.
Singeln "Synd Om Mig Själv" släpps den 19.e augusti. Albumet kommer den 9:e september.