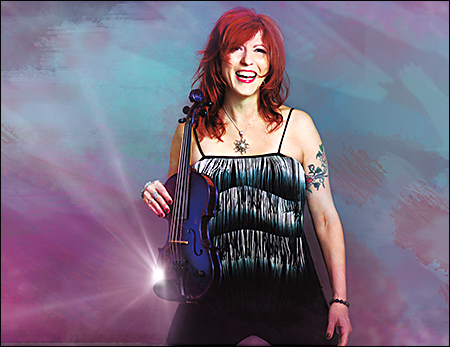 "Bright Shiny Objects" is the brand new release from New York-based violinist, singer and songwriter, Deni Bonet, due for worldwide release on Zip Records, (distributed by Sony/RED, US and PIAS/Rough Trade, BeNeLux) on January 27th, 2017.
It's no secret that Deni Bonet can rock a violin like nobody's business. Or that she writes memorable songs that make you want to listen again and again and again. Anyone who has heard her last few albums, especially 2013's "It's All Good", knows that ms Bonet has always brought something extra special to the table. However one listen to "Bright Shiny Objects", and you'll know this particular record takes on a completely different life and direction.
In a departure from her usual song based material, this album is entirely instrumental, Carnegie Hall virtuosity intertwined with a rock club vibe and intimacy. That doesn't ring your bell? Try Yitzak Perlman playing lead for AC/DC. Deni has spent the past year and a half writing and recording with a who's who of some of the best musicians on the planet, including Steve Gaboury (Cyndi Lauper), Liberty DeVitto (Billy Joel), Richard Barone (Bongos), Shawn Pelton (SNL), Will Lee (Letterman), Matt Beck (Matchbox Twenty), Steve Holley (Paul McCartney), Graham Maby (Joe Jackson), Ben Butler (Chris Botti), Mike Visceglia (Suzanne Vega), Jack Daley (Lenny Kravitz), and the list goes on and on.
It's difficult to try and describe, or unnecessarily, classify, Deni's music, and that's a good thing. There are certainly elements of straight forward rock, classic styled pop and pure american folk, but she takes all of this and makes it wonderfully her own. This new album is sheer, ultra high voltage rock with pure classical training and precision playing. She's a whirling dervish, a streak of aural and visual lightning wielding a violin bow. Her songs make you want to get up and dance around the living room, or groove to while walking up the street wearing headphones. Even without the vocals, you can hear the passion and emotion in Deni's performances.
The opening track, "Light This Candle", recalls the more skilled moments of alt-rock, "Einstein's Brain" is a finessed blend of the poetic nature of a violin intertwined with the chime of a 12-string electric guitar (Mozart meets The Byrds) and the delicate yet dramatic texture of "Primal Dream" is filled with emotion, one doesn't need lyrics to feel what is being said. And check out her updated cover of the classic "Frankenstein", which begs to be used over the credits of the next Marvel movie.
For years, Bonet has been honing her craft as a violinist, singer, songwriter and performer. She is, simply, a musical total package. Whether fronting her own band of outstanding players, or collaborating with anyone from Cyndi Lauper to R.E.M., to Sarah McLachlan to Irish rocker, Mundy, Deni has gained a reputation as one of the most exciting, dynamic and entertaining performers on the live circuit.
Although classically trained, Deni quit the classical world because she hated having to wear black and sit still. She was an original cast member of National Public Radio's premier music show, Mountain Stage, performing in her own right and accompanying guests like Richard Thompson, Warren Zevon, and the Indigo Girls, before leaving the show to form her own band.
She has performed at Lilith Fair, Carnegie Hall, the United Nations, and just recently performed at the White House for the president, 1st lady and vice president. She has been described by the Wall Street Journal as like "Sheryl Crow meets the B-52's", and music from her 5 independent CD releases has been featured on HBO, NBC, American Airlines and in several movies and modern dance pieces.