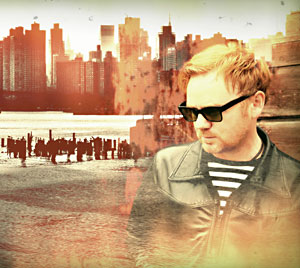 "New York Hummingbird" is the 4th solo album by much acclaimed Edinburgh-based singer-songwriter Dean Owens.
Produced in New York and New Jersey by Ray Ketchem with Dave Derby, the album features a host of New York, New Jersey and Nashville musicians.
Known formerly of the much loved Americana outfit The Felsons, Owens has been writing and performing solo for the past few years and "New York Hummingbird" is the latest chapter in his musical evolution.
"New York Hummingbird" is a perfect synergy of old and new, an exercise in the art of pure songcraft, employing timeless pop nous – the album is compact, concise, deliberate, focussed and refined. By pop we mean the Brill Building, or quintessentially British pop like Prefab Sprout and Aztec Camera - timeless, catchy, effortless, but emotive.
What more needs to be said about the Big Apple, a place that has arguably inspired more music than any other place on earth? "New York Hummingbird" is not so much a love letter to NYC, but is one man's life, loves and work viewed through the kaleidoscopic chaos of the most vibrant city. Owens is a romantic for sure, but far from hopeless. New York Hummingbird is an ingenious, deft example of a songwriter at his most vibrant and productive.
"New York Hummingbird" started life in a burst of downright 21st century creativity. Owens, previously known for his almost reverential, analogue recording habits and a distinct live and earthy vibe, began collaborating with New York-based producer Dave Derby. The pair laid down some tracks together then brought in New Jersey producer-mixer Ray Ketchem to oversee matters, with Owens getting the feel for the city lodging at the famous Chelsea Hotel. These tracks were slowly built up, flying back and forth between NYC, NJ and Owens' home in Edinburgh. The results are more direct than his previous solo works or adventures as part of The Felsons and have a strong retro pop feel.
This album marks another chapter for the acclaimed writer who has created a catalogue of varied gems without ever losing sight of his trademark quality, heartfelt songwriting.
Owens embraced the stark beauty of the Scottish Highlands while making the brittle acoustica of his self-produced solo debut "The Droma Tapes", while for "My Town", he broadened his musical palette further, creating delicate sheets of sound with the company of some of Scotland's folk and roots cognoscenti including leading folksinger-songwriter Karine Polwart and Martin Green of Lau. His 3rd album, "Whisky Hearts" saw him indulge his Nashville dreams, decamping to Music City to create a warm, rootsy album of bittersweet beauty working with award winning guitarist Will Kimbrough, legendary pedal steel player Al Perkins and members of The Jayhawks and The Mavericks.
"New York Hummingbird" is the next step, an ambitious record with real heart. Key tracks include album opener 'Desert Star', arguably the most straight ahead song on the record, an upfront, unashamed country tinged-pop love song. 'Springtime' is a pure breath of fresh air – here Owens teams up with Kendall Meade of New York band Mascott for a twin vocal line of languid sweetness. And yes that is a whistle solo you're hearing. 'The One That Got Away was deliberately crafted to be heard cranking out of a crackly AM radio sometime in the mid 70's - but it also finds time to tip a respectful nod to the genius of Matt Johnson and The The en route, as does the beautiful 'No One's A Failure'. 'Baby Fireworks', a song transformed during the production process from intimate acoustic lament to something bigger and bolder, uses layers of harmonies and winsome guitar from Sean Eden to considerable effect.