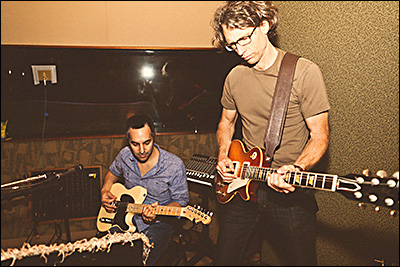 Sometimes you have to live the record before you can make the record.

David Haerle's 1st album, "Garden Of Edendale", is a powerful and often tender collection of songs that takes the listener on a road trip through one man's life. A singer, songwriter and guitarist, David shines a light on past experiences, transforms nostalgia into beauty and welds guitar driven rock to a shimmering California sound. "Garden Of Edendale" is inspired in part by his hometown, Los Angeles. Edendale is the original name for much of what is today's Silver Lake, Echo Park and Los Feliz neighborhoods. Its architecture, bohemian past and history of progressive politics still inspire him.

Alongside the sun and mountains of Southern California, David grew up surrounded, surprisingly, by country music. His father, a German immigrant, co-founded the independent label CMH Records out of the family garage. At age 9, The King Of Country Music himself, Roy Acuff, took David onstage at the Grand Ole' Opry before a full house. But this was also the 70's and the first time David heard David Bowie on the radio, his life changed. He started listening to Hendrix, Zeppelin, Van Halen, Zappa, and was led to pick up his first guitar, a Fender Stratocaster, around age 13. It became his constant companion. "Shining Star", the 4th track on the album, is about a love affair with his guitar who's going to rock his world tonight.

Playing in bands preceded David working for ICM, ultimately as a music agent. Then his father died suddenly. Playing music would have to wait. At age 24, David stepped up to take over the family business and has served as president of CMH Label Group for 27 years.

"I'm a late bloomer as an artist, and I have to say there are some advantages to releasing your 1st album in middle age", David says. "I have more life experience to draw on lyrically than I did when I was 20 or even 30. When I was younger, I wanted to sound like my heroes. Now, I want to sound like myself. I continue to explore what that means, writing and creating as much new music as I can".

"Garden Of Edendale" began as a passion project and took 7 years to make. David started from scratch, began writing songs, putting together musicians, recording and assembling a great creative team.

"Some of the songs like 'Play It Like The Record' and 'Always', which I recorded early on, felt complete and stood the test of time. Others were revisited down the road and went through changes. And still other songs are relatively new tracks we laid down closer to the end of the project".

Los Angeles is at the heart of the album. Sometimes directly with "I Have A Crush" and "Glendale", which take us out onto the streets of the city. Other times it's about the experience of going from a teenager to becoming a man in the City Of Angels.

"The song 'Women Make The World Go 'Round', I revisited again and again and it evolved over time. That particular song reflects my view as a feminist and feminist supporter. It wasn't until the first Women's March in 2017, and the months leading up to it, where the meaning of that song really cemented".

David is very open about his family's struggles with alcoholism and his own recovery from OCD. "Tell Your Story" is steeped in the idea that often the greatest gift we can give to one another is to tell our stories.
In fact, each song has a story to tell. The "Tone That Got Away" is about the very act of making music, a man and his guitar trying to pin down a melody that can't quite be tamed. There's a moment on every track where the bass, drums and guitar let loose on a chord progression or musical idea that makes you want to move.
"I think part of what drove me is that I wanted to see what I had in me. What I could do if I really applied myself and put real time into music. As an artist, a writer, a musician, a band member, all of it. I've been constantly writing and recording new material these last 7 years. I have a good head start on my 2nd and 3rd records".

"Garden Of Edendale" is a love story, love of rock'n'roll, love of incredible people, and love of home.