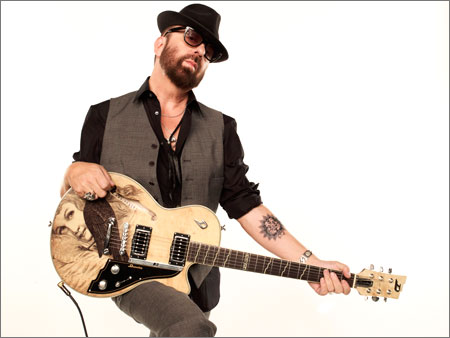 To celebrate this September's release of his new solo album 'The Ringmaster General', singer, songwriter and guitarist Dave Stewart performed 4 UK shows. The tour kicked off September 3rd, 2012, with a special homecoming show at the Empire Theatre in Stewarts's Sunderland hometown (the first time he will have played there on his own since the age of 16!) and included stops in Birmingham, Manchester and London.
The iconic artist, who has built a successful career in the US, will perform songs from his upcoming album as well as material from his critically acclaimed 2011 album 'The Blackbird Diaries' and other solo works. He will also perform some of his earlier hits with Eurythmics and other artists. Stewart recently toured with Sugarland in America in April and will do so again in August.
"I'm excited to play live in England again", Stewart says. "It's been a long time, and to kick off in my hometown the day my new album is released will be a golden moment for me".
On the upcoming 'The Ringmaster General', Stewart creates a potent and distinctive musical gumbo, mixing in rock, blues, country, rhythm & blues and psychedelia. His songs are alternately moving and wry; they are filled with twists and turns – both musical and lyrical – that constantly surprise with repeated listens. Stewart's voice has an alluringly mysterious quality that guides the listener through these stories of, explains the ringmaster himself, "love, discovery, and …."
The album was recorded and mixed by John McBride at his famed Blackbird Studio in Nashville. It features 13 new songs, including striking duets with Alison Krauss, Diane Birch and Joss Stone, as well as a duet sung with and co-written by Jessie Baylin. The blistering guitar skills of Orianthi are also featured. As with his recent album, 'The Blackbird Diaries', Stewart is backed by some of the finest musicians in Nashville including: guitarist Tom Bukovac, drummer Chad Cromwell, bassist Michael Rhodes, steel guitarist Dan Dugmore and Mike Rojas on piano.
"I called my trusted buddy and co-producer Mike Bradford and warned him we were going back into the vortex armed with nothing but a brand new guitar", Stewart says of his new album. All the appropriate circus rascals were summoned and thus began the five-day marathon madness that aptly describes a Dave Stewart solo album-party.