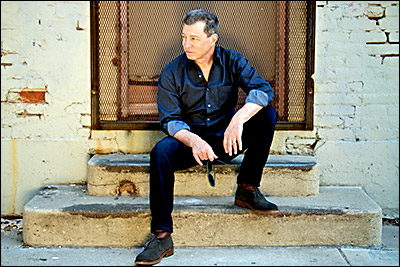 Keyboardist Dan Siegel, prolific recording artist since 1979 and accomplished TV and film composer, brings his love of acoustic piano to the fore on "Origins", a hauntingly melodic, rhythmically engaging all original set featuring the most sought after players in Los Angeles.
"I wrote these songs over a period of a year", Siegel recalls, "and they hold together as a singular statement". The title, "Origins", is for Siegel "the blending of different musical elements, which served as an unconscious inspiration. The music sounds somewhat mediterranean, minor keys with specific types of chord progressions. The feel is a variety of Latin and straight 8 note rhythms. There is also a harmonic element that is more American, somewhat bluesy. 'Origins' is a combination of all of these things".
While digitally modeled vintage keyboards, like Fender Rhodes, Wurlitzer, Pianet, Hammond B3, crop up in the mix, "Origins" finds Siegel playing acoustic piano as the lead melody and soloing instrument throughout. "In the last decade I've gravitated toward working in a more acoustic environment", he notes. "I think it gives the music authenticity. I've been playing the piano since I was 8 years old and I love it, because it's so theoretically transparent, black and white. But I consider myself more of a composer who plays the piano, I let the music instruct me what the instrumentation would be, and it became piano centric.
The musicians Siegel assembled all hail from the highest echelons of the Los Angeles music scene. Drummer Vinnie Colaiuta, with whom Siegel first worked as far back as 1987, "can play something down the first time while sight reading, and he knows what the song is about before I do, and I wrote it". The sought after Brian Bromberg, who has appeared on several of Siegel's most recent albums, is "a one of a kind acoustic bass player who always reminds me what is important in a song". Percussionist Lenny Castro, an associate of Siegel's dating back to 1981, "was the first person I talked with when I was planning this project, because I knew he would be prominently featured on almost every track. He brings joy and groove to everything he plays on, has impeccable time and is a consummate professional".
"Origins" also features a blend of electric and acoustic guitars. In the electric slot is the remarkable Allen Hinds, "one of the most musical people I know", says Siegel. "He's from Alabama and he brings that Southern blues rock attitude with him. He always enters conceptually through the back door, he'll give you something cool and quirky every time you give him a chance to do his thing". On acoustic guitar is Ramon Stagnaro from Peru, who "shows up with a couple of nylon string guitars and gives you that authentic Latin feel that doesn't come naturally to every guitar player".
Adding yet more sonic layers is Craig Fundyga, "an amazing jazz vibraphonist that I stumbled on a few years ago", says Siegel. "He could play what I give him with one hand tied behind his back. It's fascinating to watch a four mallet player get around on the instrument like he does". Lastly, Rogerio Jardim adds ethereal yet precise wordless vocals on 2 tracks. "There are very few people who really know how to double instrumental melodies with voice. It's a much different requirement than just being a vocalist. Rogerio brought a Brazilian aesthetic to the music just by opening his mouth. Impressively, he's also a great drummer"
From the artfully restrained opening funk of "Rite Of Passage", to the churning bluesy rock vibe of the closing title track, "Origins" foregrounds Siegel's confident lyrical touch and melodic resourcefulness at every step. The moody, somewhat foreboding quality of "When One Door Closes", the shifting melodic roles of voice and piano on "After All", the floating time and acoustic bass solo of "Moon And Stars", the train like rhythmic patterns of "Strange Sky", the subtle bolero feel of "Crossing", all attest to Siegel and the band's versatility and finely attuned simpatico.
A native of Seattle raised in Eugene, OR, Siegel has recorded over 20 solo albums and amassed hundreds of other producing, arranging, composing and performing credits in his decades long career. Standout solo efforts include the electric oriented "Another Time, Another Place" in 1984 with Patrick O'Hearn and Alex Acuña, to the exotic world music direction of "Hemispheres in 1995, with Béla Fleck, Andy Narell and Dori Caymmi, among others. Siegel has also recorded and performed with high profile artists such as Glenn Frey, Chaka Khan, Philip Baily, Kenny Rankin, Hugh Masekela, Joe Sample, Herbie Hancock and the London Symphony Orchestra. In addition to his many TV and film scoring credits, he has served as musical director and conductor on the late night CBS show 'Overtime With Pat O'Brien', and worked on numerous projects as a session player, including the Oscar winning film The 'Usual Suspects'.