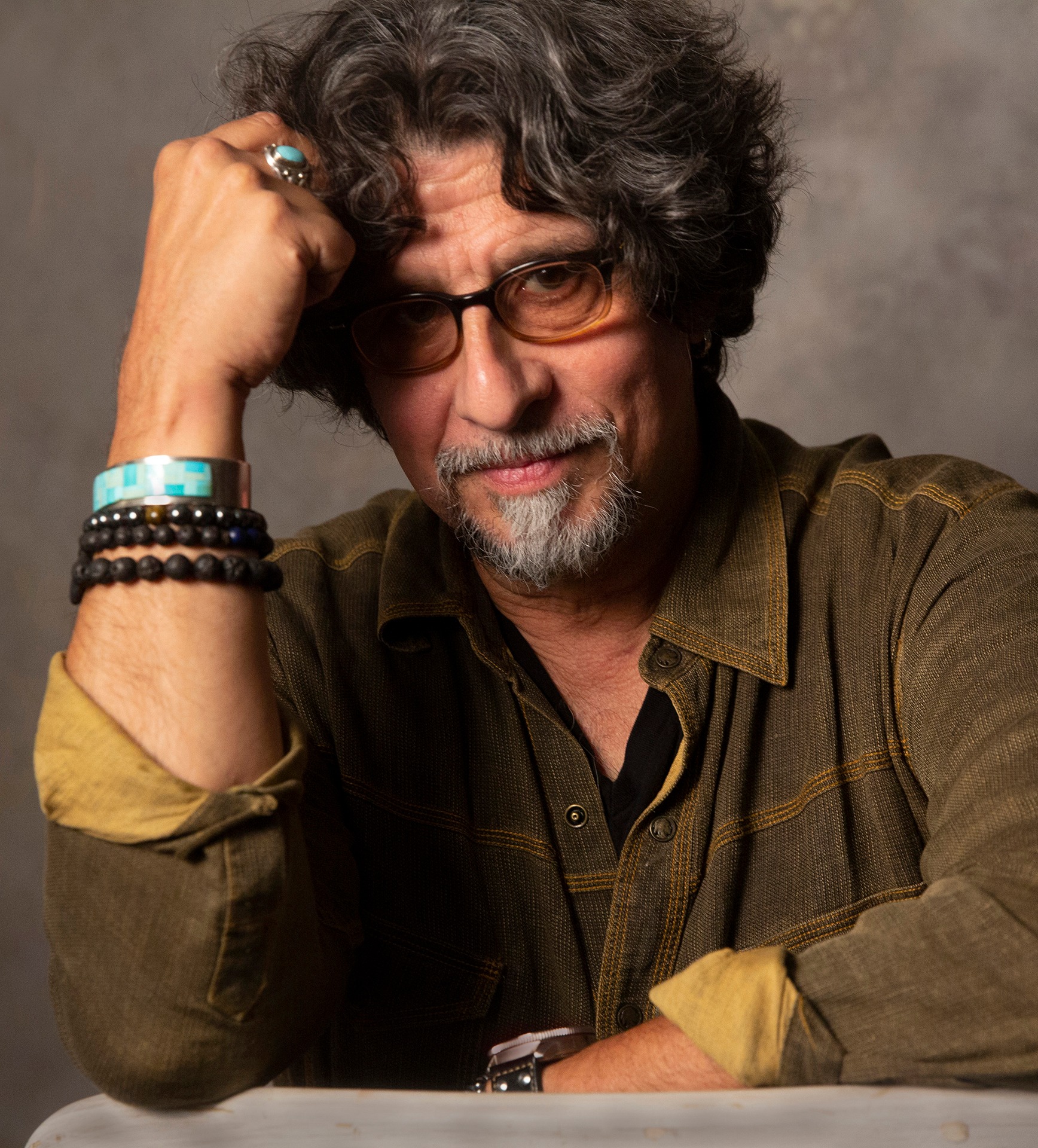 "Dan Navarro's album title 'Horizon Line' is apt, if a horizon line is far away, you can see for miles, but if one is close, you have no idea what is coming next. Yet in comparison, Dan Navarro's music, from the burdened 'Walking On A Wire' to his cathartic title track 'Horizon Line', somehow fuses in the arc of an extraordinary music career. The sounds and energies shift deftly, straight power pop, swamp rock shuffle, plaintive country ballad with steel guitar, light shimmer of folk, soulful blues lament, Dan Navarro's lean songwriting and connected voice delivers. And there lies the root of it all, in every song, every conversation, every melody, every moonlit drive, every note, every moment, Dan Navarro seeks that connection that defies words. The 'Horizon Line' is not a destination, it is the momentary focus of a soul seeking beauty in every moment." ~ Mary Sue Twohy, SiriusXM
"Horizon Line" is the followup to Dan Navarro's solo debut, "Shed My Skin", and features 10 new Navarro originals.
Produced by Grammy winner Jim Scott (Tom Petty, Wilco, Neal Casal, 6 Lowen & Navarro albums). Working with Jim was a conscious homecoming for both men, after 30+ years of successful recording, together and separately.
Featuring top shelf players. Guitars: Steve Postell (Immediate Family), Doug Pettibone (Lucinda Williams), Brian Whelan (Dwight Yoakum). Bass: Taras Prodaniuk (Richard Thompson), Mai Leisz (Jackson Browne, David Crosby), Sebastian Steinberg (Soul Coughing). Drums: Michael Jerome (Richard Thompson), Jimmy Paxson (Lindsay Buckingham). Keyboards: Phil Parlapiano (John Prine), Peter Adams (Belinda Carlisle), Carlos Murguía (Rickie Lee Jones). Fiddle: Aubrey Richmond (Shooter
Jennings). Harmony vocals by Chris Stills, Steve Postell, Brian Whelan, Carlos Murguia, Leyla Hoyle and Aubrey Richmond.
Dan co-wrote Pat Benatar's Grammy nominated classic "We Belong" (6 million US radio plays), plus cuts by The Bangles, Dave Edmunds, Dionne Warwick, Temptations, Jackson Browne, Nile Rodgers, Jon Ondrasik (Five For Fighting), hip-hop pioneers TKA, The Triplets (The Billboard #14 single "You Don't Have to Go Home Tonight") and numerous hits for overseas stars.
Dan's songs are in hit films like 'Deadpool 2', 'Pitch Perfect 2', 'Talladega Nights', 'The Ballad Of Ricky Bobby Blue Valentine', 'The Office', 'This Is Us', 'American Dad', as well as 'American Idol', 'The Voice', 'The X-Factor', and MTV and VH1 specials.
Dan sings and voice-acts in Oscar winning films, 'Encanto' (with the #1 smash "We Dont Talk About Bruno"), 'Coco' and 'Happy Feet', plus the upcoming 'Puss In Boots 2', 'Rio', 'The Lorax' and 'The Addams Family', TV series 'The Boys Diabolical', 'Prison Break', 400+ episodes of 'American Dad' and 'Family Guy', hitgames 'Fallout 4' , 'Red Dead Redemption 2' and 'Uncharted 4', and albums by Neil Young, Luis Miguel, Andrea Bocelli, Julio Iglesias, Enrique Iglesias, Susanna Hoffs, Jon Anderson of Yes and hundreds of commercials in English and Spanish.