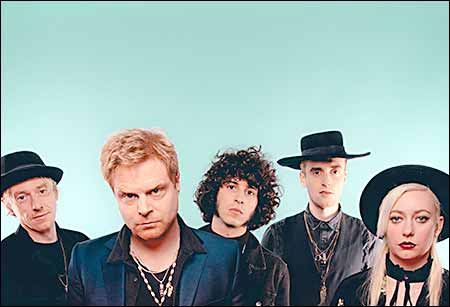 Acclaimed London 5 piece Curse Of Lono will release their 2nd album "As I Fell" on August 17th, 2018. Produced by Oli Bayston at Rancho V, a remote desert studio in Joshua Tree, and Flesh & Bone Studios in Hackney, the album is accompanied by a documentary 'Somewhere In Their Heads' by Gregg Houston.
The 1st single from "As I Fell" is 'Valentine', available to stream now. 'Valentine is about the kind of murderous jealousy that twists you up until you don't recognise yourself anymore", says frontman Felix Bechtolsheimer. "The sort of dejection that will make you do things you know you will regret. I think the vocal harmonies floating over the tribal beat, distorted bass and filthy baritone guitar going through a tiny 1950's Selmer practice amp, really capture that feeling".
Joining Felix in Curse Of Lono, who formed in London in 2015, are Joe Hazell, lead guitar and vocals, Dani Ruiz Hernandez, keyboards and vocals, Charis Anderson, bass and vocals and Neil Findlay, drums.
"As I Fell" is the follow up to "Severed", one of the most critically acclaimed debuts of 2017, and builds on Curse Of Lono's deeply cinematic blend of harmony laden americana and driving, gothic alt rock. It's a sound that owes as much to old faithfuls like Doors and Velvet Underground as it does to more modern practitioners of the form such as War On Drugs and Wilco.
Although some of the songs on "As I Fell" revisit familiar themes like murderous jealousy and the death of loved ones, much of the album covers new ground.
'Leuven', with its sumptuous string arrangement, recalls the stories Felix's grandfather told him about growing up as a half Jew in Nazi Germany and a devastating train crash he survived in 1954 after the 1st football international between England and West Germany after World War II.
"It was one of the worst train crashes in Belgian history", says Felix. "My grandfather and his brother were on their way home from Wembley, when their train derailed outside Leuven in Belgium. He told me that he was never able to shake the image of their coats soaked in blood as he and his brother dragged the bodies from the wreck".
Despite a conscious attempt to close the door on the heroin related material that has inspired much of Felix's previous work, "As I Fell" does include a couple of old songs that have patiently waited their turn. The most notable is 'And It Shows', the 1st song Felix wrote after he gave up heroin and methadone.
"I was only a couple of weeks out of detox, living in a halfway house in Delray Beach. My best friend had passed away a few months earlier, my girlfriend of 5 years was gone and I was climbing the walls. It was a very dark time and the only thing I had to cling to were the songs that kept pouring out. I thought that I had exhausted that well when we started working on this album but despite my desperate attempts not to go back there, this song wouldn't leave me alone. Eventually I backed down and gave it another chance. I'm glad I did. It's a time capsule".
Having spent much of 2017 on tour in Europe and the UK, Curse Of Lono will be embarking on their first UK headline tour this summer. They have also been invited to open for Steve Earle and for Southside Johnny & The Asbury Jukes in Europe in July and in the UK in October.