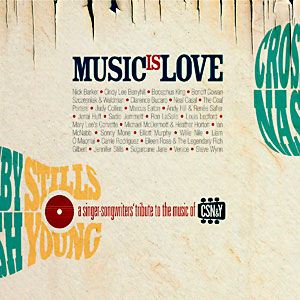 There's been tributes to The Byrds, The Buffalo Springfield and The Hollies. There's been several tributes to Neil Young. There's even been a tribute to Graham Nash's album "Songs For Beginners". But there has never been a tribute to the collective body of work of Crosby, Stills, Nash & Young. Until now!
On October 16th, 2012, Sweden's Hemifrån and Italy's Route 61 Music releases "Music Is Love - A Singer-Songwriters' Tribute To The Music Of Crosby Stills Nash & Young.
The album features, not only several musicians from the inner circle of CSN&Y (Stephen Stills' former girlfriend Judy Collins and daughter Jennifer Stills, Anthony Crawford and Rick Rosas from Neil Young's Electric Band, Sonny Mone from Crazy Horse, David Crosby's guitarist Marcus Eaton and vocal favorites Venice), but also some cool names from the 70's (Karla Bonoff, Elliott Murphy, Willie Nile, Wendy Waldman), some interesting names from the 80's (Sid Griffin from Long Ryders, Ian McNabb from Icicle Works, Liam O'Maonlai from Hothouse Flowers, Steve Wynn from Dream Syndicate), as well as some new-up-and-coming names from the alt country scene in the U.S. (Clarence Bucaro, Neal Casal, Carrie Rodriguez).
The liner notes are penned by Dave Zimmer (author of two official books on CSN and CSNY), and CSN&Y's official photographer Henry Diltz offers some unpublished photos from his vast archives.