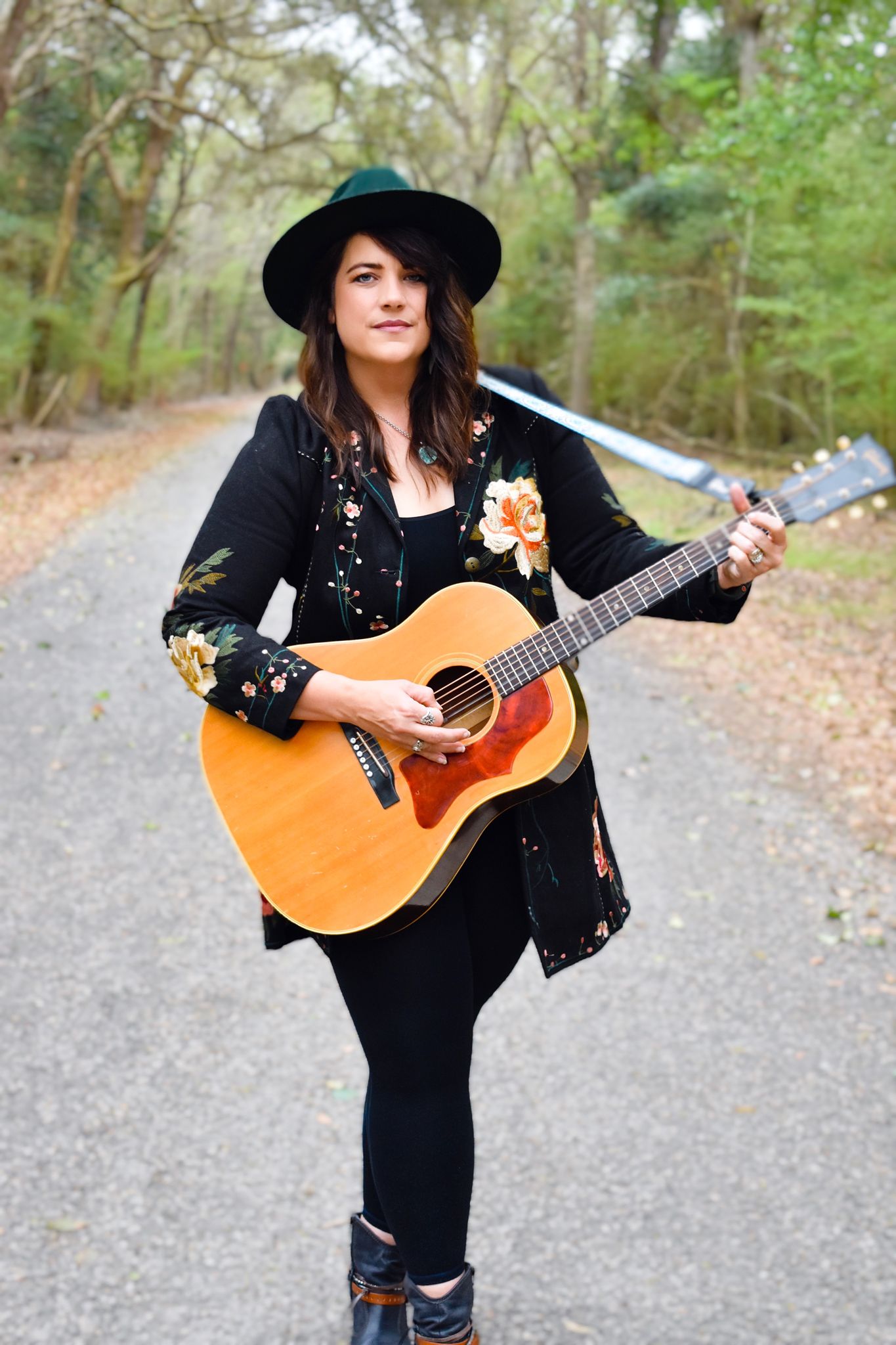 Southeast Texas based singer songwriter Courtney Hale Revia announces an October 14th, 2022, release date for her new CD, "Growing Pains", on her own Courtney Hale Revia Music imprint. The album was produced by Courtney, along with Ryan Len Johnson, Brian Baker and Cody Eldridge, and recorded at studios in Beaumont, Houston and Port Neches, Texas.
"Through retrospection, Courtney explores past, present, and future with her new album, 'Growing Pains'", says Donnie Courville of the Big Thicket Hogs and Strings Festival. "The writing is extra personal and weaves from serious to fun and back again. She is never afraid to share an emotion or respective opinion here. The instrumentation and production on this album are really superb. The sounds are western, warm, and spacious for the most part. This gives it the feel of an acoustic album, but allows the music and scenery in the songs to flourish on a grander scale. It creates just the kind of place that someone would want to travel to if they had to go and figure out life's intricacies".
"I have lived in the same little town pretty much all of my life", says Courtney about the place that inspired "One Way Out", the album's opening track. "It's a town I love but swore I'd never stay in once I graduated high school. Life took its turn and well, I'm still here. There are literally four ways to get to our home and venue. When big storms or hurricanes come through, all roads flood. And only one is passable with a truck. While hosting singer songwriter Susan Gibson one day she asked me why I was doing what I was doing here at 7 Oaks. I told her 'when the road out of town doesn't pave itself like you thought it would, you learn to bring the world to you!'. It's an autobiography of sorts. Recorded right here in Beaumont, Texas, at Four Eyes Studio with local musicians I call friends".
Courtney Hale Revia is a Southeast Texas born and raised artist who finds balance between work and play. Her debut album, "Simple Things", was released November 2015, and her last work, "Tattered", was released November 2018.
Her 3rd album, "Growing Pains", is due for a European release now in October. It is a true representation of her growth as a songwriter and woman, containing songs that touch on topics ranging from suicide and grief to rainbows and hope. The "Growing Pains" album is a culmination of her life as a mother, teacher, wife, daughter and now a music promoter. The title track of her 3rd album was a song that, due to time and money, didn't make it onto her 2018 album and it has since unintentionally became the self derived theme of her current work. The album was tracked and finalized during 2020 and 2021, the same year she lost her father to covid 19. The last song on the album pays tribute to her dad's songwriting influences and completes the legacy of 'blooming where you are' that has been a subliminal message in Courtney's life since the song was written by her father, James T Hale, back in 1989. It was recorded live at her 7 Oaks venue. Courtney didn't realize this song was indeed her father's until she found it in his book of songs in Aug ust of 2021, just 2 weeks after his passing. In reflection of the completed album, Courtney finds the theme of 'blooming where you are' to be mentioned in multiple songs including, "Rainbows At Night" and "One Way Out", giving power to the overall spirit that has come to be known as her album, "Growing Pains".
Courtney is unapologetically a confessional songwriter. As the daughter of a songwriter, she has experienced 1st hand the importance of storytelling and putting both experience and truth to music. She sees her purpose in entertaining, educating and inspiring. Her music is an eclectic mix of country, alt rock, americana, spiritual and folk. 25 years of being a mom, teacher, wife, daughter and friend have lent themselves to influencing her work.
Courtney was inspired by her 1st ever listening room experience when she opened for Bob Schneider at Courville's of Beaumont, Texas, in 2016. She opened for Cindy Cashdollar and Johnny Nicholas in January of 2020 at Courville's, for Kevin Galloway of Uncle Lucious January of 2020 at the Old Quarter; and November of 2021 at Courville's.
She started hosting house concerts in 2018 and has transformed that into an actual venue on their property, a listening room known as 7 Oaks Event Garden LLC. She has hosted performers like Redd Volkaert, Brian Pounds, Susan Gibson, Robert Cline Jr, her father, James T Hale, Mean Mary, Dean Dillon, and this fall, 2022, Bob Schneider.
Watching her father write and play music all his life, being a singer songwriter herself in an area of Texas that needs more venues for original artists has been her inspiration in advocating for the art and the artist.
In January of 2022, Courtney rebranded her acoustic sound under the name of Rustic Bird. A name inspired by the passing of her father, the acoustic sound pays tribute to her bluegrass, folk and blues roots. Her motto is 'when roots run deep, the only way out is to bloom where you are'.